#VC

A Vital Conversation Coffee

Vital Conversations
monthly schedule
ZOOM 2nd Wedneday of the month 1-2:30 pm
MidContinent Public Library Antioch Branch, 6060 N Chestnut Ave, Gladstone, MO 64119 -- (816) 454-1306 -- to receive the zoom link:
humanagenda@gmail.com or call (816) 453-3835
---
You are welcome even if you have not read the book or seen the movie
A Free Monthly Discussion Group Led by David E Nelson
C R E S senior associate minister
president, The Human Agenda

"The purpose of a Vital Conversation is not to win an argument,
but to win a friend and advance civilization." —Vern Barnet
Vital Conversations are intentional gatherings of people to engage
in dialog that will add value to the participants and to the world.
In Vital Conversations, we become co-creators of a better community.
—David Nelson
The discussions began May 24, 2002, at the CRES facility
by examining Karen Armstrong'sThe Battle for God
---
Reading is magic and a mysterious activity that feeds the mind, transports the imagination, sooths the soul, and expands life. It is most often done in solitude and yet connects us to so many others both near us and far from us. Many readers enjoy the opportunity to share their reading discoveries and to expand from the sharing of others. Reading is an important aspect of our common humanness.

—David E. Nelson

Vital Conv. Coffee
an open exchange of ideas
with no preset agenda
4th Wednesday monthly
8 am
Panera Bread
311 NE Englewood Road
Kansas City, MO 64118
816-453-2770
---
2022 Vital Conversations Schedule

To see last year's fascinating programs, click here.

---
#vcJan
January 12 Wednesday 1-2:30 p.m. on Zoom -- (Notes from last month)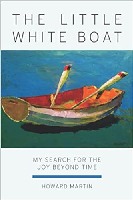 The Little White Boat: My Search for the Joy Beyond Time by Howard Martin who writes, "While I have written these pages for an audience of two, I trust that, if they have fallen into your hands, they are also for you. As you read them, I ask only this – that you receive them in the spirit with which they are given; with kindness, compassion, and openness of heart. Sit beside me now in the little white boat. Let's row together through the storms into the still waters. Beauty below us, Beauty above us. Beauty all around."
This book, written by a friend, did fall into my hands. It is a memoir that shares a life and connects me to literature from many ages. Howard will be with us to share his stories and his life. --David Nelson

Quotations and questions selected by David Nelson
"It's the great mystery of human life
that old grief passes gradually into a quiet tender joy."
--Fyodor Dostoevsky, The Brothers Karamazov

Releasing conversation:
Share your name and make a brief comment about the above quotation.
1. "They were both born—like their older sister—with Hurler Syndrome. Their stories are so intertwined in my memory that I cannot adequately disentangle them." P. 12. What is Hurler Syndrome and how is it treated? Why is this important in your life Howard?

2. "With her gentle whispers and kind caresses, Rene Martin nurtured a loving family into being and traveled a short while with it toward the sun…Because of her, I found it possible, ultimately, to believe in the existence of an eternal Beloved, whose presence is manifest in all of creation, always and everywhere, the loving center of gravity of all that exists…It was my first intuition of paradise." P. 38. What is an "intuition of paradise" and how has it evolved throughout your life?

3. "There are beloved people who come into our lives as companions for a season, and then there are those who have been there from the beginning." P. 97 Who have been some of your companions for a season?

4. "In a sense, my brother Bryn was—and remains—the other side of my very self…" p. 104-105. Please read out loud as we listen. Did any of you have such a companion in your life, sibling, friend, or other? "As I write this, my brother is ill, and I ponder the real possibility that he will leave this life before me. Yet I choose to believe that there will be a time beyond Time when we will laugh together, my brother and I – and indeed all of us – in an unimaginable symphony of Joy." P. 106. Update us about your brother.

5. "It became my hope, in my later years as a professor and arts educator, to offer in the classroom moments where my students could feel the goodness and rightness – and safety – of that "somewhere" else. In that sense, I would come to think of my teaching as a means of nurturing spiritual life, an introduction to the care of the soul." P. 108. How did you get away with that in public education? Can real life be explored without some discussion of the spiritual?

6. "To this day, Sairey Gamp (character in Dickens) lightens my spirit and makes me laugh…What does it matter that there is no such person as Sairey Gamp in the real world? She arises from somewhere in the human spirit. The genius of Charles Dicken found her somewhere. So much the better for me and, I think, for all of us…All I had to so was let a film or a book take me there." P.111-112. How can we nurture intimacy with a character in a novel or film? Can any of you share other examples of fictional characters that have made a difference in your life?

7. "I was fast becoming aware that suffering and loss were not just themes in my own story, but were unavoidable strands in the tapestry of other lives as well, universal realities in the human condition that would require all my efforts to understand. I would need a story of some kind – a really good story – to help me get there." P 121 Do you have a story "big enough" to encompass the complex quandaries of your life?

8. "As a child and as a fledging adult in my teens and early twenties, I more often than not felt overwhelmed, rather than gently nurtured, by religion. A great flood of religious dogma and practice overwhelmed the tiny channels of my interior life…Like a member of a secret society, I was initiated into this culture by repeating words…" born in sin," or "justified by faith," and "saved by the blood." P 124-125. What is the role of religion in your life?

9. "Poems—and novels and plays—were about my own inner life, my own life of felt imagination. They were also, but extension, about the inner life of every person I knew and indeed every person on the planet." P 139 "It seemed that whereas in religion there was a tendency to turn flesh into words, in the theatre there was an instinct to the opposite—to embody ideas in the multi-dimensional actualities of character and story." P 139. Say more about the difference you have discovered between the church and the theater.

10. "We bear our sorrows bravely for the most part and even in the midst of them look for the return of joy. It may well be that the experience of joy returning after times of great sadness can—if we so choose—prepare our hearts for the coming of the Great Joy beyond time. Our sorrow and our joy are both ways in which we are, as Abraham Heschel so beautifully put it, 'in travail with God's dream.'" P 187. We all experience sorrow. Why do some seem to never choose the joy that can follow?


"What's lost is nothing to what's found
and all the death that ever was would scarcely full a cup."
--Frederick Buechner


Here is Clif Hostetler's review on Goodreads.com
This memoir tells of the author's growing up in New Zealand, moving to the United States for college, and remaining in the USA for marriage and raising a family. Beyond the timeline of life's activities, friends, and family, the author also attempts to describe a search for transcendence beyond everyday life that the subtitle of the book refers to as the "joy beyond time."

There was a point in the book where the author describes the feelings of perceived insight that came from studying and learning about fictional characters in theatrical dramas and novels. I was impressed with the clarity with which this experience was expressed because I have been trying to communicate similar ideas in my own book reviews. Then later in the book I learned he had advanced academic degrees in Theater, and he had been a lecturer at the University of Missouri at Kansas City many years for an introductory class titled, "How Theater Can Change Your Life." No wonder he is able to articulate so clearly the merits of theater and fiction.

I was impressed that the author was willing to let his wife advance in the world of academia while he settled for being adjunct professor. This role reversal from the stereotypical norm allowed him to pursue other creative ventures and spend summer vacations with his two sons. The author is my approximate contemporary age wise, so in a hopeful sense this book could be an example for me to aspire to achieve if I were to write my own memoir. But I despair at the comparison because I'll not be able to match his writing skill.

The following are two excerpts from the book that I've decided to provide here to represent nature of the writing found in this book.

In the following excerpt the author describes his maturing beyond the conservative Christian faith of his younger years.

And so it was that I began to shift my focus from an anxious search in the forest of religion to a more restful surrender in the glade of simple trust. It was a shift of focus, not an attainment. I began to know a little of what it mean to rest in the grace of the world and breathe free. I was taken back to the whispers of the divine in the beauties of the natural world, the lives of kind and humble human beings, and to the miraculous stories of homeward return—like that of the prodigal son—I had heard in my earliest days. (p.214)

The author ends the book with the following paragraph in which he ties his boyhood memories of time spent in a small white boat with his continuing experience of life today.

In memory, I can still see my self as a kid floating in the safety of the little white boat. I see a time when I drifted in stillness on the glassy surface of the lake, the beauty around me mirrored in a Beauty within. I see a time when the waters seemed to rise up against me and, even with my brave little brother alongside, I felt vulnerable and afraid. I see a time when a great launch, regal in its trim of polished wood and brass, slowed down its heavy engines and smoothed the angry waves before me. And, as I follow in the wake of this Majestic Apparition, I see—even now—the sun-drenched shores of Home glowing on the farther shore.


- - - - - - - - - - - - - - - - - - - - - - - - - - - - - - - - - - - - - - - - - - - -
#vcFeb
February 9 Wednesday 1-2:30 p.m. on Zoom -- (Notes from last month)

Go Tell It on the Mountain by James Baldwin.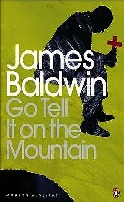 In one of the greatest American classics, Baldwin chronicles a fourteen-year-old boy's discovery of the terms of his identity. Baldwin's rendering of his protagonist's spiritual, sexual, and moral struggle of self-invention opened new possibilities in the American language and in the way Americans understand themselves. With lyrical precision, psychological directness, resonating symbolic power, and a rage that is at once unrelenting and compassionate, Baldwin tells the story of the stepson of the minister of a storefront Pentecostal church in Harlem. Originally published in 1953, Baldwin said of his first novel, "Mountain is the book I had to write if I was over going to write anything else."

Releasing Conversation: In Baldwin's book several of the chapters are called "prayers." Share your name and say something about prayer. What is prayer? How do you pray? What does prayer accomplish?

Quotations and questions selected by David Nelson:
1. "It was his hatred and his intelligence that he cherished, the one feeding the other. He lived for the day when his father would be dying, and he, John, would curse him on his deathbed." 17. Describe John's relationship to and with his father. What was his father's relationship with John? With God? With himself?

2. "'Sugar-plum, what you want to be so evil with your baby for? Don't you know you done made me go out and get drunk, and I wasn't a-fixing to do that? I wanted to take you out somewhere tonight.' And, while he spoke, his hand was on her breast, and his moving lips brushed her neck. And this caused such a war in her as could scarcely be endured." 88-89. Describe the interaction between these two people. Why does this kind of abuse seem so addictive? How do people escape this type of relationships?

3. "These, God's ministers, had indeed grown fat, and their dress was rich and various. They had been in the field so long that they did not tremble before God any more. They took God's power as their due, as something that made the more exciting their own assured, special atmosphere." 111. "Having possessed Esther, the carnal man awoke, seeing the possibility of conquest everywhere. He was made to remember that though he was holy he was yet young; the women who had wanted him wanted him still; he had but to stretch out his hand and take what he wanted – even sisters in the church." 133-134. How have you experienced religious leadership? What happens when religious leaders no longer "tremble before God"?

4. "Yet, most strangely, and from deeps not before discovered, his faith looked up; before the wickedness that he saw, the wickedness from which he fled, he yet beheld like a flaming standard in the middle of the air, that power of redemption to which he must, till death, bear witness; which, though it crush him utterly, he could not deny, though non among the living might ever behold it, he had beheld it, and must keep the faith. He would not go back into Egypt for friend, or lover, or bastard son; he would not turn his face from God, no matter how deep might grow the darkness in which God hid His face from him." 144-145. For some repentance/conversion is instant and forever; for some it is an ongoing process throughout life. How have you experienced and witness the mystery of grace and the love of the creator?

5. "I just decided me one day that I was going to get to know everything them white bastards know, and I was going to get to know it better than them, so could no white son-of-a-bitch nowhere never talk me down, and never make me feel like I was dirt, when I could read him the alphabet, back, front, and sideways. Shit—he weren't going to beat my ass, then." 178. Claiming innate human power and dignity results in letting go of conditioned roles. How has "Black Lives Matter" changed the dynamics of present-day culture? Describe how different individuals and communities changed and responded to BLM.

6. "Then they rose, to come together over a great basin filled with water. And they divided into four groups, two of women and two of men; and they began, woman before women, and man before man, to wash each other's feet. But the blood could not wash off; many washings only turned the crystal water red; and someone cried: 'Have you been to the river?' Then John saw the river, and the multitude was there…I, John, saw a city, way in the middle of the air, Waiting, waiting, waiting up there." 216-217 – read on. Talk about this vision. Does it remind you of other visions you have read about or seen in films? What is happening in your imagination as you read it?

Other quotations from James Baldwin. Pick one or several James Baldwin quotations and share your reflections on why he is such an important voice and human being.

q1. "You think your pain and your heartbreak are unprecedented in the history of the world, but then you read."

q2. "Not everything that is faced can be changed, but nothing can be changed until it is faced."

q3. "Perhaps home is not a place but simply an irrevocable condition."

q4. "I love America more than any other country in the world and, exactly for this reason, I insist on the right to criticize her perpetually."

q5. "I can't believe what you say, because I see what you do."

q6. "Freedom is not something that anybody can be given. Freedom is something people take and people are as free as they want to be."

q7. "It is certain, in any case, that ignorance, allied with power, is the most ferocious enemy justice can have."

q8. "Love does not begin and end the way we seem to think it does. Love is a battle, love is a war; love is a growing up."



Here is Clif Hostetler's review on Goodreads.com
This novel tells a story of teenaged John Grimes living in the 1930s Harlem district of New York City with his African American family and their charismatic Christianity. His stepfather is a deacon in the church and part time preacher who tries to impose restrictions on John and his half brother Roy hoping to prevent their exposure to the worldly and sinful Harlem community.
The book's chronology goes back in time for Part 2 of the book to explore the family's roots in the American South to tell the stories of step-aunt Florence, step-father Gabriel, and mother Elizabeth.
Then Part 3 of the book provides a vivid description of an ecstatic born-again experience of the book's protagonist, young John Grimes.
My favorite quotation from the book:

"Look like," she said, "you think the Lord's a man like you; you think you can fool Him like you fool men, and you fool men, and you think He forgets, like men. But God don't forget nothing, Gabriel — if your name's down there in the Book, like you say, it's got all what you done right down there with it. And you going to answer for it, too."
In the above quotation, Gabriel is counting on the grace of God to forgive his sins. Florence, the speaker, reminds him of the damaged souls he's left in his wake, and she warns him to stop making life miserable for Elizabeth and John or else she will make sure everybody learns about his unsavory past.
I'm siding with Florence in the quotation above, and I'm not so sure about the virtue of God's grace in this case.





- - - - - - - - - - - - - - - - - - - - - - - - - - - - - - - - - - - - - - - - - - - -

#vcMar
March 9 Wednesday 1-2:30 p.m. on Zoom


Meeting ID: 832 3534 6541

Passcode: 076621

Gunfight: My Battle Against the Industry that Radicalized America
by Ryan Busse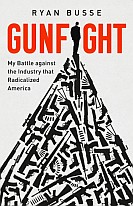 "Ryan Busse presents a fascinating, clear-eyed account of the gun industry's slide into extremism. I was left with a sense of hope that there is a path forward; one where the majority of Americans, including the majority of gun owners, stand up to the gun lobby bullying and demand lasting change." --Gabby Giffords "Gunfight reveals the truth about the roots of our national division, and many people will see themselves in Busse's resistance to extremism." --Jon Tester, three-term Montana Senator


Releasing conversation: Share your name and list an organization you support. Quotations and Questions selected by David Nelson

1. "I came to understand that for my dad and me, like many gun owners, guns like this were more than tools. They were symbols of our hopes and of our relationship to each other. They represented things that we wanted to be true. Unlike a hammer or a shovel, we had a deep emotional connection to these tools." 24-25. Say a bit more about guns as symbols of hopes and of your relationship to each other. Why are guns central to this deep emotional connection?

2. "I brought to Kalispell (Montana) all of the work ethic my parents taught me…and my limited view of politics. I was busy chasing success and didn't give politics much consideration other than to know I was a hardworking, red-blooded, gunrunning American. In other words, I thought of myself as Republican." 36. Describe the journey of your career. Why were you so successful?

3. "During the whole debate, as I cut my teeth in this industry, manufacturers, dealers, and consumers went into a frenzy. All the uncertainty and attention, plus a strong fear and distrust of Bill and Hillary Clinton, meant that consumers rushed to buy any guns that might be banned, and gun sales exploded." 63 Why were mass shootings good for the gun industry? Some of us think that such tragic events would result in stricter legislation against guns.

4. "I became a prominent player in the gun industry. No one could deny I played a key role in helping the NRA (National Rifle Association) build the foundation for a new brand of national politics that demanded almost religious devotion. There was only one unwritten but clearly understood line of scripture in this new political church: '100 percent loyalty and no one steps out of line. Period. The organization had learned to be unforgiving. 117 How was the NRA different from other member organizations? Can you illustrate what that means?

5. "The Blackfeet called this part of what is now Montana the Badger-Two Medicine, named for the nearby Badger and the Two Medicine River. They believed that the 'Sky People' the Sun, the Moon, and the Morning Star – looked over the people who were created here. On that day, with tears still in my eyes, I knew that in a very important way I too had been born in this place…I adopted the Badger-Two Medicine as my own sacred home." 154-155 In your chapter "Rescued by the Sky People" you describe your move to Montana, "the Last Best Place" and your very important companion "Ruark". In reading your book I almost felt I was starting a different book. Geography plays a major role in your life. Can you share why it is so important?

5. "After 9/11 and George W. Bush's wars, the industry's annual sales would shoot up to between thirteen million and sixteen mission units per year between 2013 and 2016. The Bush-era cultural shift meant that the components for this sales explosion were in place. Now all we needed for final detonation was a pinch of Sharia law conspiracy theory and a Black president with a Muslim-sounding name." 187 Politics and gun sales seemed a strange mix. When did you realize how toxic that had become? When did you first feel like the "frog in the boiling water"?

7. "Of course, contrary to LaPierre's (Head of NRA) promises the country did not crumble under Obama's presidency, nor did gun sales suffer. Nobody took any guns away. I was not forced to give up hunting, and my job did not evaporate. Instead, I sat back and watched an industry capitalize on a long-simmering pot of racism…For more than a decade it had been slowly steaming but when a Black man finally rose to power, the NRA racism pot boiled over." 208 How did racism get into the mix of politics and gun sales?

8. "And I'd do it while enduring thousands of people who took me to be something I was not anymore. I could not blame them, I suppose. Sameness, solidarity, unanimity, lockstep, freedom, patriotism, us versus them, stand and fight, God and guns, good verses evil. These were powerful verses in hymns that were written here, and they were catching on across the country…I'm just a ranch kid trying to make a living." 219 How did you survive during the period you had intellectually separated from the mentality of the gun industry while remaining a major player in it?

9. "'I met a guy I think will be our next US senator,' I told Sara that evening. 'This guy Tester – he's got something I can't quite put my finger on.' …Luckily for me, and for Tester, my Hail Mary promise of a victory came to pass." 236-237. Politics is very hard. Tell us about your friend Senator Tester.

10. "I often talked through it all with Sara, and on the night of our twentieth wedding anniversary, the subject of my exit came up again…Sara locked the door and then turned to me. 'We are not leaving this room until we decide on the plan,' she said, tossing me a small notepad from our hotel room." 300 Tell us about Sara and others who have been allies in your journey from farm boy in Kansas, gunrunner in the US, and now consultant to progressive organizations aiming to undo the country's dangerous radicalization.



Here is Clif Hostetler's review on Goodreads.com

This book is part personal memoir written by a former executive of a gun manufacturer, and it is part history of the sociological and political transformation of the United States from bipartisan acceptance of the rules of democracy into a "radicalized nation of competing tribes" egged on in a "cauldron of fear and hate." The author recounts from his position within the firearms industry how his business once catered to customers who were mature responsible hunters and sportsmen, but that evolve over time into their use of race baiting advertisements designed to attract those whom insiders derogatorily referred to as "tacctards" and "couch commandos." Furthermore, the industry that once valued craftsmanship and quality changed to using cheap plastic stocks—referred to as Tupperware in one of the book chapters.

This change in the American psyche mirrored a corresponding change in politics—Trumpian style in particular. It's hard to say which caused or responded to the other. Was the firearms industry fomenting the radicalization or was it radical, right-wing forces outside the industry that prodded firearms manufacturers down the incendiary and deadly path they are still on? This book tends to give the gun industry and NRA much of the credit. In either case they have:

... built a system that relies on a political police state to enforce 100 percent loyalty: no one can dare ask any questions without immediate repercussion. It is a culture that praises violence, one where 'getting your man card back' means that it's acceptable to do whatever it takes to establish your superiority.

This book's story is told from the unique perspective of an insider. The author was actually in the room when many of the marketing decisions were made to take advantage of shifting cultural tides. The author's primary loyalty was to preservation of Public Lands and hunting and fishing, values that at one time were in sync with the interests of gun manufacturers. In clear and concise narrative the author tells of an increasing emphasis toward loyalty to the Republican Party, even when the Party's position did not value conservation issues.

The author explains that he stayed within the gun industry for many years in the hope that he could exert some positive influence toward movement in a more wholesome direction. It is notable that his company, Kimber Manufacturing, never did market assault style rifles and continued to emphasize quality and workmanship. But the strain between the industry and his own values—and pressure from his wife and young children—finally convinced him to resign his position in 2020. The industry had moved away from him; he had not moved away from them.



- - - - - - - - - - - - - - - - - - - - - - - - - - - - - - - - - - - - - - - - - - - -
#vcApr
April 13 Wednesday 1-2:30 p.m. on Zoom --
Meeting ID: 832 3534 6541 -- Passcode: 076621

The Immigrants' New Camera: A Family Collection
by Maryfrances Wagner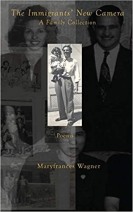 Amazon listing Whale Road review

Goodreads review Denise Low review

NATIONAL POETRY MONTH is a time to explore how words can explore the world is beautiful ways.
Maryfrances Wagner is the Poet Laureate of Missouri and will be with us for this Vital Conversation. She will not only share some of her poetry but also reflect with us on the value of poetry for our time.
She is a retired writing teacher and has published nine collections of poetry. Wagner said she wants "to find ways to reach out to people who don't usually read poetry or think they like it." If you like poetry or not, you will enjoy this conversation with Maryfrances.
David has asked Vern to lead this discussion.


Quotations selected, and questions written, by David Nelson


Releasing Conversation: "Poetry is a type of literature based on the interplay of words and rhythm. It often employs rhyme and meter (a set of rules governing the number and arrangement of syllables in each line). In poetry, words are strung together to form sounds, images, and ideas that might be too complex or abstract to describe directly." [LiteraryTerms.net] "Poets are the unacknowledged legislators of the world." [Shelley] Share your name and speak a few words about your favorite poem.

1. "Glimmering with the physical things of the world, offering a stepladder to the possible, Wagner's fifth collection takes us back to awe and wonder." [Jo McDougall.] What does that mean to you? What would you add in defining poetry and teaching poetry?

2. Maryfrances, could you tell us a few "steppingstones" in your life that has brought you to this honor? When did you first flirt with poetry? What events have been significant in your personal and professional journey that you wish to share with those of us on this Zoom gathering? Who are some of the poets you admire? How often do you read poetry? Do you write poetry every day?


3. "The Missouri Poet Laureate enriches Missourians' lives throughout the state by fostering the reading and writing of poetry, through public appearances, readings, workshops, and digital and social media. "As Poet Laureate," Ms. Wagner says, "I'd like to find ways to reach out to people who don't usually read poetry or even think they like it." [Missouri Arts Council Web site]. Tell us about being Missouri's Poet Laureate. What has been different during this period of your life? What has been the response from the public? How as Covid impacted your time as Poet Laureate?


4. "Specific poetic forms have been developed by many cultures, in more developed, closed or 'received' poetic form, the rhyming scheme, meter and other elements of a poem are based on set of rules. Common forms widely used across languages: Sonnet, Shi, Villanelle, Limerick, Tanka, Haiku, Khlong, Ode, Ghazal . . . . Poetry is often thought of in terms of different genres: Narrative, Lyric, Epic, Satirical, Elegy, Verse, Dramatic, Speculative, Prose, Light, Slam.[Wikipedia]. Poetry has played major roles in human history. Religions have used poetry in liturgy and ritual. Revolutions have been empowered, wars have been fought, unions have been made and destroyed, life and death has been honored, humor has been embodied; all this through poetry. What is it about poetry that has made it so central to the human story?

5. "Like most poets, I've wanted to touch the human spirit and move the reader. That's what I want to happen to me as well when I read a poem. Not every poem is easily accessible, and not every poem will have the same impact on a person, but poems abound out there for all of us. I want to help find those poems for people." [IN KC.] How do you "find those poems for people"? Are there types of poems that appeal to different types of people? Is there a way to discover poetry that will help me "touch the human spirit and move" me?

6. In your recent book, The Immigrants' New Camera: A Family Collection, you introduce and reflect on a unique culture, a specific family, and several interesting places. I found myself not only learning more about you but also remembering more about myself. One example is "My Mother's White Lies." Talk about how living a specific life unites or divides you and others from the realities of others. Can poetry be a force in reuniting a divided community?

7. Poetry, like other art, is more about what is heard and seen than what is written or pictured. That is my opinion, anyway. The "art form method" of discussion helps us to listen to more than words. While we listen, would you read out loud your poem "Raising a Hand" (page 55)? After the reading, I will ask others "What words did you hear? What did you feel? What experiences were you reminded of from your own life?

8. Amanda Gorman in her poem "The Hill We Climb" at Joe Biden's inauguration brought tears of hope to many in this nation and the world. The nation paused for a moment and for many we felt like a united and special people. Where else have you witnessed poetry serve to heal, motivate, empower, challenge, or inspire?


NOTE: David says, We are hoping that beginning in May we will meet both at the library and by Zoom. I have been thrilled to have participants from outside the greater Kansas City area who attend and do not want to lose them.


- - - - - - - - - - - - - - - - - - - - - - - - - - - - - - - - - - - - - - - - - - - -

#vcMay
May 11 Wednesday 1-2:30 p.m. on

Zoom & In-Person

-- (Notes from last month)
Zoom: Meeting ID: 832 3534 6541 Passcode: 076621

Banning Books in libraries and schools.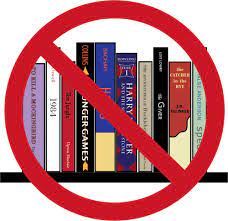 Instead of one book, be amazed by the variety of books currently on the list for removing from school libraries. Look over the list and read one or several and come to share your insight and opinion on this current issue.

This will be a hybrid event -- since the pandemic, the first time back at the MidContinent Library, Antioch Branch, in person and also on Zoom.

The following books will be available at the library (ask for Vital Conversations or David Nelson): To Kill a Mockingbird by Harper Lee, The Giver by Lois Lowry, Lord of the Flies by Willian Golding, Animal Farm by George Orwell, 1984 by George Orwell, Fahrenheit 451 by Ray Bradbury, The Handmaid's Tale by Margaret Atwood, Slaughterhouse-Five by Kurt Vonnegut, Harry Potter series by J.K. Rowling, A Wrinkle in Time by Madeleine L'Engle.

The following books have been selected and will be discussed:


Maus: A Survivor's Tale: My Father Bleeds History

&

Maus II: A Survivor's Tale: And Here My Troubles Began

by Art Spiegelman


Brave New World

by Aldous Huxley


All Boys Are Not Blue: A Memoir-Manifesto

by George M. Johnson


And Tango Makes Three

by Justin Richardson


Animal Farm

by George Orwell


Me and Earl and the Dying Girl

by Jesse Andrews


Nineteen Minutes

by Jodi Picoult


Fahrenheit 451

by Ray Bradbury


The Grapes of Wrath

by John Steinbeck


Johnny Got His Gun

by Dalton Trumbo

Book banning is the most widespread form of censorship in the United States, with children's literature being the primary target. Advocates for banning books fear that children will be swayed by its contents, which they regard as potentially dangerous. A banning is the removal of those materials. Challenges do not simply involve a person expressing a point of view; rather, they are an attempt to remove them from the curriculum or library, thereby restricting the access of others.

According to a new American Library Association report, there were 330 "book challenges" in the fall of 2021, an uptick from the same periods in recent years.

"Parents, activists, school board officials and lawmakers around the country are challenging books at a pace not seen in decades."

New York Times



Questions:


* What is this book about? Give a brief synopsis. Why do some want it banned? Articulate the argument. What is your opinion?
* What is the role of librarians? Parents? Library Boards? School Districts? Newspapers? Television?
* How do you choose which books to read and share with others? Where do individual rights end and group rights take over?
* What are our responsibilities as parents and citizens? What can we do influence others?



- - - - - - - - - - - - - - - - - - - - - - - - - - - - - - - - - - - - - - - - - - - -

#vcJun8
June 8 Wednesday 1-2:30pm
Zoom: Meeting ID: 832 3534 6541 Passcode: 076621




Russian Aggression Against Ukraine.

With several Ukrainians and Russians present we will have a conversation about their histories, the current war and why this is important to us. To prepare for this conversation you can read, watch the news, visit with your friends, and engage with others. Below are listed three books. One is a non-fiction by a journalist. One is a novel. One is a complete history.



Discussion items include:




Name the dimensions of the crisis in Ukraine. Why is a war happening?

What is the historical relationship between Russia and Ukraine?

What is Putin's justification in invading Ukraine?

What is the role of religion in this situation?

How can we be allies for a more peaceful world?

What can we do right now? What are some actionable items?



Black Square: Adventures in Post-Soviet Ukraine by Sophie Pinkham.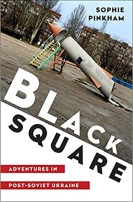 Ukraine has rebuilt itself repeatedly in the last century, plagued by corruption, poverty, and substance abuse; ravaged by ethnic clashes and Russian aggression.

Sophie Pinkham saw all this and more in the course of ten years working, traveling, and reporting the Maidan revolution of 2013-14, Russia's annexation of Crimea, and the current war against Russian invasion.

Sophie has current articles in The New York Times.


Brisbane: A Novel by Eugene Vodolazkin.
In this richly layered novel by the winner of Russia's biggest literary prizes, a celebrated guitarist robbed of his talent by Parkinson's disease seeks other paths to immortality. Expanding the literary universe spun in his earlies novels, Vodolazkin explores music and fame, belonging and purpose, time and eternity. At the stunning finale of Brisbane, all the carefully knit stitches unravel into a riddle: Whose story is it – the subject's or the writer's? Are art and love really no match for death? Is Brisbane, the city of our dreams, our only hope for the future?

The Gates of Europe: A History of Ukraine revised edition by Serhii Plokhy.
A Ukraine is embroiled in an ongoing struggle with Russia to preserve its territorial integrity and political independence, this celebrated historian explains that today's crisis is a case of history repeating itself: the Ukrainian conflict is only the latest in a log history of turmoil over Ukraine's sovereignty. This revised edition includes ne material that brings this definitive history up to the present, from the election of Volodymyr Zelensky to the tole of Ukraine in Trump's impeachment. As Ukraine once again find itself at the center of global attention, Plokhy brings its history to vivid life as he connects the nation's past with its present and future.



Clif Hostetler's review on Goodreads.com -- click for embedded links
The Gates of Europe: A History of Ukraine
by
Serhii Plokhy

,
Ralph Lister

,
Сергій Плохій
This book is a history of Ukraine, and since archeologists have found signs of human habitation dating back to 40,000 years ago, it is a long history. In Classical Greek times it was on the edge of the known world. Greek mythology designated it as the land of the Amazons, and the Greek hero Achilles was believed to be buried there. Herodotus described the region in his Histories and reported on the Scythians who lived there. Later during the time of the Roman Empire their cities on the Black Sea coast needed to be defended against the Sarmatians who were nomads from the east.

Most of that part of the world became inhabited by people referred to as Slavs, but since the Slav occupation was not accomplished by overt invasion we don't know very much about where, when, or how they came to be indigenous inhabitants of the land.
The name Ukraine means "frontier" or "borderland", and it follows that their long history is filled with instances of multiple crossings of its border by traders, missionaries, nomadic horsemen, and organized armies from multiple directions. In the ninth and tenth centuries the Vikings passed through from the north seeking trade with the Byzantine empire. They brought the term "Rus'" which was later applied to the name for the polity that developed from the tenth to the mid-thirteenth centuries with its center at Kyiv. Scholars today refer to that polity as Kyivan Rus'. The Cathedral of St. Sophia was constructed in Kyiv during this era (11th century).

Kyivan Rus' development stretched over hundreds of years, but its end came abruptly.
The city of Kyiv diminished in importance under Mongol rule (also known as the Golden Horde). In a decisive battle in 1362, Lithuanian and Rus' forces defeated the a leading tribe of the Golden Horde. The Polish–Lithuanian Commonwealth subsequently controlled the Ukrainian region for many years.

It was during this time that the term "Cossacks" came to be used to describe what at first were roving bandits and later evolved into a force with which regional powers needed to consider. Over time the term Cossack became synonymous with Ukrainian warriors who sometimes served as mercenaries on opposing sides.
In 1476 the first tsar and Muscovite ruler, Grand Prince Ivan III, manage to free his country to the north from the Mongols, and his kingdom would later grow to become a regional power. In an effort to free Ukraine from the Poles, the Cossacks made an agreement with Muscovy in return for their protection. Russia's claims to Ukrainian territory date to this event.
Unfortunately the promised protection to be provided by Muscovy didn't materialize. The Khmelnytsky uprising unleashed a long period of wars that many historians refer to as the Ruin. Eventually the Ukraine region was divided between the Ottoman Empire, Polish–Lithuanian Commonwealth, and Muscovy-Russia. Subsequently, the competing empires of Prussia, Austria, and Russia divided up the region. This time period is filled with so many shifts in boundaries that I'll not try to offer a summary in this review.
This book contains several chapters on Ukrainian cultural, literary, and religious history. After the the Crimean War considerable industrialization occurred in southeastern Ukraine due to the presence of coal and iron ore. Consequently there was labor unrest, and it was this discontent of the impoverished workers that eventually led to the 1917 revolution that deposed the Czar.

After the 1917 Russian Revolution and World War I, Ukraine was filled with warring groups of outlaw bandits, independence revolutionaries, White Russians, and the Red Russians. As part of the Soviet Union under Stalin's rule, Ukraine became victim of the Holodomor (a human caused famine).
Ukraine emerged from World War II as one of the Soviet Republics. It had gained territory with the boundaries we know today, but its people and economy were in a sorry state.
The book provides an interesting accounting of post-war Soviet history including the death of Stalin, the era of Khrushchev and Brezhnev, the 2004 Orange Revolution, and the breakup of the Soviet Union.

The edition of the book I read was published in 2015, which was after the 2014 Russian annexation of Crimea and invasion of Donbas but before the current 2022 war. In the final chapter this book offers the following prognosis for Ukraine's future.
In the book's Epilog the following description of the Russian mindset describes the motivations for the partial invasion then, but I think also applies to the current war.
The book also contains numerous maps, a timeline of Ukrainian history, and a listing of "Who's Who in Ukrainian History."

------

Clif Hostetler's review on Goodreads.com -- click for embedded links

The Memory Keeper of Kyiv
by Erin Litteken

WARNING

: Spoiler transferred from Goodreads to this page.

This novel's unique feature is to include a fictional account of the 1930s Ukrainian Holodomor. The book's story alternates between two separate narrative chains. The first narrative takes place in the early 2000s in the USA and features a grieving widow who together with her young daughter is having difficulty recovering from the death of her husband from a car accident that occurred about a year earlier. The second narrative takes place in the early 1930s Ukraine where a young bride faces trauma and shock when her family's way of life is brutally changed during the collectivization of their rural village.

Seventy years later that Ukrainian bride is now the grandmother of the young grieving American widow. For many years the grandmother has repressed the traumatic memories of her past and has withheld any mention of it to her family. But now this aging grandmother is developing symptoms of dementia, and those memories from long ago are beginning to arise. Furthermore, she perceives that her granddaughter and great granddaughter could benefit by learning about her experience recovering from trauma all those many years ago.

The grieving widow of the early 2000s is now living with her grandmother in order to help protect her from possible self harm caused by the on-coming signs of dementia. Consequently, she becomes aware of her grandmother's journal written in Ukrainian many years earlier. With assistance from a friend the journal is translated into English which provides the needed inspiration for the young widow to look to—and live for—the future.

There is a first love, a lost love, and a new love in both narrative chains, so the book can be classified as a bitter-sweet romance. Its plain and direct vernacular can also put it in the young adult category, which of course can be enjoyed by older adults as well. The author includes occasional references to Ukrainian folk traditions, food, and art so the book is educational in many ways. However, the book's most unique feature is to provide a personal up close description of life, death, and love in Ukraine during the 1930s.

The part of the story that takes place in Ukraine contains repeating ominous foreboding that the already bad events and conditions will continue to get even worse. For a hint about what takes place, check out this spoiler:

(view spoiler)

[The following description of the early 1930s Ukraine is excerpted from the nonfiction history book The Gates of Europe, by Serhii Plokhy.


Altogether, close to 4 million people perished in Ukraine as a result of the famine, more than decimating the country—every eighth person succumbed to hunger between 1932 and 1934.


Portions of this story will bring you to tears. However, the book also contains romance and parent-child love which will make you feel good. Late in the book the story contains a poignant heart warming communication between great-grandmother and great-granddaughter. And the very end of the Epilogue contains a final surprise.

The Author's Note at the end of the book describes some interesting parallels between her own family's history and the book's story. Here's a link to a message from the Author:
https://www.goodreads.com/review/show/4598826456


- - - - - - - - - - - - - - - - - - - - - - - - - - - - - - - - - - - - - - - - - - -

#vcJul
July 13 Wednesday 1-2:30 p.m.
Zoom: Meeting ID: 832 3534 6541 Passcode: 076621

Aristotle and Dante Discover the Secrets of the Universe
by Benjamin Alire Saenz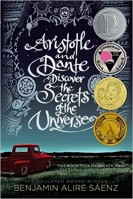 Dante can swim, Ari can't. Dante is articulate and self-assured. Ari has a hard time with words and suffers from self-doubt. Dante gets lost in poetry and art. Ari gets lost in thoughts of his older brother who is in prison. But against all odds, when Ari and Dante meet, they develop a special bond that will teach them the most important truths of their lives and help define the people they want to be. But there are big hurdles in their way, and only by believing in each other -- and the power of their friendship – canAri and Dante emerge stronger on the other side.
Questions for discussion
> Do people always have to understand the people they love? Why or why not?
> What characteristics are most admirable in a close friend?

Here is A Reading Group Guide to: Aristotle and Dante. Enjoy.

Clif Hostetler's review on Goodreads.com -- click for embedded links
This is a novel that explores the world of teenage angst among two male friends dealing with their slow discovery leading to acceptance of mutually homosexual feelings. The two friends happen to also be of Mexican ancestry living in 1980s El Paso, Texas, so there's a bit of an exploration of that cultural setting. But it's fair to say that neither of these young men fit comfortably in the surrounding youth culture and instead lean toward being nerds.

Typical teenage feelings and emotions are dealt with in the book's story including parental relationships and anger. But the feature that gives the book uniqueness is its description of a budding homosexual friendship. The fact that it takes place in the South in the late 1980s adds additional poignancy to the story because the social environment then was less accepting than today. The author has chosen to give these young men parents who are open minded and accepting which makes it possible for the story to end with optimistic and positive vibes.

SPOILER [I am a supporter of LGBTQ rights, and they deserve to have novels written about their own romantic experiences. However, books of the romance genre require some emotional identification on the part the reader if the book's plot is to be fully appreciated. Reading from the perspective of a heterosexual, I was hoping the book's lesson would be that two young men could be friends even if they had differing sexual inclinations. In the end that was not the direction taken by the book's conclusion, consequently my disappointment hindered my ability of fully appreciate the book's story.]
- - - - - - - - - - - - - - - - - - - - - - - - - - - - - - - - - - - - - - - - - - - -
#vcAug
August 10 Wednesday 1-2:30 p.m. on Zoom and in person.
Religion and the Critical Mind: A Journey for Seekers, Doubters, and the Curious by Anton K. Jacobs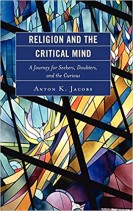 Anton Jacobs is a friend and ally with several of us who attend and participate in Vital Conversations. He has taught in a variety of local colleges and learning places and offered leadership in The Greater Kansas City Interfaith Council. In a time when critical thinking appears to be under attack, it seems appropriate to focus together with Anton on the role of religion. He outlines and invites us to think with some curious minds from the past as he leads us to our own thinking about religions' role in our lives. His book, although out of print, is available. Amazon had several copies when I was typing this. There were several other links for you to find his publication for you to read before joining in our Vital Conversation with Anton. --David

Anton writes:


Friends: I understand that we're talking about my book,

Religion and the Critical Mind

, on August 10. Coincidentally, I'm in the process of revising and enlarging that book. So, insofar as you have the time and wherewithal while reading the book, I would much appreciate it if you would email questions and criticisms you think I should consider while revising it. I'll have someone taking notes on August 10th, but something might be missed that is important for the revision and enlargement. My email:

a

ntonkjacobs@gmail.com

Many blessings.

Anton

0 Releasing Conversation: David Brooks, in his New York Times column July 29, wrote, "Everybody is grabbing from the world bits and pieces of thought and fashion that they can mishmash into their personal way of being. The more sources you borrow from, the more interesting your self is likely to be." Share two or three of the sources you have borrowed from to be the interesting person you are today. Who have you admired and borrowed from to have the wisdom and thoughts you have today?

1. "This study is for thoughtful people who want to live authentic, integrated, and responsible lives of faith in this postmodern world but who still struggle with serious doubts about their faith and their commitments." (5) Why did you write this book? Why did you read this book? What does critical theory mean to you? Why is "critical theory" so threatening to some people today?

2. "The rule here is simple and reasonable: give them (religious criticisms) a fair hearing. In so far as they are untrue, forget'em. Insofar as their truthfulness cannot be determined, admit it. In so far as they are true, however, we need to know it, and our faith-claims and religious practices need to be informed, perhaps even disciplined, by their insights." (27) Share how your religious understanding has changed in your lifetime. Did the change come from self-discovery/ experience or by reading what others shared?

3. "The Renaissance awakened a humanistic spirit of open inquiry and reflection that would not go back to sleep. When the Enlightenment arrived, its greatest contributions would be in the realms of political, economic, and social thought, but it would of necessity be defined in large part in opposition to faith and religion." (49) Was the Enlightenment a gift or a curse on the human journey? Make the case for your answer.

4. Voltaire "If there were only one religion in England, there would be danger of tyranny; if there were two, they would cut each other's throats; but there are thirty, and they live happily together in peace." (65) If religious diversity worked in England in the 18th century, why is it so difficult in The United States in the 21st century?

5. "I think Nietzschean critique is useful wherever religion, in its historical forms, has channeled sacred awe into fearmongering, affirmations of servile helplessness, and legitimation of domination." (103) Have you experienced religion that does these things? Share some examples.

6. "To take Durkheim seriously is to recognize that our religious sentiments get all mixed up with our cultural, collective sense of self. One of the more obvious egregious examples – one about which I think everyone would today agree—was seen in the religious justification of American slavery." (119) How much of the difficulties we associate with religion are also very mixed up with culture?

7. "That religion in history could have been identified as oppressive (Voltaire), alienating (Marx), duplicitous (Nietzsche), socially legitimating (Durkheim), psychologically regressive (Freud), and harmful (Russell) points to the reality that it has had the power to do these things." (164). Which of the critics of religion Anton discusses in this book to you find most challenging? Most helpful? Most accurate?

8. "I would confess that I love religion. The ritual, the theological struggles to understand the Divine and the relationship between the Divine and humanity, the piety of the devoted, the poetry of religious writing, the pageantry of religious ritual – I find religion exciting and inspiring, sometimes also boring and depressing, but almost always alluring." (175)

Ten Meta-Theological Claims.
There is inherent in human experience a sense of the sacred.
The Holy is ultimately incomprehensible.
Religion is a social institution.
Faith is a matter of ultimate concern.
Faith is a matter of letting go.
Faith grows best in a community.
Belief (i.e., theology) is a journey, not a destination.
Worship is a matter of the heart.
The experience of the Holy gives rise to a sense of incongruity between the Sacred and the world that calls to action.
The experience of the Holy give rise to a sense of solidarity with all of humanity.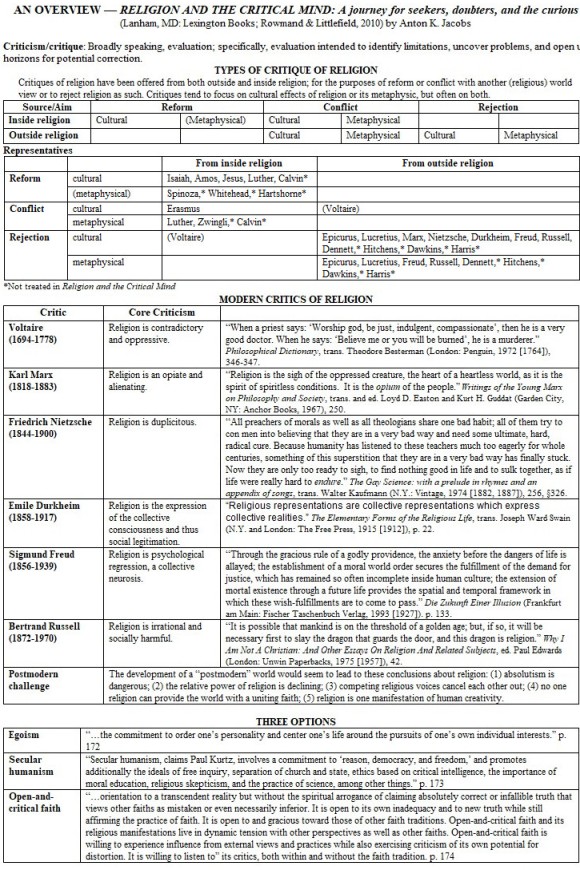 Clif Hostetler's review on Goodreads.com -- click for embedded links

This book provides a history of criticism made against religion by highlighting its famous critics beginning with selected Old Testament prophets (Elijah, Isaiah, Amos) who offered criticism from within and Greek and Roman philosophers (Epicurus, Lucretius) who gave their criticism from without. The book moves on to the Renaissance/Reformation era (Erasmus, Luther) and acknowledges the Radical Reformation (Anabaptists).
From that beginning the book then devotes one chapter each to Voltaire, Karl Marx, Friedrich Nietzsche, Emile Durkheim, Sigmund Freud, and Bertrand Russel. A penultimate chapter discussing postmodernism is provided before a final chapter in which the author give his "case for faith and religion." All of these highlighted critics of religion were versions of being atheist (debatable in Voltaire's case). Durkheim, though an atheist, recognized a societal value provided by religion while the others thought the world could be a better place without religion.
Each of the chapters provide a biographical historical overview of the chapter's character and a description of their philosophical positions which is then followed with "some reflection" offered by the author. In general these reflections are the author noting the particular type or view of religion to which that particular critic is addressing his critique. The criticism offered by each individual described by this book has merit (in my opinion) when considering their social context and their perception of religion. Late in the book the author suggests that these critics are not the enemies of religion, but rather "they are the kind of prophetic antagonists religion needs to keep it honest."
I was glad to read in the second from last chapter that the concept of postmodernism is confusing because that is how I have experienced the concept. A common definition is "there is no ultimate truth." Somehow that doesn't quite capture its complexity.


Postmodern thought is multi-faceted, involving countless esoteric interdisciplinary theses and debates about every aspect of life ... .(p.161)

Postmodern thought is considerably more nuanced, varied, and conflicted than I have presented it. ... [I] have identified these three themes as typically present in postmodern thought: (1) There seems to be no transcendental and ultimate grounding for claims to truth; (2) the world is fragmented by competing and conflicting interests with no universally accepted formula for mediating between interests; and (3) the power of domination is subtle and frequently "hidden."(p.162)


This leads to the final chapter where the author makes a reply to the previously discussed history of criticism with his own "case for faith and religion." After providing some clarification of definitions the author provides a thorough discussion of his ten claims "toward an open-and-critical faith" which are listed below.

1. There is inherent in human experience a sense of the sacred.
2. The Holy is ultimately incomprehensible.
3. Religion is a social institution.
4. Faith is a matter of ultimate concern.
5. Faith is a matter of letting go.
6. Faith grows best in a community.
7. Belief (i.e., theology) is a journey, not a destination.
8. Worship is a matter of the heart.
9. The experience of the Holy gives rise to a sense of incongruity between the Sacred and the world that calls to action.
10. The experience of the Holy gives rise to a sense of solidarity with all of humanity.

The author reviews the aforementioned claims from the perspective of a Christian background and Western thought. However, he presents them is a way that they can be adapted to other faith traditions and cultures.

I received a copy of this book from the author for purposes of review. It it my understanding that he plans to update and republish the book in the near future.


- - - - - - - - - - - - - - - - - - - - - - - - - - - - - - - - - - - - - - - - - - - -

#vcSep
September 14 Wednesday 1-2:30 p.m. on Zoom and in person.
The Mountains Sing: A Novel by Nguyen Phan Que Mai.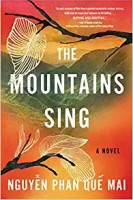 Vivid, gripping, and steeped in the language and traditions of Vietnam, this novel brings to life the human costs of this war from the point of view of the Vietnamese people themselves, while showing us the true power of kindness and hope.
"A luminous, complex family narrative that spans nearly a century of Vietnamese history…the novel resembles a choral performance with multiple voices." I have ten copies of this novel you can borrow from me given to us by the Estes Valley Library where it was the "One Valley – One Book" read.
David writes--


We all have a "Vietnam Story." Some of you served in the US military in Vietnam. Some of you were part of protests against war. Some have read about this time in America and remember parents and others talk about Vietnam. Many of us know Vietnamese who have become part of our community and our friends and family. This book shares a story from a woman who experienced it first-hand. You can hear her on this YouTube podcast. I still have books to hand out if you would like one to read. Just contact me and I will bring it if you are in the area.

Releasing Conversation: Share your name and briefly share your "Vietnam Story."

1. "I smiled, enchanted whenever proverbs were embedded in conversations. Grandma had told me proverbs were the essence of our ancestors' wisdom, passed orally from one generation to the next, even before our written language existed." (15) I list several below and you may have found others.
A. "Intact leaves safeguard ripped leaves. You're welcome to stay with us at any time." (15)
B. "He who sows the wind will reap the storm." (93)
C. "Each day of travel earns one basketful of wisdom." (204)
D. "Difficulty gives light to wisdom." (233)
E. "Fire proves gold, adversity proves men." (292)


2. "My fingernails dug into my palms. I didn't care what war meant. I just wanted it to return my mother to me, give me back my father and my uncles, and make our family whole again." (76) War in Vietnam was brutal to families. North and south were in civil division. Outside armies from several other countries were engaged. For decades it almost became normal. Do you understand Vietnam better after reading this novel? Explain.

3. "I didn't want to tell you about his death, but you and I have seen enough death and violence to know that there's only one way we can talk about wars: honestly. Only through honesty can we learn about the truth." (79) Why are there some who seek to coverup or deny what is painful and embarrassing?

4. "After my mother had departed with Auntie Duyen, I went out to the backyard, Little House in the Big Woods in my hands. How lucky for this American girl to be anchored by her parents, while mine had drifted so far away. I turned to the final page, where Laura had been snugly in her bed, with her mother in her rocking chair knitting and her father's music and singing voice filling their cozy home with happiness." (102) Why was this story so precious? Do you have a book that serves in such a way for you?

5. Read the legend of the "Lake of the Returned Sword" on page 122-123 out loud. "The ancient legend couldn't be truer. If both Americans and Vietnamese had laid down their weapons, no one would have had to die." (123) Why do wars continue? Why do so many members of our human family have to die?

6. "Yes, they dumped plenty of it onto our forests and jungles. To make leaves fall off trees, so they could see us soldiers from the North. But whatever they sprayed also killed small living thing. I didn't know what the chemical was called, until after the war. It has a beautiful name: Agent Orange." (127) What else do we know about the use of Agent Orange?

7. "I had hated the Americans and their allies so much before that day. I hated them for dropping bombs on our people, killing innocent civilians. But from that day, I hated the war. What my uncle said made me think. I had resented America, too. But by reading their books, I saw the other side of them – their humanity. Somehow, I was sure that if people were willing to read each other, and see the light of other cultures, there would be no war on earth." (161) Look at the context of this quote. Why did the uncle change his focus?

8. "The foreigner pointed the gun at me. I was sure he saw me. The helicopter blades had blown the leaves covering me away. I held my breath, waiting for the sounds of gunfire, waiting for terrifying pain to sear through my flesh, waiting for death to take me away. But the man just stared at me – then he shook his head and flicked his hand. The helicopter slowly floated away, and above me was nothing but the brilliant sky. I still wonder who that man was and why he didn't shoot me. Perhaps he didn't see that I had a weapon, for I had hidden my AK-47 behind my back. Perhaps he was sick of killing or had turned against the way. Or perhaps he simply thought I was dead, but I know that isn't true. In that instant we looked into each other's eyes as if into mirrors." (162) Ponder that moment. Imagine that moment. Share your thoughts.

9. "I turned to the fire. Human lives were short and fragile. Time and illnesses consumed us, like flames burning away these pieces of wood. But it doesn't matter how long or short we lived. It mattered more how much light we were able to shed on those we loved and how many people we touched with our compassion." (299) Share some stories of the lights others had shined on you and the compassion you have witnessed.

10. "When Uncle Minh died, I took my notebook to the back of the house. Squatting on the ground, I wrote for an uncle I'd been robbed of, who was a leaf pushed away from its tree, but at its last moment still struggled to fall back to its roots. I wrote for Grandma, who'd hoped for the fire of war to be extinguished, only for its embers to keep burning her. I wrote for my uncles, my aunt, and my parents, who were helpless in the fight of brother against brother, and whose war went on, regardless of whether they were alive or dead." (324) Who will you write for? Whose story continues to inspire you to live fully, learn much, laugh often and love well?

Clif Hostetler's review on Goodreads.com -- click for embedded links

I was attracted to this novel because it describes Vietnamese history and the Vietnam War from the view of the people living in the North, and it is told in the voice of women. Many of the stories recounted by this book were inspired by the author's own family experiences and those of other Vietnamese she knows.

The book's narrative brings to life some very human experiences of those who were perceived by most Americans as the enemy, but it is in no way a political defense of the North. There's plenty of criticism of all sides in the war, and this book highlights the misery and damage done to people's lives. It makes it clear that Americans were not the only ones who may have come home from the war suffering from PTSD.

Many returnees at the war's end had missing limbs, and others simply didn't return. One of the lingering mysteries hovering throughout this book is the unknown fate the 12-year-old narrator's father who had been a Viet Cong (PRG) soldier in the South. Her mother who had been a Viet Cong medic did return at the war's end, but she was changed.

She was home, but not home, for she was so lost in the war

she forgot that I was her own daughter.

This book begins with the first person narrative of a twelve-year-old girl witnessing the 1972 bombing of Hanoi, and this girl's narrative is then followed in the first person narration of her Grandmother recounting her experiences going back to the 1930s. From this point these two narratives are told in alternating chapters, one providing a post war narrative and the other giving the underlying history leading up to the war. In this way we as readers are informed of the multigenerational trauma experience by the Vietnamese during the twentieth century.

The Grandmother's narrative tells of the 1930s French colonial rule, the 1940s Japanese occupation, the 1945

Great Hunger

and the 1954

land reform

which are parts of Vietnamese history with which most Western readers will be unfamiliar. The story of how the Grandmother fled with five of her six children due to threats to her life resulting from land reform hysteria provides the core drama for this book. The separations and dislocations created by this event stay with the family all through the 1955-1975 Vietnam War and are not resolved until the end of the book in the 80s.

From the young granddaughter's narrative we learn that she is an aspiring writer which I presume to be the voice of the book's author—who is obviously a writer—describing the sorts of emotion which motivative a writer in their craft.

When Uncle Minh died, I took my notebook to the back of the house.

Squatting on the ground, I wrote for an uncle I'd been robbed of,

who was a leaf pushed away from its tree, but at its last moment still struggled

to fall back to its roots. I wrote for Grandma, who'd hoped for the fire of war

to be extinguished, only for its embers to keep burning her. I wrote for my uncles,

my aunt, and my parents, who were helpless in the fight of brother against brother,

and whose war went on regardless of whether they were alive, or dead.

This book is a saga of tribulation tearing away at four generations of a family. But it is also a tribute to the human spirit's ability of live on, the strength of familial love to endure, and in the end the need to forgive.

At the end of the book there is an essay titled, "Climbing Many Mountains: An essay by Nguyễn Phan Quế Mai." I believe it adds poignancy to the book to learn of the author's background that is provided in this essay. Here's A LINK to that essay.

- - - - - - - - - - - - - - - - - - - - - - - - - - - - - - - - - - - - - - - - - - - -

#vcOct
October 12 Wednesday 1-2:30 p.m. on Zoom only this month -- refresh/reload your browser if zoom link https://us02web.zoom.us/j/83235346541 does not work.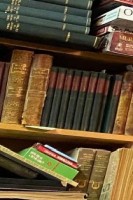 A Bookstore Visit -> Steels Used Books in Gladstone.
David Steel will introduce himself and his bookstore at 7313 N Oak Trafficway in Gladstone.
Because of the size of the bookstore, regular participants in Vital Conversations are requested to join in the "location" Zoom meeting.
Do you have a favorite bookstore, with used books or otherwise? Do you have perhaps a childhood memory of a bookstore or a story about discovering a book as a teen-ager that made a difference in your life? Has your practice of buying books shifted from physical bookstores to online commerce as the internet has developed? What is the future of bookstores, and particularly used bookstores?
You are invited to visit and thank David Steel before and/or after October 12 Wednesday 1-2:30 pm.

"Reading is magic and a mysterious activity that feeds the mind, transports the imagination, soothes the soul, and expands life. It is most often done in solitude and yet connects us to so many others both near us and far from us. Many readers enjoy the opportunity to share their reading discoveries and to expand from the sharing of others. Reading is an important aspect of our common humanness." --David E. Nelson

"The act of reading alters your brain. It does so, first because your thoughts are brain processes. When you read, neural patterns come and go as the words pass before you. Some of those patterns also give rise to memories, subtle molecular changes in cells and the signaling mechanisms that link them. And third, your brain is physically transformed by learning to read. The networks that underlie vision and language are changed." --Peter Godfrey-Smith NYTimes Book Review 1/14/18



Releasing conversation:

Share your name and identify your favorite used bookstore. Briefly tell about the store and why you enjoy visiting it.



Questions for David Steel:

Tell us the story of your bookstore. When was it started? How has it changed? How is your store organized? How do you determine what to pay and what to charge? Do you want more used books? Why have many independent bookstores not survived in recent decades?



Questions for general discussion

on Zoom: Do you read books online, eBooks, or listen to audio books? What percentage of your reading? What does the future of reading look like to you? Tell us about your reading patterns, habits, and insights.

You can bring your general questions about reading, discussion of books, Vital Conversations, and other related topics. Since there is no specific book assigned for this gathering, we can be a bit more informal about what we talk about.



- - - - - - - - - - - - - - - - - - - - - - - - - - - - - - - - - - - - - - - - - - - -

#vcNov
November 9 Wednesday 1-2:30 p.m. on Zoom and in person.
Do I Stay Christian? A Guide for the Doubters, The Disappointed, and the Disillusioned by Brian D. McLaren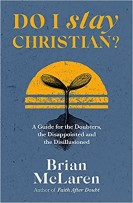 According to McLaren, there is a way to say both yes and no to the question by shifting the focus from whether we stay Christian to how we stay human. Staying human is the challenge we all face at some time in our lives. This book can be a help in responding in a positive way. Brian is a faculty member of The Living School at the Center for Action and Contemplation.

Releasing Conversation: Share your name and say something about your faith using the categories listed below from page 3-4.

Christianity can be understood

historically or culturally

, as a legacy you are born into or enter by choice. To be a Christian is to inhabit a cultural or historical tradition.
Christianity can be defined

institutionally

, as a power structure or hierarchy in which you participate. To be a Christian is to affiliate with an institution and accept its authority structure.
Christianity can be defined

doctrinally

, as something you believe. To be a Christian is to affirm a system of beliefs or teachings.
Christianity can be defined

liturgically or pragmatically

, as a set of rituals you practice. To be a Christian is to engage in some version of Christianity's rituals or practices.
Christianity can be defined

spiritually or experientially

, as something you feel or a conversion experience you've had. To be a Christian is to have, foster, and share a set of experiences.
Christianity can be defined

moralistically

, as a shared set of my moral values or precepts. To be a Christian is to live your life by a moral or ethical framework.
Christianity can be defined

missionally

, as a program, plan, or movement for intentional action in the world. To be a Christian is to be on that mission as your own.
Christianity can be defined

demographically

, as a sociological or anthropological identity. To be a Christian is to identify yourself a member of a recognized group.
Christianity can be defined

politically

, as a way of organizing people for political action (or inaction). To be a Christian is to act as part of a coalition with shared theo-political aims.
Christianity can be defined

socially

, as a community of people in whose presence you feel safe, welcome, needed, accepted, or supported. To be a Christian is to enjoy an experience of social belonging with others who identify as Christian.
Christianity can be defined

linguistically

, as a shared set of words and ways of communicating.

PART I "NO" pages 1-80
⦁ Because Christianity Has Been Vicious to Its Mother (Anti-Semitism)
⦁ Because of Christianity's Suppression of Dissent (Christian vs. Christian Violence)
⦁ Because of Christianity's High Global Death Toll- and Life Toll (Crusader Colonialism)
⦁ Because of Christianity's Loyal Company Men (Institutionalism)
⦁ Because of Christianity's Real Master (Money)
⦁ Because of White Christian Old Boys' Network (White Patriarchy)
⦁ Because Christianity is Stuck (Toxic Theology)
⦁ Because Christianity is a Failed Religion (Lack of Transformation)
⦁ Because of Christianity's Great Wall of Bias (Constricted Intellectualism)
⦁ Because Christianity Is a Sinking, Shrinking Ship of Wrinkling People (Demographics)

PART II "YES" pages 81-155
⦁ Because Leaving Hurts Allies (and Helps Their Opponents)
⦁ Because Leaving Defiantly or Staying Compliantly Are Not My Only Options
⦁ Because…Where Else Would I Go?
⦁ Because It Would Be a Shame to Leave a Religion in Its Infancy
⦁ Because of Our Legendary Founder
⦁ Because Innocence Is an Addiction, and Solidarity Is the Cure
⦁ Because I'm Human
⦁ Because Christianity is Changing (for the Worse and for the Better)
⦁ To Free God
⦁ Because of Fermi's Paradox and the Great Filter

PART III "HOW"
"Whether or not you choose to stay Christian, here's what I recommend: pay attention to your human development, to the stage you're entering, inhabiting, or leaving…even though a certain form of Christianity solved the problem of one stage, it can become a problem at another, creating a stained-glass ceiling that impedes further growth." 159-160. Can you illustrate from your own faith journey? Look at your "steppingstones" along your spiritual journey and share a story.

McLaren draws from Fr. Richard Rohr, Rob Bell, Hildegard of Bingen and adds his own thinking to share his four stages: SimplicityComplexityPerplexityHarmony. "There's a good chance that your stage of development is in tension with the stage of development of the form of Christianity practiced by your current faith community." 165 Do you agree or disagree? Make the case for your answer.

"To the degree I inhabit Harmony, I am able to hold the tensions. I don't have to accept (or reject) Christianity as The One True Religion as I did in Simplicity. Nor do I have to sort through all the complexities to 'fix' Christianity, creating my own 'successful' form of it, as I did in Complexity. Nor do I have to stay in a state of perpetual skepticism and suspicion as I did in Perplexity, holding myself aloof from commitments because no commitment can withstand the acid of my critique…You're a human being on a human journey of growth and development – whether you stay Christian or not." 167-168. How do you work at staying human? What are practices or disciplines that work as you mature?

"I imagine a new kind of Christianity – and a new kind of humanity – that instills and strengthens this nested integration of holy, transcendent desires for the beloved world and all it contains." 175 What do you imagine a new Christianity and a new humanity would look like in your home, community, nation and world?

"Language, we discovered, was a tool we used to describe reality, but it also could become a substitute for reality. We might say it was the original form of virtual reality…Christian language was necessary to liberate people from another language, the language of empire and domination…terms like sin, grace, and salvation were woven together in stories, and the stories were woven together in a framing story…what once was liberating can become a cage in which in which we pace, dreaming of freedom." 177-78. Identify several words that illustrate this point. What is God's original word according to our author? See page 179.

"Being human means we have a past to contend with. And it also means that in the present, we can chart a new path into the future. . . . Christian or not, coming out is full of challenge." 205. After reading the six statements on pages 206-07, tell a story of your "coming out".

Use the prayers on pages 210-12 by yourself or a small group and then reflect on what it means to you and others. "As I see it, to be loyal to God is to be loyal to reality, and to be loyal to reality is to be loyal to God." 213

"I am learning to be content whatever I am called, as long as I remain passionately eager to embody a way of being human that is pro-justice, pro-kindness, and pro-humility." 219


Clif Hostetler's review on Goodreads.com -- click for embedded links

If we're talking about staying or leaving Christianity, what definition of "Christianity" are we talking about? I appreciated that fact that the author acknowledged that "Christianity doesn't refer to one simple thing. Like any religion, Christianity is a complex mixture of many different things...". I've copied the eleven different facets of Christianity identified by the author in the following spoiler. (view spoiler)

The author admits that by the time he finished college he had "affiliated with Christianity on eleven out of eleven markers." But in subsequent years every single marker became "problematized" for him. It is from this background that the author offers the following description of the purpose of this book.


I am not writing this book to convince you (or myself) to stay Christian. Nor am I writing. his book to. convince you (or myself). to leave Christianity identity behind forever. Instead, I want to think through the question of retaining or shedding Christian identity with you looking over my shoulder. And I want us to consider

how we are going to live,

whether or not we identify as Christian.

The book is divided into three parts; Part I gives reasons to say no to Christian identity, Part II gives reasons to say yes to Christianity, and Part III explores the question of how we're going to live whether or not the decision is yes or no.

Part I is divided into ten chapters providing ten reasons to say no. The chapter titles provide short descriptions of their contents. I've provided the ten chapter titles (i.e. ten reasons to say no) in the following spoiler. (view spoiler)

The author's description of the reasons to say no to Christianity are quite convincing, and people who have already said no to Christianity will find the material in Part I to be a useful articulation of the reasons for their position.

Part II is also divided into ten chapters providing ten reasons to say yes. The chapter titles provide short descriptions of their contents. I've provided the ten chapter titles (i.e. ten reasons to say yes) in the following spoiler. (view spoiler)

Whether the reasons for yes are as convincing as they are for no will probably depend on the reader's existing circumstances. Readers who are members of faith communities with which they are comfortable will find the reasons to say yes to be convincing. Others faced with finding a new community with which they can comfortably identify will most likely not be moved.

Part III strives to encourage readers, regardless of their answer to the question in the title of this book, to be better humans. The author defines this as being "the most just, kind, and humble version of ourselves that we possible can, day by day ... to lean with others into a new humanity, a new generation or new kind of humanity, open to every good resource that can help us, explicitly Christian or not."

Near the beginning of Part III in the "Include and Transcend" chapter, the author has provided a chart that delineates four stages of spiritual maturity. The author suggests that some people who have left Christianity would have been happy moving instead to another stage of spiritual understanding had they known such an alternative existed. Click here to see chart (p. 162-165).

Since I have included the chapter titles of Parts I and II, I have also included chapter titles for Part III in the following spoiler. However, I found these chapter titles less descriptive of their contents than was the case in the other parts.
(view spoiler)


- - - - - - - - - - - - - - - - - - - - - - - - - - - - - - - - - - - - - - - - - - - -

#vcDec
December 14 Wednesday 1-2:30 p.m. on Zoom and in person.
https://us02web.zoom.us/j/83235346541
https://us02web.zoom.us/j/83235346541?pwd=U3kwTXU4d0hJTnRBUWkvR05TanZXdz09
Meeting ID: 832 3534 6541 Passcode: 076621

Zen and Happiness: Practical Insights and Meditations to Cultivate Joy in Everyday Life by Joshua R. Paszkiewicz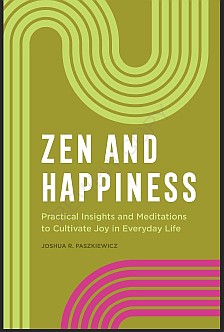 Vern's January review - link

Life is filled with thrilling highs, crushing lows, and everything in between. But often, we spend too much time planning for and reacting to our experiences, rather than simply "being" in them. Zen tradition strips away all your preconceived notions of what is means "to live" and teaches you have to let go and be present so you can find bliss in the everyday. After reading a variety of books about Buddhist, I found this one to be especially refreshing and enlightening. It is a simple, yet profound, guidebook you can use in both your busy and your relaxed life. Joshua, a multireligious cleric and scholar who trained in Zen traditions in Japan, Korea and Vietnam, will be /

was

with us to share his journey and wisdom.
PHOTO BELOW: The first full frame from the in-person OWL shows a top small horizontal image of the full room and the two images below are two of those speaking. The other images are from remote participants on Zoom; alas, the screen shot did not capture all the participants.







DAVID'S DISCUSSION GUIDE



"Bodhidharma is widely considered to be the progenitor of the Zen tradition. His core teaching was that Zen is 'a special transmission outside of the scriptures, that is not dependent on words or letters, but which directly points toward the true nature of mind, allowing one to become awakened.'"..."Zen is a method of holistically and meticulously examining your own life and overcoming the commonly garnered inaccurate, and often inadequate conceptions of how life works." (2)

It sounds like Zen is more about my life than about past lives and great minds and teachers. Is that accurate? Can you share steppingstones in your life that illustrate?





In the section of misconceptions of Zen, you respond to these myths:

Zen is undefinable. Practicing Zen means becoming a Buddhist. Zen is a form of meditation. Zen is supposed to be difficult...Rather, the central and most universal discipline of Zen is the mutual tending to an ongoing mentored relationship between a student and a teacher." (4-5)

How do you and others find the teacher and discern she/he is the right teacher? Is having a teacher always essential?



"The Four Nobel Truths
1. Suffering exists in ways big and small
2. The Cause of Suffering – We become infatuated with impossibility because we perceive things
to be in ways others than they really are.
3. The End of Suffering – the Zen path is for people prepared to transcend the theorizing and storytelling, to get to work on the things that can be known and that can be worked on.
4. The Eightfold Path – right view, right intention, right speech, right action, right livelihood, right effort, right mindfulness, and right concentration." (8-11).

Looks easy. Is it?



"Zen does not require belief as it is commonly understood nor the religiosity and metaphysics that are found in its parent and competing Buddhist traditions. Zen retains no premodern notions of biology and cosmology found in Buddhist orthodoxy, for example...Zen has freely co-opted practices from other Buddhist schools and employed them toward the aims and objectives of the Zen tradition --- namely, the full awakening of its adherents, in this very lifetime, as liberated, aware, and fully human, happy beings. Zen, in its simplest form, require only that people show up and try. In fact, the most classical instruction for the basics of entering the Zen way is simple, and perhaps a bit crassly, the 'sit down, shut up, and pay attention." (13)

I will share my story from North America Assisi. "Do you have any questions?"



"The discipline of wearing some form of habit relating to Zen can prove both easily doable and useful to new practitioners...wear your habit to call your mind to your mindful practice throughout the day. Each time you find your attention drawn to the beads/necklace/scarf/whatever, through its weight, through adjusting its position, or even when someone asks about it, take a moment to enjoy several slow, deep breaths ---or at least the spirit of them, as circumstances might demand." (61) I

wondered why I enjoy wearing beads, now I know. Thanks!



Zen practice is almost always about awareness. The same practice regard that can manifest this self- inventory as a Zen practice can transform your present experience from a life suspended to a life embodied." (88)

What does "life suspended to a life embodied" mean? How will I recognize that I have made the transformation?



"The word SAMADHI refers to a particular variety of concentrated meditative absorption wherein time and space – and perhaps even self – seem to fall away to the eternity that underpins every moment." (112)

Have your experienced this and are you willing to talk about it?



"The great Zen Master Kyong Ho once said, 'Don't hope for a life without problems. An easy life results in a judgmental and lazy mind.' He then went on to invoke the advice of sages of the distant past, who always invited practitioners to 'accept the anxieties and difficulties of this life.' For this exercise, regard your meditation practice less as a place to zone out and more as a place to tune in. And ultimately, a place to accept your present reality and act accordingly, with wisdom and grace." (114)

Why practice Zen then, if it does not rescue me from my brokenness?





- - - - - - - - - - - - - - - - - - - - - - - - - - - - - - - - - - - - - - - - - - - -

Click here for
2023 Vital Conversations.

- - - - - - - - - - - - - - - - - - - - - - - - - - - - - - - - - - - - - - - - - - - -

Selections are subject to change. For Zoom link and additional information,
contact David Nelson -- humanagenda@gmail.com or (816) 453-3835.