#VC

A Vital Conversation Coffee

Vital Conversations
monthly schedule
ZOOM 2nd Wedneday of the month 1-2:30 pm
MidContinent Public Library Antioch Branch, 6060 N Chestnut Ave, Gladstone, MO 64119 -- (816) 454-1306 -- to receive the zoom link:
humanagenda@gmail.com or call (816) 453-3835
---
You are welcome even if you have not read the book or seen the movie
A Free Monthly Discussion Group Led by David E Nelson
C R E S senior associate minister
president, The Human Agenda

"The purpose of a Vital Conversation is not to win an argument,
but to win a friend and advance civilization." —Vern Barnet
Vital Conversations are intentional gatherings of people to engage
in dialog that will add value to the participants and to the world.
In Vital Conversations, we become co-creators of a better community.
—David Nelson
The discussions began May 24, 2002, at the CRES facility
by examining Karen Armstrong'sThe Battle for God
---
Reading is magic and a mysterious activity that feeds the mind, transports the imagination, sooths the soul, and expands life. It is most often done in solitude and yet connects us to so many others both near us and far from us. Many readers enjoy the opportunity to share their reading discoveries and to expand from the sharing of others. Reading is an important aspect of our common humanness.

—David E. Nelson

Vital Conv. Coffee
an open exchange of ideas
with no preset agenda
4th Wednesday monthly
8 am
Panera Bread
311 NE Englewood Road
Kansas City, MO 64118
816-453-2770
---
2021 Vital Conversations Schedule

To see last year's fascinating programs, click here.

---
#vcJan
January 13 Wednesday 1-2:30 p.m. on Zoom
Humankind: A Hopeful History by Rutger Bregman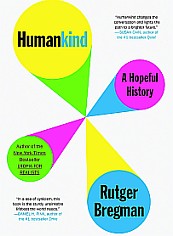 It's a belief that unites the left and right, psychologists and philosophers, writers and historians. It drives the headlines that surround us and the laws that touch our lives. From Machiavelli to Hobbes, Freud to Dawkins, the roots of this belief have sunk deep into Western thought. Human beings, we're taught, are by nature selfish and governed by self-interest.
Humankind makes a new argument: that it is realistic, as well as revolutionary, to assume that people are good. The instinct to cooperate rather than compete, trust rather than distrust, has an evolutionary basis going right back to the beginning of Homo sapiens. By thinking the worst of others, we bring out the worst in our politics and economics too.
In this major book, internationally bestselling author Rutger Bregman takes some of the world's most famous studies and events and reframes them, providing a new perspective on the last 200,000 years of human history. From the real-life Lord of the Flies to the Blitz, a Siberian fox farm to an infamous New York murder, Stanley Milgram's Yale shock machine to the Stanford prison experiment, Bregman shows how believing in human kindness and altruism can be a new way to think - and act as the foundation for achieving true change in our society. It is time for a new view of human nature.
If you are unable to purchase or find a copy of this book, and wish a PDF, you can download it free at https://bookfortoday.com/all/humankind-a-hopeful-history/ .
----
Quotes and questions selected by David Nelson.
Releasing Conversation: Do you believe human beings are inherently good (Planet A) or inherently bad (Planet B)? Why? What difference does it make which you believe? Did you watch the events January 6th in Washington D.C. while it was happening? Describe your feelings then. What are your feelings today about the United States? Who have you talked with about your feelings?
1. Veneer Theory – "The notion that civilization is nothing more than a thin veneer that will crack at the merest provocation. In actuality, the opposite is true. It's when crisis hits - when the bombs fall or the floodwaters rise – that we humans become our best selves." (p. 4). Share a story from your experience that illustrates this.
2. Placebo effect – "If your doctor gives you a fake pill and says it will cure what ails you,chances are you will feel better. The more dramatic the placebo, the bigger that chance…If you believe something enough, it can become real…We are what we believe. We find what we got looking for. And what we predict, comes to pass." (p.8-9) Nocebo effect – "Warn your patients a drug has serious side effects, and it probably will. If you believe something enough, it can become real." (p.9) Ashil Babbitt died inside the Capital on January 6th. What do you think she believed? Why did she believe these things? What did the tens of thousands who participated in rally in Washington believe?
3. Compare the two stories; Lord of the Flies by William Golding and the real event told by Peter Warner.
4. "In one corner is Hobbes: The pessimist who would have us believe in the wickedness of bhuman nature. The man who asserted that civil society alone could save us from ourbaser instincts. In the other corner, Rousseau: the man who declared that in our heart of hearts we're all good. Far from being our salvation, Rousseau believed civilization is what ruins us." (p. 43-44). Which corner do you stand in? Can you make the case with personal stories? "That's how our sense of history get flipped upside down. Civilisation has become synonymous with peace and progress and wilderness with war and decline. In reality, for most of human existence, it was the other way around." (p.110). What does the author mean by this?
5. What did you learn from the Easter Island story? The Stanford Prison Experiment? The Stanley Milgram's Laboratory? "Hannah Arendt argued that our need for love and friendship is more human than any inclination towards hate and violence. And when we do choose the path of evil, we feel compelled to hide behind lies and cliches that give us a semblance of virtue." (p. 173). Does your personal experience and observation agree with her? "Belief in humankind's sinful nature also provides a tidy explanation for the existence of evil. When confronted with hatred or selfishness, you can tell yourself, 'Oh, well, that's just human nature. But if you believe that people are essentially good you have to question why evil exists at all. It implies that engagement and resistance are worthwhile, and it imposes an obligation to act." (p. 174) When have you benefited by using communication and confrontation, compassion and resistance?
6. Had you heard about the death of Catherine Susan Genovese before readying Humankind? Why did this story get retold so often?
7. "Tactics, training, ideology – all are crucial for an army, Morris and his colleagues confirmed. But ultimately, an army is only as strong as the ties of fellowship among its soldiers. Camaraderie is the weapon that wins wars." (p. 205-206) If you were in the military would you agree? If you know men or women in the military would you agree? "Terrorists don't kill and die just for a cause…They kill and die for each other." (p.208)
8. "Infants possess an innate sense of morality. Infants as young as six months old can not only distinguish right from wrong, but they also prefer the good over the bad." (p.209) What does the author suggest has been done to train human beings to hurt and kill others? Military friends, is this your experience? What would it take for you to kill another person?
9. Power Paradox – "Scores of studies show that we pick the most modest and kindhearted individuals to lead us. But once they arrive at the top, the power often goes straight to their heads – and good luck unseating they after that." (p. 229) Why do you think 75 million Americans voted for Donald Trump in the recent election?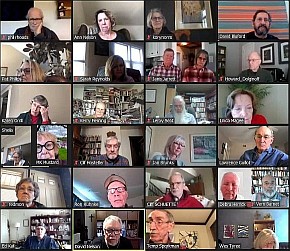 10. "Exchange suspicion for a more positive view of human nature. Just imagine, academics would burn the midnight out of a thirst for knowledge, teachers would teach because they feel responsible for their students, psychologists would treat only as long as their patients require, and bankers would derive satisfaction from the service they render…This question is neither conservative nor progressive, neither capitalist nor communist. It speaks to a new movement…a new realism. Because nothing is more powerful than people who do something because they want to do it." (p. 277-278) What motivates you to do your very best?
11. "Play is not subject to fixed rules and regulations but is open-ended and unfettered. Unstructured play is also nature's remedy against boredom…Dutch historian Johan Huizinga christened us HOMO LUDENS – 'playing man'. Everything we call 'culture' originates in play." (p. 282-283). How do you play? When was the last time you really played?
12. "Hatred and racism stem from a lack of contact. We generalize wildly about strangers because we don't know them. So the remedy seemed obvious: more contact. After all, we can only love what we know" (p.352) In order to "stay human" who can you contact in the near future? What other ways can you "stay human."
Another great discussion!
----


Here is Clif Hostetler's review on Goodreads.com

If you wish to believe that people are naturally good but you can't because of the counter examples in the news and you've been taught otherwise in history, sociology, and psychology school classes, then you need to read this book. This book makes a convincing case that humans are by nature friendly and peaceful creatures, and most of the counter examples are caused by pressures of civilization for which evolution of the human brain has left us ill-prepared.

Bregman makes the case that a probable reason Homo sapiens prevailed during the prehistory era over Neanderthals, Denisovans, and Homo erectus is because we were hard-wired to be social, work in groups, and consider what's best for the collective community. This predisposition worked well over many years while humans lived as hunter-gatherers. But these same tendencies led to violent behavior when subjected to the territorial concerns and concentrated populations of the civilized world. The predisposition for protecting the collective community in the hunter-gatherer world transformed into xenophobia in the civilized world.

The book attacks the commonly accepted truths about human nature described in the novel Lord of the Flies, and presents as a counter example a true historical instance of young boys marooned on an island in which successful cooperation was exhibited. Also, a reinterpretation of the true facts surrounding the famous 1964 murder of Kitty Genovese is provided that demonstrates the tendency of news articles to exaggerate and falsify sensational aspects of a story.

Bregman also deconstructs the bad science and/or lazy reportage contained in many famous sociological case studies that have claimed that civilization is but a thin fragile coating protecting us from dangerous human nature. Some of the better known debunked studies are the Stanford Prison experiment and the Milgram experiment. The book also makes the case that the chief motivation for soldiers to fight in war is the spirit of camaraderie, not ideology.

The second part of the book is devoted to proposing ways to structure work, school, and organizations that can utilize true human nature for optimum beneficial results. Many of these example argue that when we expect better, we very often get better. Examples given include an exemplary Norwegian prison, Nelson Mandela and the end of Apartheid in South Africa, challenging playgrounds for children, and unstructured schools.

Bregman repeatedly notes that even though civilization has bred into the human brain a suspicion of people outside of our own group, our prejudices tend to fall away once we come to know those "others."
"Contact engenders more trust, more solidarity, and more mutual kindness.
It helps you see the world through other people's eyes."
He also notes that,
"It's when a crisis hits…that we humans become our best selves."

- - - - - - - - - - - - - - - - - - - - - - - - - - - - - - - - - - - - - - - - - - - -

back to January Rutger Bregman's Humankind: A Hopeful History

#vcFeb
February 10 Wednesday 1-2:30 p.m. on Zoom
Caste: The Origins of Our Discontents by Isabel Wilkerson.
Linking the caste systems of America, India, and Nazi Germany, Wilkerson explores eight pillars that underlie caste systems across civilizations, including divine will, bloodlines, and stigma. Some suggest this was the most important book of 2020.

Quotationss and questions selected by David Nelson

"America has an unseen skeleton, a caste system that is as central to its operation as are the studs and joists that we cannot see in the physical buildings we call home. Caste is the infrastructure of our divisions. It is the architecture of human hierarchy, the subconscious code of instructions for maintaining, in our case, a four-hundred-year-old social order. A caste system is an artificial construction. Throughout human history, three caste systems have stood out. The tragically accelerated, chilling, and officially vanquished caste system of Nazi Germany. The lingering, millennia-long caste system of India. And the shape-shifting, unspoken, race-based caste pyramid in the United States." (p.17) Is this a new idea for you? Have you thought of a "caste system" in America before?

1. "Caste and race are neither synonymous nor mutually exclusive. Race, in the United States, is the visible agent of unseen force of caste. Caste is the bones, race the skin. Race is what we can see, the physical traits that have been given arbitrary meaning and become shorthand for who a person is. Caste is the powerful infrastructure that holds each group in its place. Caste is fixed and rigid. Race is fluid and superficial, subject to periodic redefinition to meet the needs of the dominant caste in what is now the United States." (p.19) Can you share examples from the book and from your experience?

2. "In the decades to follow, colonial laws herded European workers and African workers into separate and unequal queues and set in motion the caste system that would become the cornerstone of the social, political, and economic system in America. This caste system would trigger the deadliest war on U.S. soil, lead to the ritual killings of thousands of subordinate-caste people in lynchings, and become the source of inequalities that becloud and destabilize the country to this day." (p41) Why did this happen? What made America unique?

3. "Slavery is commonly dismissed as a 'sad, dark chapter' in the country's history. It is as if the greater the distance we can create between slavery and ourselves, the better to stave off the guilt or shame it induces. The country cannot become whole until it confronts what was not a chapter in its history, but the basis of its economic and social order. For a quarter millennium, slavery was the country. Slavery was part of everyday life, a spectacle that public officials and European visitors to the slaving provinces could not help but comment on with curiosity and revulsion. (p43). Why is it not enough to simply say "slavery was a sad, dark chapter" in our history? Why must we keep talking about it? Or do we?

4. "The idea of race is a recent phenomenon in human history. Geneticists and anthropologists have long seen race as a manmade invention with no basis in science or biology." (p.65) Why do you think race became so important in the US? Why is it still so central to our identity and behavior?

5. "Hitler had studied America from afar, both envying and admiring it, and attributed its achievement to its Aryan stock. He praised the country's near genocide of Native Americans and the exiling to reservations of those who had survived. Hitler especially marveled at the American 'knack for maintaining an air of robust innocence in the wake of mass death.'" (p.81). "'Silence in the face of evil is itself evil.' Bonhoeffer once said of bystanders. 'God will not hold us guiltless. Not to speak is to speak. Not to act is to act.'" (p90) Why did we tolerate near genocide and mass death? What beliefs made this evil possible?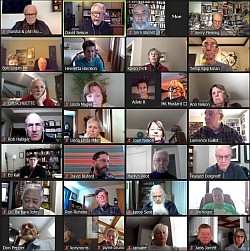 6. "The United States and India would become, respectively, the oldest and the largest democracies in human history, both built on caste systems undergirded by their reading of the sacred texts of their respective cultures. In both countries, the subordinate castes were consigned to the bottom, seen as deserving of their debasement, owning to the sins of the past." (p104) How do you respond to the charge that sacred texts have reinforced caste behavior? Can religions offer assistance in working against caste systems?
7. "The Eight Pillars of Caste: 1. Divine Will and the Laws of Nature; 2. Heritability; 3. Endogamy and the Control of Marriage and Mating; 4. Purity versus Pollution; 5. Occupational Hierarchy; 6. Dehumanization and Stigma; 7. Terror as enforcement; 8. Inherent Superiority verses Inherent Inferiority." (pp99-167) Which pillar surprises you? Which pillar do you least understand?
8. "Thus, a caste system makes a captive of everyone within it. Just as the assumptions of inferiority weigh on those assigned to the bottom of the caste system, the assumptions of superiority can burden those at the top with expectations of needing to be several rungs above, in charge of all things, at the center of things, to police those who might cut ahead of them, to resent the idea of undeserving lower castes jumping the line an getting in front of those born to lead." (p.184) Can you recall feeling the burden of being in an upper caste? Can you share a story about it?
9. "Everything that happened to the Jews in Europe, to African-Americans during the lynching terrors of Jim Crow, to Native American as their land was plundered and their numbers decimated, to Dalits considered so low that their very shadow polluted those deemed above them – happened because a big enough majority had been persuaded and had been open to being persuaded, centuries ago or in the recent past, that these groups were ordained by god as beneath them, subhuman, deserving of their fate. Those gathered on that day in Berlin were neither good nor bad. They were human, insecure and susceptible to the propaganda that gave them an identity to believe in, to feel chosen and important." (p266) Can you recall a time you were "caught up", persuaded, and willing to participate in action that was wrong and perhaps later identified as evil?
10. "What white people are really asking for when they demand forgiveness from traumatized community is absolution, 'Roxane Gay wrote, 'They want absolution from the racism that infects us all even though forgiveness cannot reconcile America's racist sin.' One cannot live in a caste system, breath its air, without absorbing the message of caste supremacy." (p289) "Caste is more than rank, it is a state of mind that holds everyone captive, the dominant imprisoned in an illusion of their own entitlement, the subordinate trapped in the purgatory of someone else's definition of who they are and who they should be." (p290) Do you agree with Roxane Gay? What can we do today to bring healing, change, and hope? What are you doing to refuse cooperation with America's caste system?

Here is Clif Hostetler's review on Goodreads.com

A different perspective almost always enhances understanding. Sometimes labeling with a different word can shape-shift a subject into a slightly different perspective revealing additional layers of meaning. I think that's what Wilkerson has done by using the word "caste" to describe what others have described as structural, institutional, or systemic racism.

The word "racism" alone doesn't communicate the endemic nature of the problem that is at the core of society's discontent. The meaning of "racism" is widely understood to be a personal attitude and that makes it difficult to comprehend the hidden sociological barriers that impose control on human relationships.

Caste has traditionally been used in the English language to describe the rigid social stratification characteristic of Hindu society, a practice with ancient origins. Americans have generally regarded caste as a backward non-western custom that has nothing to do with the way we live.

This book examines the characteristics of the Indian caste system, compares them with American racial behavior and history, and then convincingly makes the point that they share many similarities. The book further makes the point that the Nazi anti-Jewish laws were inspired and patterned in many ways on the American Jim Crow laws. Wilkerson isn't saying the three are identical, but that they share many similarities which can be used to help understand the difficulty of making changes.

The book's skillful interweave of interesting personal vignettes with abstract ideas provides a compelling reading experience. The stories of ordinary people from both the higher castes and of the lowest are shared providing numerous examples of the misplacement of human potential. The history of the laws and practices that have led to the current wealth disparities are reviewed. Most readers will be appalled at the repeated examples of terror and routine discourtesies that prompt a range of emotion varying from indignation to sorrow.

I think this book provides a convincing case for the reality of American caste. But there's an implicit message that the possibility of change is futile. Elements of hope within this book are sparse. Still, if it leaves the reader better informed, it will have done some good.

Here's a link to an excerpt from the book, Caste. Here's a link to another excerpt.:

- - - - - - - - - - - - - - - - - - - - - - - - - - - - - - - - - - - - - - - - - - - -

#vcMar
March 10 Wednesday 1-2:30 p.m. on Zoom
Siddhartha by Herman Hesse.

In the novel, Siddhartha, a young man, leaves his family for a contemplative life, then, restless, discards it for one of the flesh. He conceives a son, but bored and sickened by lust and greed, moves on again. Near despair, Siddhartha comes to a river where he hears a unique sound. This sound signals the true beginning of his life -- the beginning of suffering, rejection, peace, and, finally, wisdom.
To add to our conversation, we will have present a friend of a friend who is a lifelong Buddhist and spent part of his childhood in a Japanese American internment camp during World War II. He will share how his Buddhist Faith has been important throughout his long life.
Thanks to Temp Sparkman for writing comments and questions below.

Pages are listed to provide the context of each question. Surely group members will be pleased to read passages aloud.
Siddhartha had a happy life in a vibrate family. He grew up around learned men and a mother that sang to him. His Brahmin father "saw him growing up to be a prince among the Brahmins." But Siddhartha began to question his rearing. p 3-5. 1. When did you begin questioning the teachings you grew up with?
Siddhartha was determined to "Let the self die." p 11 2. Have you or anyone you know attempt this kind of inward journey? Is it possible to empty the self?
When a group of Samanas passed through his town Siddhartha and his friend Gaventa decided to join them the in their simple life styles. Then they met the Buddha "Gotama." p25 3. Is anyone in our group 'Buddhist' or has at least read about the Buddha?
After leaving the Buddha, Siddhartha awakens fully present to himself and to the world. (Have someone read p 33, paragraph 2) 4. Has anyone had a similar moment with a devout religious person?
The book gives a long passage on Siddhartha euphoria of the world around him. (Read p 37.) 5. Has anyone experienced this kind of moment of awareness? Did this turn in Siddhartha pilgrimage surprise anyone? Do you see a connection between this and his early rearing?
Siddhartha has a strange dream, (Read p 40) 6. Anyone here want to interpret the dream?
In a moment or euphoria S. becomes fully present to himself and the world. (Have read p 37, 38.) 7. What were you thinking as this was being read? What does it say about his state of mind? Is this going to set the tone for the rest of his life?
Siddhartha comes upon a beautiful woman Kamal. p 41-43. He wants to please her by reading one of his poems. (Read on p 47.) She likes it enough to give a kiss, but tells him that to get him out of poverty's grip he should visit the merchant Kamaswami which he did.) 8. Were you surprised that Siddhartha succeeded as a merchant? Then that he eventually rejects it? (Read last paragraph p 80-81.)
Siddhartha meets a Ferryman at the river and recounts his rejection of riches to give him meaning. Then he meets Kamala, on her way to a pilgrimage to Gotama. with her son named Siddhartha. She is dying from a snake bite. 9. How did you react to Siddhartha attempts to reach his son? (Read p 95, paragraph 2, p 96, paragraph 2, p 100, paragraphs 2-3.
Siddhartha has become the Ferryman and is telling the now old ferryman his altered consciousness of the river as summarizing his life. Read 107 paragraph 2, second paragraph and page 111 first paragraph.) 10. As a group, pronounce 'Om' 5 times.
Siddhartha's oldest friend Gaventa appears and asks Siddhartha "Have you a doctrine, belief or knowledge which you uphold, which helps you to act and feel and right?" (Read p 120, paragraph 3.) 11. If you read the pages of this reunion, what did you make of them?
Reviewers have tagged "Siddhartha' as a search for meaning. 12. As you read about him, did you reflect on whether you can characterize your own life? Do you remember when you began thinking intentionally about your life? (a teacher, in a business, in government, as housewife/house husband, religious ministry, counselor, et al.)

Here is Clif Hostetler's review on Goodreads.com
This novel is a story about a man named Siddhartha who spends a lifetime seeking ultimate enlightenment. The story occurs during the time when the Buddha is still alive, so one would think there's no need to seek further enlightenment after meeting him. Siddhartha is satisfied that the Buddha has reached ultimate enlightenment, but it's impossible for his experience to be satisfactorily communicated to others by way of his teachings.
Thus Siddhartha decides to move on to a life filled with a variety of experiences all the while seeking the meaning of truth—ascetic beggar, sex with a woman, luxurious life of wealth, simple life as a ferryman, love and care of a son, and the experience of his son leaving. So finally Siddhartha is on his death bed, he has finally achieved enlightenment, and his friend asks him what insight he has learned from life. Siddhartha replies with the following:
"… this is now a teaching … the most important thing of all. To thoroughly understand the world, to explain it, to despise it, may be the thing great thinkers do. But I'm only interested in being able to love the world, not to despise it, not to hate it and me, to be able to look upon it and me and all beings with love and admiration and great respect."
His friend responds to this by saying that this is pretty much the same as what the Buddha taught; Why not simply be his follower? To this Siddhartha replies the following:
"I know that I am in agreement with Gotama (a.k.a. the Buddha). How should he not know love, he, who has discovered all elements of human existence in their transitoriness, in their meaninglessness, and yet loved people thus much, to use a long, laborious life only to help them, to teach them! Even with him, even with your great teacher, I prefer the thing over the words, place more importance on his acts and life than on his speeches, more on the gestures of his hand than his opinions. Not in his speech, not in his thoughts, I see his greatness, only in his actions, in his life."
So there you have it—enlightenment!

- - - - - - - - - - - - - - - - - - - - - - - - - - - - - - - - - - - - - - - - - - - -
#vcApr
April 14, Wednesday 1-2:30 p.m. on Zoom -- (Notes from last month)
The Jungle by Upton Sinclair.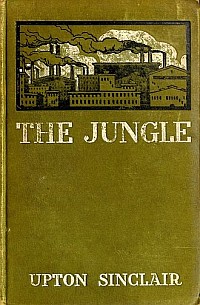 This 1906 novel by the American journalist and novelist Upton Sinclair (1878–1968). The novel portrays the harsh conditions and exploited lives of immigrants in the United States in Chicago and similar industrialized cities. Sinclair's primary purpose in describing the meat industry and its working conditions was to advance socialism in the United States.
Upton Beall Sinclair Jr. (September 20, 1878 – November 25, 1968) was an American writer, political activist and the 1934 Democratic Party nominee for Governor of California who wrote nearly 100 books and other works in several genres. Sinclair's work was well known and popular in the first half of the 20th century, and he won the Pulitzer Prize for Fiction in 1943. Very few works of literature have actually changed the course of history, but The Jungle is just such a work. It touched this nation and the world, and it contributed enormously to the landmark passage of the Pure Food and Drug Act of 1906. This book is said to have decreased America's meat consumption for decades.
1. Have you ever been in a meat packing plant? What was it like? The Jungle is considered "agitation rather than art", according to Morris Dickstein. Sinclair himself insisted that his book was intended not as an expose of the meat industry but as an argument for socialism, to which he had recently been converted. Much socialist activity was happening in the US. Upton Sinclair was sent in 1904, by the publisher of "Appeal to Reason" in Girard, Kansas, to examine conditions in the stockyards of Chicago. The resulting novel, based on seven weeks of intensive research, was serialized and achieved great notoriety even before it came out as a book. The book begins with a Lithuanian wedding of Jurgis Rudkis and Ona Likoszaite, who become characters in the novel. They spend more than a year's income on the wedding day feast (the veselija). "The veselija has come down to them from a far-off time; and the meaning of it was that one might dwell within the cave and gaze upon shadows, provided only that once in his lifetime he could break his chains, and feel his wings, and behold the sun. . . . Thus having known himself for the master of things, a man could go back to his toil and live upon the memory all his days." (p. 12). 2. Why would people spend so much on a wedding? Why do you think the author begins the story with a wedding?
"The stench was almost overpowering, but to Jurgis it was nothing. His whole soul dancing with joy – he was at work at last. He was at work and earning money!" (p. 44) 3. Have you experienced joy in a job? When and where? Did it last?
This is a story of human challenge and tragedy. Jurgis buys and loses a house, his wife and children die, he confronts injustice in a variety of places and yet he presses on, even before discovering hope in politics. "Marija, who takes to prostitution to support the family and educate children, shows considerable growth, and our respect for her is enhanced. Elzbieta is the picture of the all-suffering, all-sacrificing, all-forgiving mother who, undaunted by the heavy odds against her, fights back." (p. 83 Mookerjee) 4. Where does courage and persistence come from? How do you hang in there when the world seems against you?
"He went on, tearing up all the flowers from the garden of his soul, and setting his heel upon them. The train thundered deafeningly, and a storm of dust blew in his face; but though it stopped now and then through the night, he clung where he was – he would cling there until he was driven off, for every mile that he got from Packingtown meant another load from his mind." (p. 214) 5. Did Jurgis find a better life in the country? Why did he return to Chicago? How did you discover "your place" in the world? "
"The voice of the poor, demanding that poverty shall cease! The voice of the oppressed, pronouncing the doom of oppression! The voice of power, wrought out of suffering – of resolution, crushed out of weakness – of joy and courage, born in the bottomless pit of anguish and despair! The voice of Labor, despised and outraged; a mighty giant, lying prostrate – mountainous, colossal, but blinded, bound and ignorant of his strength. And now a dream of resistance haunts him, hope battling with fear; until suddenly he stirs, and a fetter snaps – and a thrill shoots through him, to the farthest ends of his huge body, and the banks are shattered, the burdens roll off him – he rises – towering, gigantic; he springs to his feet, he shouts in his newborn exultation---". (p. 307) 6. Have you experienced a "discovery" of such magnitude? Is this a "born again" experience?
"The Socialist movement was a world movement, an organization of all mankind to establish liberty and fraternity. It was the new religion of humanity – or you might say it was the fulfillment of the old religion, since it implied but the literal application of all the teachings of Christ." (p. 315) "A Socialist believes in the common ownership and democratic management of the means of producing the necessities of life and a Socialist believes that the means by which this is to be brought about is the class-conscious political organizations of the wageearners." (p. 336-337). "I would seriously maintain that all the medical and surgical discoveries that science can make in the future will be of less importance than the application of the knowledge we already possess, when the disinherited of the earth have established their right to a human existence." (p. 344) 7. How convincing is this novel and especially the speeches of the final chapters on your thinking about socialism?

Here is Clif Hostetler's review on Goodreads.com
This classic novel follows the life of a young man who immigrated to the United States and settles in Chicago during the early twentieth century together with his extended family made up of his fiancée and future in-laws. They're ambitious and hard workers, but due to a combination of predatory house financing, draconian working conditions, and corrupt business/governmental powers, their situation deteriorates to the point of economic and social devastation—(i.e loss of their house and death of his wife and son).
As the book portrays these harsh conditions and exploited lives, it also describes nauseating health violations and unsanitary practices in the American meat packing industry. It is this aspect of the novel that resulted in historic legislation that eventually led to the formation of the U.S.Food and Drug Administration.
At this point the book's narrative is barely two thirds complete. The story's protagonist is devastated by the death of his wife and son and tries to escape his sorrowful and miserable life by escaping to the life of a hobo. After awhile he returned to Chicago and lived through a variety of activities through which he learns about the workings of power in Chicago that contribute to making life difficult for working people like him. Through the descriptions of his activities the book demonstrates the corrupt relationship of crime, politics, and business in Chicago at that time. The following excerpt describes the situation. It's a lengthy excerpt because there's a lot to describe.
The city, which was owned by an oligarchy of business men, being nominally ruled by the people, a huge army of graft was necessary for the purpose of effecting the transfer of power. Twice a year, in the spring and fall elections, millions of dollars were furnished by the business men and expended by this army; meetings were held and clever speakers were hired, bands played and rockets sizzled, tons of documents and reservoirs of drinks were distributed, and tens of thousands of votes were bought for cash. And this army of graft had, of course, to be maintained the year round. The leaders and organizers were maintained by the business men directly—aldermen and legislators by means of bribes, party officials out of the campaign funds, lobbyists and corporation lawyers in the form of salaries, contractors by means of jobs, labor union leaders by subsidies, and newspaper proprietors and editors by advertisements. The rank and file, however, were either foisted upon the city, or else lived off the population directly. There was the police department, and the fire and water departments, and the whole balance of the civil list, from the meanest office boy to the head of a city department; and for the horde who could find no room in these, there was the world of vice and crime, there was license to seduce, to swindle and plunder and prey. The law forbade Sunday drinking; and this had delivered the saloon-keepers into the hands of the police, and made an alliance between them necessary. The law forbade prostitution; and this had brought the "madames" into the combination. It was the same with the gambling-house keeper and the poolroom man, and the same with any other man or woman who had a means of getting "graft," and was willing to pay over a share of it: the green-goods man and the highwayman, the pickpocket and the sneak thief, and the receiver of stolen goods, the seller of adulterated milk, of stale fruit and diseased meat, the proprietor of unsanitary tenements, the fake doctor and the usurer, the beggar and the "pushcart man," the prize fighter and the professional slugger, the race-track "tout," the procurer, the white-slave agent, and the expert seducer of young girls. All of these agencies of corruption were banded together, and leagued in blood brotherhood with the politician and the police; more often than not they were one and the same person,—the police captain would own the brothel he pretended to raid, the politician would open his headquarters in his saloon. "Hinkydink" or "Bathhouse John," or others of that ilk, were proprietors of the most notorious dives in Chicago, and also the "gray wolves" of the city council, who gave away the streets of the city to the business men; and those who patronized their places were the gamblers and prize fighters who set the law at defiance, and the burglars and holdup men who kept the whole city in terror. On election day all these powers of vice and crime were one power; they could tell within one per cent what the vote of their district would be, and they could change it at an hour's notice.
The story told by this book is so depressing that I couldn't help but wonder how the author was going the end the story. Surely he would find a way of adding a bit of optimism. Sure enough the author provides a vision for the future. It's called Socialism.
One evening the story's protagonist happens to attend a speech promoting the socialist cause. The text for the equivalent of about a half hour speech is included in the book. It's clear that this is the message that the author wants to convey. Below I have included the beginning of this speech because I think it summarizes perfectly the life of our protagonist up to this point.
And so you return to your daily round of toil, you go back to be ground up for profits in the world-wide mill of economic might! To toil long hours for another's advantage; to live in mean and squalid homes, to work in dangerous and unhealthful places; to wrestle with the specters of hunger and privation, to take your chances of accident, disease, and death. And each day the struggle becomes fiercer, the pace more cruel; each day you have to toil a little harder, and feel the iron hand of circumstance close upon you a little tighter. Months pass, years maybe—and then you come again; and again I am here to plead with you, to know if want and misery have yet done their work with you, if injustice and oppression have yet opened your eyes!
So the book ends with a variety of conversations that defend the cause of socialism. The book suggests that support for it is trending up and that eventually will win nationwide popular support. So that's how things looked in 1906 when this book was published.

- - - - - - - - - - - - - - - - - - - - - - - - - - - - - - - - - - - - - - - - - - - -

#vcMay
May 12, Wednesday 1-2:30 p.m. on Zoom -- (Notes from last month)
Why America Needs Socialism: The Argument from Martin Luther King, Helen Keller, Albert Einstein, and Other Great Thinkers by G.S. Griffin
This book presents a contemporary case for socialism built on the words and ideas of history's greatest leaders, thinkers, and artists. Exploring their views and connecting them to present day struggles, Griffin is crucial reading for anyone seeking to learn from the past in order to change today's world in revolutionary ways. Griffin participates in the discussion. David suggests this article in Sojourners.

- - - - - - - - - - - - - - - - - - - - - - - - - - - - - - - - - - - - - - - - - - - -

#vcJun

- - - - - - - - - - - - - - - - - - - - - - - - - - - - - - - - - - - - - - - - - - - -

#vcJul

- - - - - - - - - - - - - - - - - - - - - - - - - - - - - - - - - - - - - - - - - - - -

#vcAug

- - - - - - - - - - - - - - - - - - - - - - - - - - - - - - - - - - - - - - - - - - - -

#vcSep

- - - - - - - - - - - - - - - - - - - - - - - - - - - - - - - - - - - - - - - - - - - -

- - - - - - - - - - - - - - - - - - - - - - - - - - - - - - - - - - - - - - - - - - - -

- - - - - - - - - - - - - - - - - - - - - - - - - - - - - - - - - - - - - - - - - - - -

- - - - - - - - - - - - - - - - - - - - - - - - - - - - - - - - - - - - - - - - - - - -

- - - - - - - - - - - - - - - - - - - - - - - - - - - - - - - - - - - - - - - - - - - -

Selections are subject to change. For Zoom link and additional information,
contact David Nelson -- humanagenda@gmail.com or (816) 453-3835.