INDEX 600-10x2=580px

Below are links to 2020 PROGRAMS and REPORTS

A Schubertian Epiphany --January 12 free Sacred Arts Chorale concert

Ministry in a Pluralistic World C-RP511

KC Interfaith History Project continues

Lenten Series: When Even Evil Will Ordain the Good -- Mar 5, 12, 19, 26
Episcopal Church of the Good Shepherd

Live Music in Kansas City Silent
. . . [We] have all been plunged into a Buddhist boot camp where our only sane option is to truly in the moment . . . --Joyce DiDonato

Table of Faiths postponed to 2021 May 18

#200513
Interfaith Center at Miami University
A God Atheists Can Believe In May 13 a Zoom conversation

From Aporia to Praise
An observance of the 50th anniversary of Vern Barnet's ordination POSTPONED

Justice and Peace: An Interfaith Panel Discussion
Opportunities for deeper understanding and change -- June 20 Zoom

50 Years of Ministry 1
Vern participates on a panel of Unitarian Universalist colleagues

50 Years of Ministry 2
Vern's response for the Interfaith Council Newsletter

Sacred Citizenship
Exploring ideas in Vern's essay on the topic June 10

Independence Day Essay "Sacred Citizenship"
from our Archives: The America before Trump (2-page PDF)

Unplugging Religious Extremism
Bill Tammeus on Zoom July 12

An Atheist Perspective with Evan Clark
August 7 on Zoom :: Exploring Religious Power, Privilege, and Pain

Former Intern Geneva Blackmer
Elected to international board of United Religions Initiative

Congratulations to the Interfaith Council and Josh
The Rev. Dr. Joshua Paszkiewicz is named Executive Director

World Religions
Sept 18-19, for Souljouners

Interfaith Understanding Is Too Slight a Thing Sept 20 Sunday 2 pm
A Provocative Conversation with David Nelson and Vern Barnet

Medical Assistance in Dying Nov. 6 Friday 9-noon

Annual Interfaith Thanksgiving Gathering -- 2020 Nov 8 Sunday 5 pm
sponsored by the HeartlandADL

2020 PROGRAMS -- REPORTS -- DETAILS

A final first edit of the Al Brooks memoir is now complete. We are in the proof-reading stage.

---

#200112music

Announcement and Reports
Free Music and Munchies for Epiphany!
January 12 Sunday 2-4 pm, Simpson House, 4509 Walnut St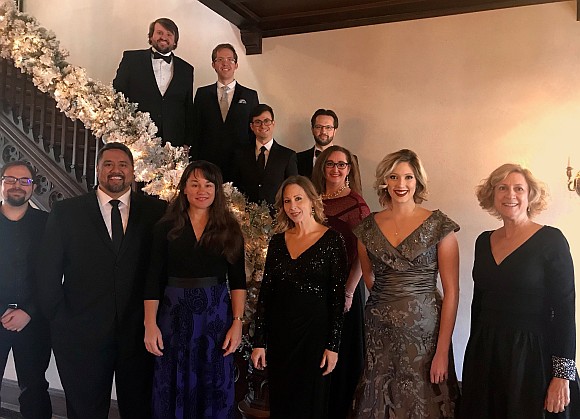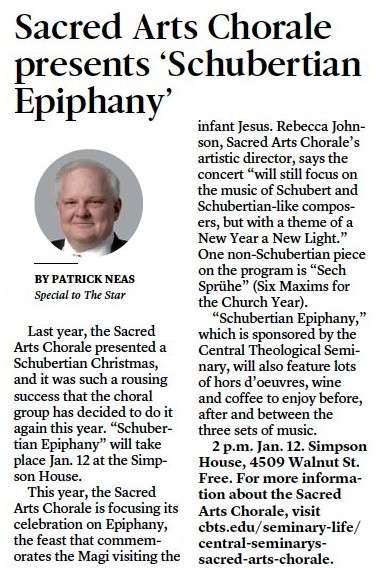 CRES is pleased to co-sponsor music for Epiphany! The Sacred Arts Chorale again presents an intimate musical performance with plenty of time for munchies and wine (we hear the cider will be spiked with whiskey). Music by Schubert, Mendelssohn, Brahms, Richard Strauss, Rachmaninov, and Andrew Lloyd Webber.
Director Dr. Rebecca Johnson says the Chorale picked this date because "there is so much gorgeous choral music in Kansas City prior to Christmas, and then it all goes pretty silent until February."
Simpson House is a favorite event space in the heart of Kansas City, near the Country Club Plaza, a few blocks east of the Nelson-Atkins Museum of Art, a block away from the Kemper Museum of Contemporary Art. Plenty of parking in the lot and on the street.
Vern says, "I can testify from past years that both the music will be splendid and the hors d'oeuvres will astonish as they delight."
Free, a gift from Central Baptist Theological Seminary to the community, with the co-sponsorship of CRES.

Report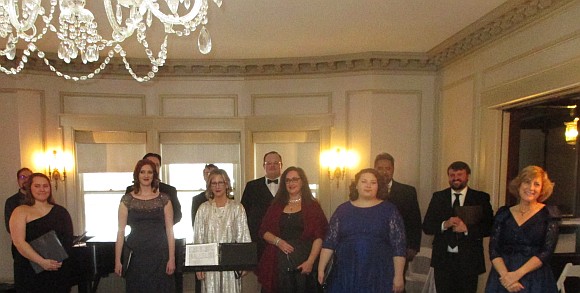 ABOVE: The Chorale receives the enthusiatic applause of the Simpson House audience.
Soprano: Karli Carbrera, Christina Casey; Alto: Kimberly Wilkinson, Roslinde Rivera, Charlotte Thuenemann; Tenor: Jonathan Ray, Spencer Ruwe, Eddie Taul; Bass: Nathan Brown, Ben Donnelly-Strait; Accompanist: Charles Dickinson; Conductor: Rebecca Johnson.
-----------
BELOW: Dr Molly Marshall, president of Central Seminary,
congratulates Dr Rebecca Johnson, conductor of the Sacred Arts Chorale.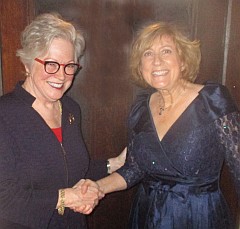 COMMENT
from Canon John Schaefer
(quoted from his Jan 14 email distribution:

On Sunday, we attended the Schubertian Epiphany. It was presented at the Simpson House by the Sacred Arts Chorale. There was a warmhearted mix of sacred and secular music by Franz Schubert, Felix Mendelssohn, Johannes Brahms, Sergei Rachmaninoff, Andrew Lloyd Webber, and Richard Strauss. The program described the Chorale as "one of the Kansas City area's finest sacred music performing groups." In the words of A. E. Housman, "'tis true, 'tis true."
---

#MLK
King Holiday Essay —
Download a PDF of Vern's 2-page summary of the genius of the spiritual approach of Martin Luther King Jr by clicking this link.
---
Ministry in a Pluralistic World — syllabus
2020 TBA 6-9:45pm CT

The graduate credit course C-RP511 is held remotely via Zoom and at
Central Seminary 6601 Monticello Road, Shawnee, KS 6226-3513.

The course, created by Dr Vern Barnet, and currently taught by Dr Matthew Silvers with Vern taking the Feb 17 session, explores questionslike these: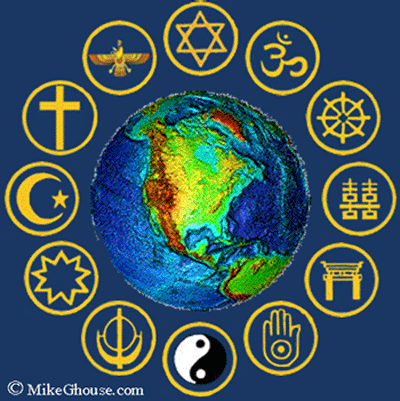 A. DISCOVERING PRESUPPOSITIONS ABOUT OTHER FAITHS -- AND OUR OWN
0. Getting acquainted: Our backgrounds, travel and other experiences, and perspectives as we approach this course.
1. What meanings do terms such as belief, dialogue, epiphany, holistic, mission, myth, pilgrimage, religion, ritual, sacred, sacrifice, scripture, secular, spirituality, and worship, have for us and today's society?
2. What attitudes have scholars identified as ways folks approach faith perspectives other than their own?
3. What does "pluralism" mean? What are its theoretical, practical, and personal meanings? How does it apply to the local community and the "global village"?
4. Where are we aided and challenged by other traditions? How might our own and other traditions address environmental, personal, and social disorders?
B. LEARNING ABOUT OTHER FAITHS
1. How do sociological, historical, phenomenological, and other methods of studying religions differ, and how do they help us understand another's faith?
2. What are the basic structures, texts, facts, practices, and variations of other faiths?
3. How do faiths compare and contrast?
4. What is more, and what is less, useful for each of us today?
C. ENCOUNTERING FOLKS OF DIFFERENT RELIGIONS
1. What are the basic styles and purposes of interfaith engagement? What are the significant interfaith organizations and programs affecting the student's community?
2. How do I discover my community's faith complexion and my opportunities within it?
3. What issues with boundaries arise and how can they be negotiated?
4. What do we learn about ourselves as we learn about others? Can I be committed to my own faith and respectful and open to others? If so or if not, what does that mean for my ministry?
---

#History
KC Interfaith History Project continues . . . .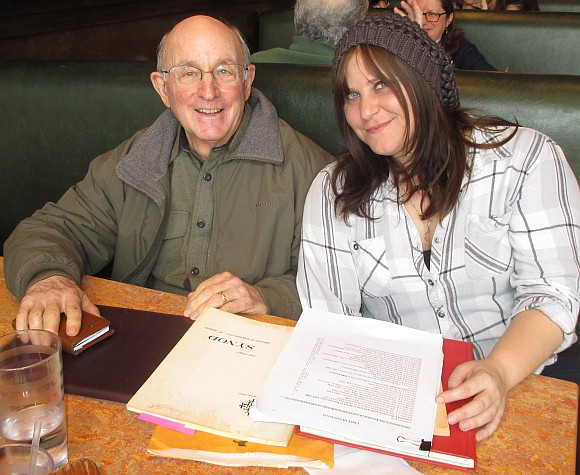 Former CRES Board chair Larry Guillot and former CRES intern, now CRES historian, Geneva Blackmer met with Vern for lunch 2019 Febuary 21 to review progress and plan next steps. Geneva, with both her interfaith experience and library skills, has scoured local and state archives, interviewed folks, and drafted what is even at this stage by far the most complete look at how ecumenical and interfaith activities have developed in the KC region, but the work is ongoing. Visit the KC Interfaith History Project.
In his 2019 July 25 entry in his "Faith Matters" blog, Bill Tammeus about Geneva Blackmer's book, The Ecumenical and Interfaith History of Greater Kansas City.
Bill says, "As Blackmer, a 2016-'17 intern for the Center for Religious Experience and Study who recently accepted a position as program director for the Interfaith Center at Miami University in Oxford, Ohio, notes, 'If it was ever necessary to designate one city in the United States as the heart of interfaith activity, a very compelling argument could be made for Kansas City.'
"The booklet is itself an argument for that contention."
After several paragraphs discussing some of the content of the book and mentioning several important interfaith organizations, he concludes, "There is, of course, still much to be done to reach the Interfaith Council's goal of making KC the most religiously welcoming community in the country. But Blackmer's work is a tribute to how much effort already has gone into achieving that goal."
Surely Bill himself is one reason that Kansas City has been more welcoming to interfaith efforts than some places, and Geneva's outline of Kansas City's progress can inspire us to move forward.
Geneva is shown above in a February review session with Larry Guillot who was one of her advisors on the book project.
Vern says, "Geneva was one of the best things ever to happen to CRES, to interfaith progress in Kansas City, and to me. Her initiative, energy, faithfulness, many diverse skills, and academic competence made her a cherished laborer in the interfaith field here, and — as I know from all the requests for references I've received around the country — a much sought-after leader into the future."

---
#LentenSeries

#

When Even Evil Will Ordain the Good

Mar 5, 12, 19, 26
Thursdays, 6pm meal
6:30 program

Episcopal Church of the Good Shepherd
4947 NE Chouteau Drive,
Kansas City, MO 64119
(816) 452-0745
CLICK HERE TO DOWNLOAD


THE DRAFT 8-PAGE STUDY GUIDE PDF

REMAINING SESSIONS POSTPONED
BECAUSE OF COVID
Lenten Series:
Lent is a special time to explore the powerful mysteries of the crucified and resurrected love of the Christian Savior. As terrain for this exploration, the Reverend Vern Barnet, DMn, offers sonnets from the "Credo" section his book, Thanks for Noticing: The Interpretation of Desire with art and music for discussion.
Vern wrote the Wednesday "Faith and Beliefs" column 1994-2012 for The Kansas City Star and has written a dozen essays for the diocesan magazine, Spirit, 2015-2017.He is a layman at Grace and Holy Trinity Cathedral where currently he is a Godly Play storyteller and Saint John's Bible docent, and he serves on the diocesan Commission on Ministry. He is minister emeritus at CRES — the Center for Religious Experience and Study. He founded the Kansas City Interfaith Council in 1989. Free copies of the book will be given to class members to celebrate the publication of the second edition expected sometime in March. Copies of the sonnets will be supplied for each session.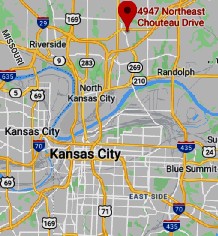 Mar 5 - The Jesus of History or the Christ of Faith?
Mar 12 - A Paradox of Salvation
LAST TWO SESSIONS POSTPONED
Mar 19 - The Gospel Theater
Mar 26 - The Mystic Vision
Here is the 8-page study guide in PDF
Readings: Theme Sonnet 82
Mar 5: Sonnet 79;
Mar 12: Sonnet 80 (also? 85);
Mar 19: Sonnet 84;
Mar 26: Sonnet 86 (also? 88).
#LentArt

---
Art to illustrate the themes below
theme music "Third Tune" by Thomas Tallis
an instrumental version - a choral version - Fantasia by RVW
https://www.youtube.com/watch?v=T8oKEx1-J1w - https://www.youtube.com/watch?v=lD5TG8z3-SM
https://www.youtube.com/watch?v=ihx5LCF1yJY - https://www.youtube.com/watch?v=p0AuHYNj8qQ



Two views of an icon of Christ teaching and Velázquez's "Christ after
the Flagellation contemplated by the Christian Soul" Mar 8 and Mar 15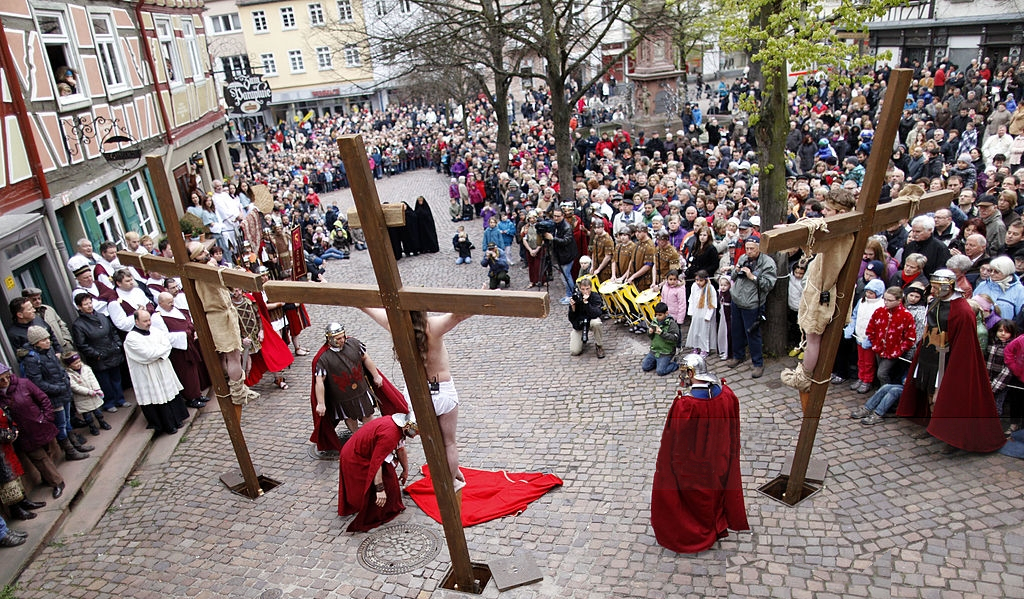 A modern enactment of the crucifixion. Mar 22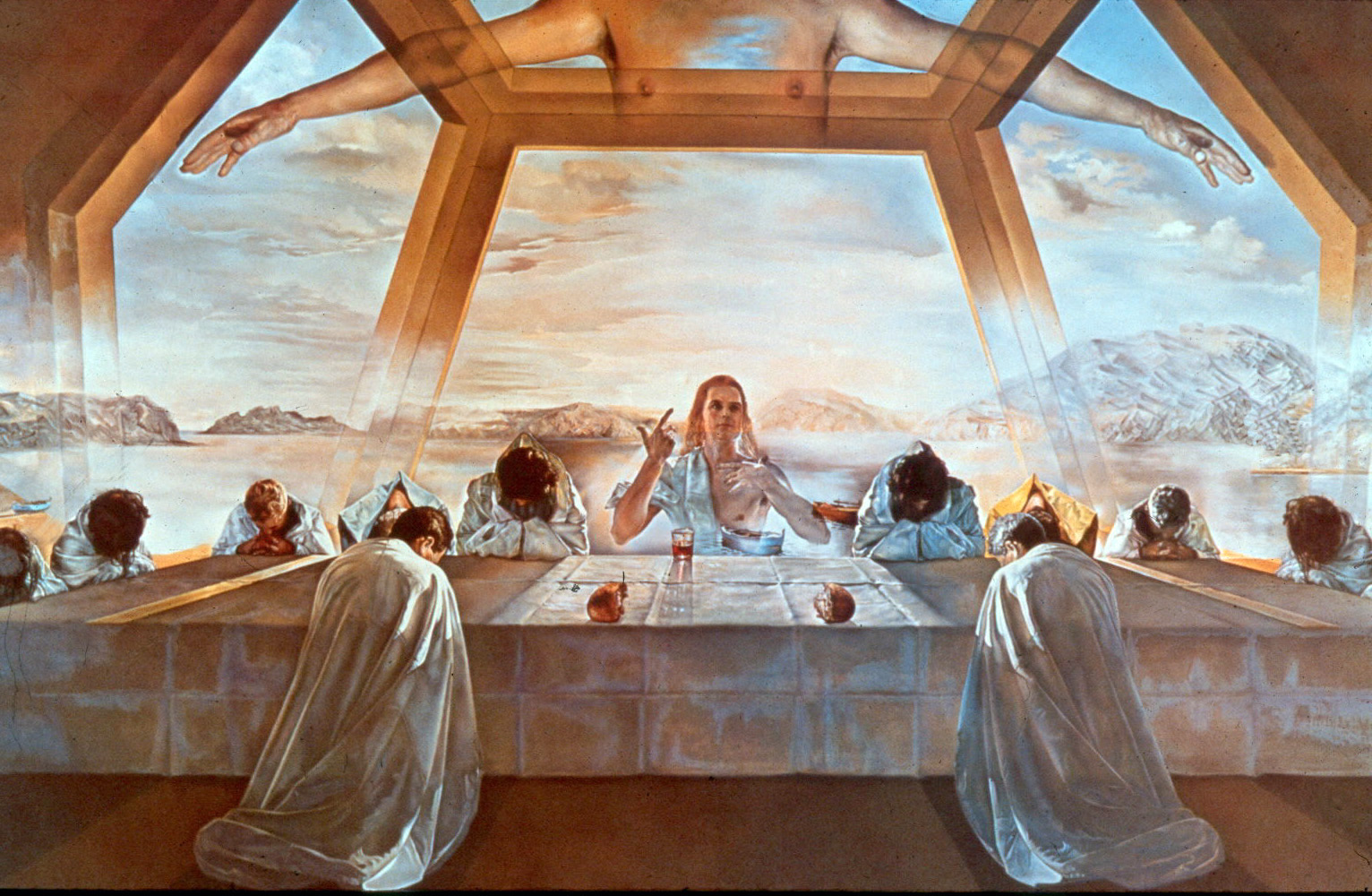 Dali's "Last Supper" Mar 29
Below, Vern, standing behind an easel with a large print, discusses his sonnet about an unexpected encounter with an icon at Grace and Holy Trinity Cathedral when the only light was from a candle on the side, as recounted in his sonnet (#79) "The Quest for the Historical Jesus" in his book, Thanks for Noticing, part of the first session in the Lenten series described above.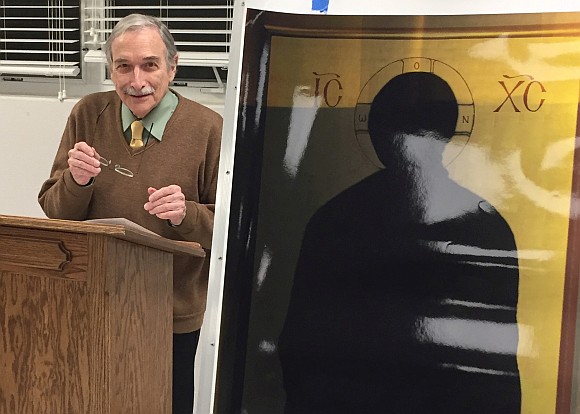 Thanks to David Nelson for the photo.
-----
Patrick Neas posted this about the second session and photos:
I had the great privilege of attending a very timely presentation this evening, given by my brilliant and dear friend Vern Barnet, whom I call the Joseph Campbell of Kansas City. Called "When Even Evil Will Ordain the Good," it was a thought-provoking Lenten meditation on the nature of evil and how it can be reconciled with the notion of a good God. How can a good God allow, for example, the coronavirus? To explore this profound topic, Vern used a painting by Vel?squez, as well as one of his own sonnets, "The Cosmic Christ: A Meditation on Vel?zquez's Christ after the Flagellation contemplated by the Christian Soul'"--
Who is this Christ? You, scourged, now look at me
and send a thill of light to guide my prayer
while You are twined and I think I am free,
attired in spotless white though You are bare?
An angel points the truth and guards the space,
an inner sweep where meaning's torque is tried,
and agony is mitered with spare grace;
the present, like a paradox, is tied,
The world entire is Christ, distressed, alone,
a way of painting all we see and know,
the damned, the saved enjoined with laugh and moan,
a metaphor chamfering loved and foe.
So I'll be hurt to heal, be bound to free,
change ache to kiss and wrench eternity.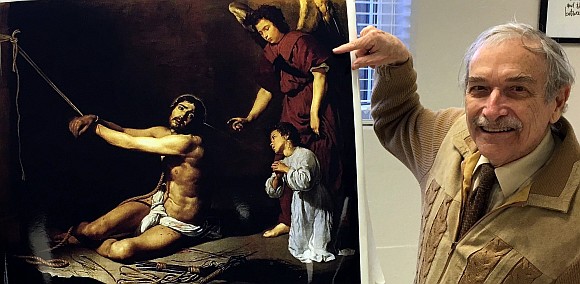 ---
#200325Neas
Kansas City Star
highlighting added
CLASSICAL MUSIC ? DANCE
For classical music, theater and other arts fans in Kansas City, it's a 'silent spring'
BY PATRICK NEAS
SPECIAL TO THE STAR
MARCH 25, 2020 07:00 AM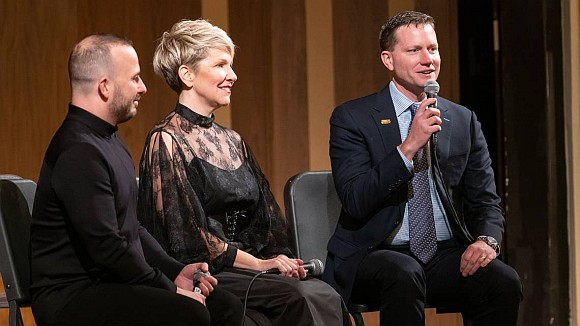 Musicians Yannick N?zet-S?guin and Joyce DiDonato in a discussion with Clark Morris, executive director of the Harriman-Jewell Series. COURTESY DON IPOCK
Usually at this time of year, Kansas City is filled with a joyful cacophony of musical and theater performances. But in 2020, it's more reminiscent of Rachel Carson's "Silent Spring." In her landmark 1962 environmental classic, Carson wrote how the misuse of pesticides could lead to a springtime bereft of bird song.
The eerie silence coming from Helzberg Hall, the Folly Theater, the Carlsen Center and other Kansas City venues is Kansas City's silent spring. These are dark (and quiet) times, but Kansas City's arts community is rising to the challenge, reaching into deep reservoirs of creativity and fortitude to save their organizations and preserve their art for when this pandemic finally ends.
Many music and theater groups that have had to cancel performances due to the coronavirus are hoping that rather than asking to be reimbursed, people donate the sum they've paid for tickets in an attempt to keep the arts alive in KC.
Musicians are making their performances available on social media, and the Kansas City Symphony has recently started a podcast to ease the pain of local classical fans. "Beethoven Walks Into a Bar" features associate conductor Jason Seber, flutist Michael Gordon and education manager Stephanie Brimhall rapping about music.
"If Beethoven were alive today and wanted to talk about music with his friends at the pub, I'm sure he'd have a great time with these folks," writes executive director Danny Beckley in a press release. "The hope is our new podcast will be a fun way to talk about music and bring a little joy into your day. This is one of several new ventures we are starting in light of the current situation."
AN INVENTIVE STRING QUARTET
The Opus 76 string quartet was founded three years ago and has already established itself as one of Kansas City's most important chamber ensembles. Violinist Keith Stanfield, a co-founder of the group, says the social media groundwork he's been laying is now helping Opus 76 survive the current crisis.
"I've been cultivating our online presence for quite some time — for years," Stanfield said.
"All of our content will always be free, but because we are a non-profit, we are able to use a Facebook donate button to raise money for ourselves. We were doing a lot of charitable work in the community, and obviously we can't do that for people now, but what we are able to do is raise money for them using our own platform. If they're registered as a non-profit on Facebook, we can donate our performances."
Opus 76 has been adding donate buttons to online performances to benefit not just themselves but organizations like Harvesters. With the donate button, Facebook makes sure the money goes directly to the organization. Stanfield says that the quartet is also trying help other freelance musicians in the area by featuring their work on Facebook.
"The freelancers have gotten totally railroaded by this," Stanfield said, referring to COVID-19.
"Every Thursday we're going to highlight a different freelancer in the area and then collect money on their behalf. It's going to be needs-based not merit-based. Whoever is interested can send just one three-minute or less piece of solo Bach. I really don't care what it sounds like. Then we'll put their performance on our page and people can donate, if they like.
"I'm just trying to look out for people like myself who have lost a lot of work."
A MOBILE WORKFORCE
But live streams, podcasts and CDs are not nearly as satisfying as live performances for inveterate concert-goers like Vern Barnet from Kansas City.
"I'm grateful for recorded music, but live music is, well, alive," Barnet said.
"It's the difference between watching a rerun of a baseball game and being in the stands. Every moment is vivid, fraught with dangerous beauty as the performers sense the crowd's expectations. I can't get that from a CD."
Clark Morris, executive director of the Harriman-Jewell Series, shares the frustration of those who love live music. Morris is the successor to Richard Harriman, who founded the revered Series, which has blessed Kansas City with outstanding live performances for more than 50 years. Speaking on the phone as he was driving to Iowa to pick up his son from college, Morris discussed how his staff of eight are coping with the pandemic's contingencies.
"We have moved to a more mobile workforce, so most of the staff are working from home," Morris said. "We still have some functions in the office that have to keep going, like checking the mail, keeping bills paid and making sure that contributions that come in get processed.
"The biggest change is the mode of communication. Previously, we would have full-staff meetings. Now we've been having daily Zoom video meetings to make sure that even though we're physically separated, we still have a connection. So we've been keeping up morale."
COUNTING EVERY PENNY
Keeping up morale is a challenge for arts organizations, since the pandemic is not only causing work disruptions but also existential threats to income. In the best of times, arts groups must count every penny.
"Certainly, there are financial consequences," Morris said.
"For us, it's a loss of revenue from ticket sales. We're attempting to deal with that. We're hoping our donors stay with us and allow us to weather this temporary setback. The other thing that we as a staff think about are the other partners that are dealing with loss of income — the caterers, the restaurants that facilitate meeting for us, the stagehands and certainly our artists. The halls that we use, the printers that print our programs, transportation companies that move our artists and goods around — all of them are impacted by this temporary shutdown."
Many patrons are sensitive to the dire situation and are not asking for refunds for canceled events, but are instead donating it to the organization.
"We are seeing that," Morris said. "One of the things we've also done is relax our exchange policy to allow our patrons to exchange tickets for another performance next year. But it's difficult because most of our expenses are set and you're counting on that ticket revenue and if the concert doesn't happen, it can really upset the apple cart."
THEATER SCENE
Kansas City's vibrant theater scene has also been hit hard. Musical Theater Heritage has had to cancel its production of "Carousel." The Unicorn Theatre has canceled the last two weeks of "American Son" and is rescheduling "Lifespan of a Fact." The Unicorn says it's hoping to reopen in June.
The KC Rep is canceling "Noises Off," which was scheduled to open on March 29. All theater groups, like all arts organizations in Kansas City, are hoping patrons will donate the cost of their tickets rather than request a refund.
The Harriman-Jewell Series is holding out hope that one of its most anticipated concerts of the season, a recital by Joyce DiDonato and the early music ensemble Il Pomo d'Oro on May 29, might in some fashion still go on.
"At this point, we're still holding onto that performance in the hope that in some form we'll still be able to present that," Morris said. "It's impossible to know today whether that's going to be possible, but we still have hope in that possibility."
DiDonato said things are up in the air.
"Like the rest of the world, I'm sorting things out on an hourly basis," she wrote in an e-mail. "I feel like we have all been plunged into a Buddhist boot camp where our only sane option is to truly live in the moment, unable to make serious plans for the future. So my current goal is acceptance, working very diligently to guard against anxiety, paralyzation and isolation of spirit."
ENCOURAGING WORDS
Rachel Carson, who died in 1964, would have been thrilled that eagle populations are thriving in North America because the pesticide DDT was banned in 1972. The fervent spirit that defines Kansas City's arts community gives us assurance that our beloved musicians, artists and creators will once again soar like eagles.
DiDonato, the songbird from Prairie Village, has some encouraging words for local arts lovers:
"I celebrate how potent the arts are serving us all in this moment, and I'm so grateful for the artists still creating and contributing," DiDonato wrote. "I don't have skills that can serve on the front lines of this, but I can contribute to the spirit of how we walk through this challenge together. I encourage everyone to reach out in the way they are able, and to contribute to our healing. That will be the key to our emotional survival."
You can reach Patrick Neas at patrickneas@kcartsbeat.com
and follow his Facebook page, KC Arts Beat, at www.facebook.com/kcartsbeat.
---

#200513
Interfaith Center at Miami University
May 13 Wednesday 3 pm CDT (4 pm EDT)
A GOD ATHEISTS CAN BELIEVE IN
Are you an atheist? or a believer? or just puzzled?
And why did God, if one, allow the pandemic?

In any case, you might want to Zoom in on a conversation with Vern Barnet May 13 Wednesday 3pm CDT and 4pm EDT.

Below you'll find links for the official announcement, registration, and Facebook's RSVP. This special program is sponsored by the Interfaith Center at Miami University (with CRES co-sponsorship) -- and moderated by Geneva Blackmer, its Program Director. Anyone anywhere may participate.


Some of the questions that may be put to Vern include --
1. How can a good and all-powerful God permit COVID-19?
2. Why would you propose a "God" atheists can believe in?
3. What are typical ideas about the character of God and gods?
4. Is there an idea of God in every religion?
5. What ideas about God could possibly appeal to atheists?
6. What about this word: "belief"?
7. How can you be an atheist and a Christian at the same time?

| | |
| --- | --- |
| The Rev. Vern Barnet, DMn, is minister emeritus at the Center for Religious Experience and Study, an interfaith institute in Kansas City. His many teaching assignments include Assistant Professor, Religious Pluralism, at Central Baptist Theological Seminary; the international faculty of the pilot "Interfaith Academies" partnered with Harvard University's Pluralism Project; and Souljourners at the Sophia Retreat Center of the Benedictine Sisters at Mount St Scholastica. His many publications include the ground-breaking 740-page Essential Guide to Religious Traditions and Spirituality for Health Care Providers and a prosimentrum including 154 sonnets, Thanks for Noticing: The Interpretation of Desire. For 18 years, he wrote the weekly "Faith and Beliefs" column for The Kansas City Star. | Geneva Blackmer is the current Program Director for The Interfaith Center at Miami University. She holds a B.A. in Religion and an M.A. in Religious Studies from Athens State University. She is a first year interdisciplinary Ph.D. student in Theology at Amridge University. She serves as an At-Large Director for the Greater Kansas City Interfaith Council and an Administrative Director for the Interfaith Council of Southern Nevada. As an intern and historian for CRES, she helped found the Kansas City Interfaith History Project, in conjunction with her published thesis. She has recently worked with the Interfaith Council of Metropolitan Washington on Emergency Services Resource Outreach and the Parliament of the World's Religions on their Climate Commitments Project. |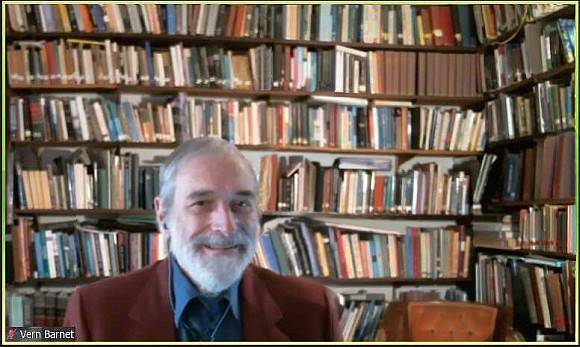 SLIDES PREPARED FOR THE PRESENTATION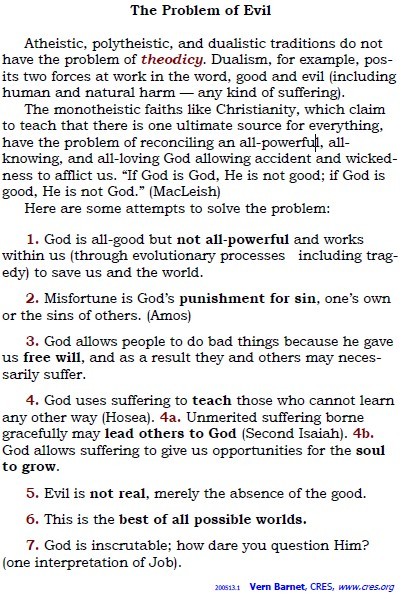 ---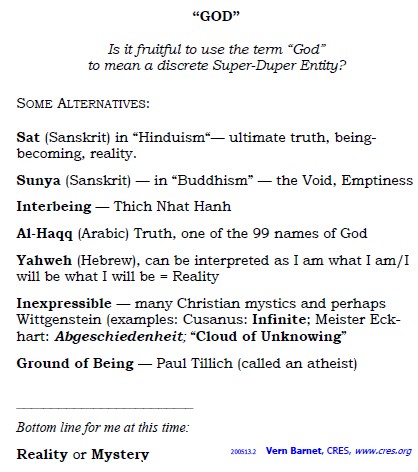 ---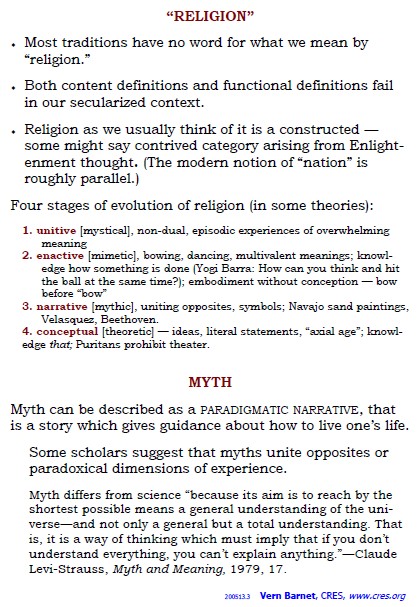 ---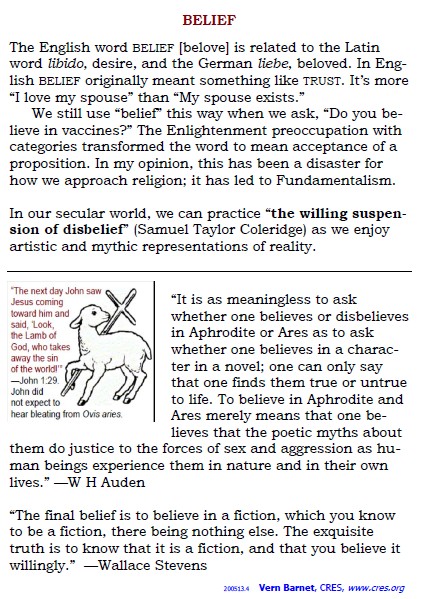 ---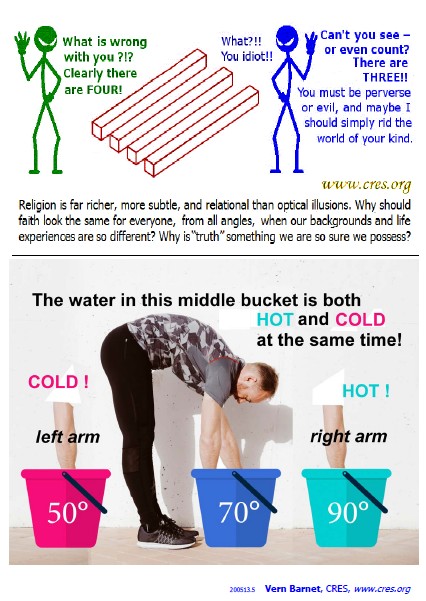 ---
From Aporia to Praise:
May 24 POSTPONED
An observance of
the 50th anniversary of Vern Barnet's ordination
Aporia: "impasse, puzzlement, doubt."
Vern offers his conclusions from 50 years of experience and study: in a troubled world, what paths lie forward? and how can one dare offer praise for the intertwined mix horror and beauty of existence?
* Doing theology is less like mathematics and more like expounding why you love someone.
* My passion for "world religions" in the context of the crises of secularism.
* The mystic's vision (amour fati - love of fate) and the public expression in worship.

---

#Citizenship200610
Sacred Citizenship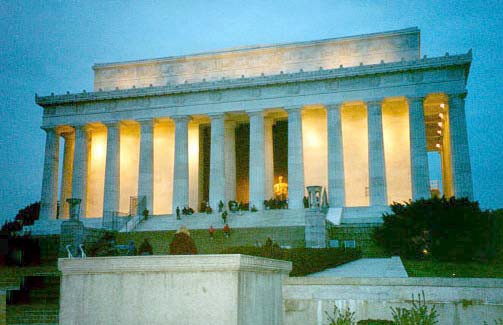 David Nelson has asked Vern to participate in the June 10 "Vital Conversation" when the group will consider Vern's essay on "Sacred Citizenship" as part of the program.
"Civil Religion" has a bad name. Even Robert Bellah, who popularized the term in 1967, abandoned it because it has come to connote right-wing desires to fuse church and state as in the case of one proposed Constitutional amendment, meant to recognize the "sovereignty of Christ." But isn't citzenship -- beyond sectarian and partisan claims -- really a sacred gift and responsibility?
---


Annual TABLE OF FAITHS postoned this year to
2021 May 18
The Greater Kansas City Interfaith Council,
now independent but originally a program of CRES,
was founded 1989 May 11.

Vern Barnet, who founded in the Council in 1989, is Council Convener Emeritus. The Council newsletter has published his brief notes about three milestones in the early history of the Council.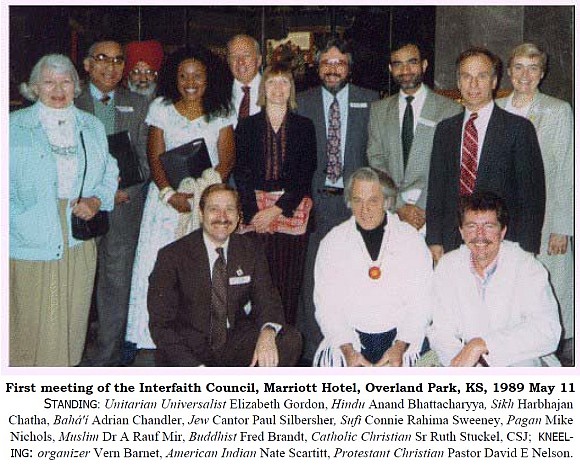 ---

HOW TO USE ZOOM
June 20 Saturday 3 pm CDT
An Interfaith Panel Discussion
JUSTICE AND PEACE
opportunities for deeper understanding and change

This event was organized by the distinguished Muslim leader, Imam Ahmed El-Sherif who has asked Vern and David to participate. Vern offered the opening prayer (at the end of this article). David offered the concluding inspiration. Thanks to Geneva Blackmer of the Oxford Interfaith Center for her assistance.
Speakers included the Hon. Alvin Brooks, Dr. Gary Morsch, Alan Edelman, Ibrahim G. Beshir, Bill Tammeus, Lewis Diuguid, and, from CRES, the Rev David Nelson, DMin, and the Rev Vern Barnet, DMn.
The Hon. Alvin Brooks was the only Black cadet in the 1954 Kansas City Police Academy. In 1968 he was serving the school district when the riots following the death of Martin Luther King Jr broke out; his calming influence led to his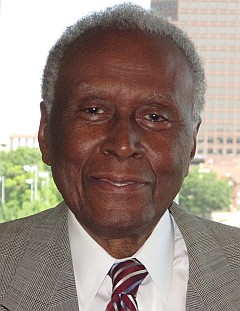 becoming the first Black city department head with the creation of the Human Relations Department, and later assistant city manager. His work in the community led to his designation by President George H W Bush as one of America's Thousand Points of Light. In 1999 he was elected to the Kansas City City Council and made Mayor Pro Tem, and served two terms. He was narrowly defeated for Mayor in 2007. In 2010, the governor appointed him to the Board of Police Commissioners. He currently serves on the Hickman Mills School Board. Among his many honors, most recently, he was named Kansas Citian of the Year by the Chamber of Commerce. The arc of his 88 years, from police cadet to president of the Board of Police Commissioners gives him special understanding of the community and the issues before us.
Dr. Gary Morsch is a family and emergency physician and a founder of Heart to Heart International. Morsch retired from the U.S. Army Reserve in 2012 with the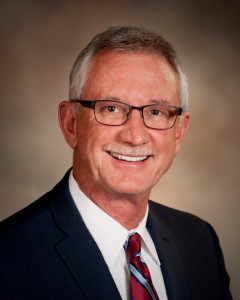 rank of Colonel and has been deployed as an Army physician to Kosovo, Iraq, Kuwait and Germany. Morsch has received several awards for his humanitarian work including the President's Volunteer Action Award, the Points of Light Award, two honorary doctorate degrees, and was honored with the first Humanitarian Award from the American Academy of Family Physicians. An avid writer, Morsch has authored a handful of books focused on humanitarian work. He believes in the power of service and has dedicated his life to inspiring and mobilizing people to serve.
Bill Tammeus is past president of the National Society of Newspaper Columnists. For many years he was the Faith section columnist for The Kansas City Star, where he began in 1970 as a reporter, spent nearly 27 years on the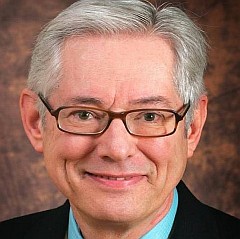 paper's editorial page. In addition to a blog, Faith Matters, Bill has written for The Presbyterian Outlook, the National Catholic Reporter,and Flatland, KCPT-TV's digital magazine. Winner of many awards, his books include A Gift of Meaning, They Were Just People: Stories of Rescue in Poland During the Holocaust, Visitation: Celebrating a Century of Faith, Woodstock: A Story of Middle Americans, Jesus, Pope Francis and A Protestant Walk into a Bar: Lessons for the Christian Church. His latest book is The Value of Doubt: Why Unanswered Questions, Not Unquestioned Answers, Build Faith.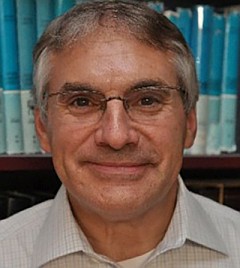 Alan Edelman is a native of Kansas City. After receiving a B.A. in Child Development, Alan attended the Jewish Theological Seminary, where he received a Master's Degree in Jewish Education. Since 1977, he has served in a number of professional capacities including congregational educator, regional director for the Conservative Movement and executive director of the Central Agency for Jewish Education. Beginning in 1994, Alan served as Associate Executive Director of the Jewish Federation of Greater Kansas City with the portfolios of Jewish Education, Leadership Development and Israel ? Overseas until his retirement in June 2017 to devote more time to volunteering. Alan and his wife, Debbie Sosland-Edelman, have four children, Alex, Katja (and husband Ari), and Jonathan.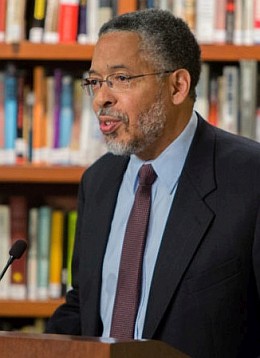 Lewis W. Diuguid is a former photographer, columnist, letters editor, op-ed page editor, and editorial board member at The Kansas City Star, 1977 to 2016. He is a founding member of the Kansas City Association of Black Journalists and has been recognized with awards such as the Angelo B. Henderson Community Service Award from the National Association of Black Journalists. His books include Discovering the Real America: Toward a More Perfect Union (2007), A Teacher's Cry: Expose the Truth about Education Today (2004) and Our Fathers: Making Black Men (2017). Diuguid is the co-chair of the Communications and Outreach Committee for the National Association for Multicultural Education (NAME).
Ibrahim G. Beshir majored in electrical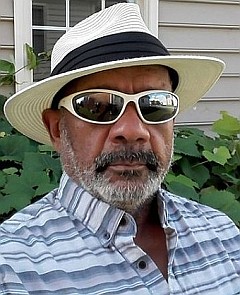 engineering and has a masters degree in computer engineering and technology. He worked for the Department of Defense from 2001 to 2007 as a system engineer. During that time he participated in opening a prayer place for all faiths in Quantico base and was part of the team keeping an iftar day for service members. He then moved to the State Department and worked as information technology project manager. He traveled to Libya at our Benghazi post as the post manager. He also has worked as the IT post manager in Shenyang, China. He returned to the US in 2017 to work as an IT manager at the consular affairs section where he participated in establishing a prayer place at the Department and conducted an iftar for employees. He also teaches IT classes at area colleges and works through a non-profit group to help the underprivileged to catch up in the IT field. He is part of the team established helping hands with Ahmed. In addition, he has been part of several nonprofit grpups in the greater metro area of Washington, DC.

The Rev. David Nelson, DMin is president of The Human Agenda and senior associate minister with CRES; a bio-sketch appears here. The Rev. Vern Barnet, DMn, is minister emeritus at CRES; a bio-sketch appears here. Organizer Imam Ahmed El-Sherif is a dedicated advocate for interfaith understanding and peace and justice; bio information appears here.
Vern's Opening Prayer:
Spirit of Generations, You have given us a playground of the globe, the miracle of personhood, and the delights of one another. But we have defiled your gifts of nature with pollution, blasphemed your gift of citizenship with prejudice, and allowed our society to be governed with corruption. Our sins of the environment, of character, and society are manifest now with the pandemic and the plagues of racism. We lament. We cry for health and justice.
Turn, we pray, turn our lamentation into repentance, and our repentance into reform. Help us at this terrible time to abandon unfulfillable fantasies of greed and all forms of selfishness. May our loss and grief be transformed into vision and our vision into righteous behavior.
May we be renewed and refreshed with how precious are the gifts of life; bring us back into respect and awe at the world of nature, teach us to hold one another dearly; may such veneration become the deepest gratitude, and may that gratitude move us to love and to serve one another though this frightful time into the era of the peace and justice of the beloved community. We pray this with the power of all we hold sacred. Amen.
We are living during a time of grief. Grief is an overpowering emotion that can weaken your entire body and mind. It can debilitate us and keep us from performing normal life functions. Even when shared it impacts each person deep inside body, mind and spirit. Grief overwhelms the brain and the body. To watch a brother or sister brutally murdered tares at the fabric of our being. When these pictures are repeated year after year, community after community it becomes even more oppressive and overwhelming. We can lose our ability to imagine and to believe in a better world. The sin of racism hurts communities of color, fractures human relationships, and denies God's good creation. Lament is a way for us to recognize the harm caused by racism.
But Lament is not enough. Dr. William Barber II, one of the leaders of the Poor People's Assembly going on as we gather right now, reminds the world "accepting death is no longer an option." We can no longer tolerate this vicious cancer that like another virus is spreading and destroying this nation, the world and the sacred bond we have with each other.
As an Appreciative Inquiry Coach and a human being, I refuse to give up. When I see my sisters and my brothers killed and denied their human dignity, I lament AND choose to imagine a better world. I admire the persistence, the courage, and the wisdom of Black Lives Matter and those who march and demonstrate. As a person who has benefited from "white privilege", I have a sacred responsibility to keep imagining and nurturing something better.
As a white man these days I must do lots of listening, reading, pondering, and praying. I listen and I hear you my Black brothers and sisters. I hear you and am moved. I hear you and agree that racism must be condemned, racist behaviors must change, and justice must flow like water. I will listen and when possible use my "white privilege" to support needed change.
* I choose to lament and imagine a paradigm shift in policing. We do not need military warriors in our streets we need caregiving partners who use their heads and hearts more often than their clubs and guns.
* I choose to lament and imagine 9-1-1 Centers to use protocols that enable emergency dispatchers to identify what service would best bring relief and hope into a crisis.
* I choose to lament and imagine equity in representation in all public operations.
* I choose to lament and imagine a day when every person's root cause for success and positive core is recognized, celebrated and enlisted in building a more beloved community.
* I choose to lament and imagine continued Vital Conversations where the purpose is not to win an argument, but to win a friend and advance civilization.
"I refuse to accept the view that mankind is so tragically bound to the starless midnight of racism and war that the bright daybreak of peace and brotherhood can never become a reality . . . . I believe that unarmed truth and unconditional love will have the final word."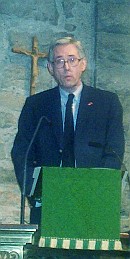 CRES is delighted to join the Interfaith Center for one of the nation's best informed and most thoughtful explorers of interfaith comity. Bill's keen interest in the subject was sharpened by a family 9/11 tragedy. Those present at the somber first anniversary interfaith city-wide observance of that horror will remember Bill's stirring and insightful remarks (photo). Now, almost two decades later, we still need to more fully understand how to heal the afflictions of religious intolerance. After Bill's examples of violent extremism with religious roots, he offers a series of suggestions for how to become part of the solution.

Zoom link: https://us02web.zoom.us/j/86479110930

BILL TAMMEUS is a former columnist for The Kansas City Star, where he worked full-time for almost 36 years. From 2004 until 2020 he wrote the daily "Faith Matters" blog (http://billtammeus.typepad.com)
He also writes columns for The Presbyterian Outlook, Flatland, KCPT-TV's digital magazine, and, until recently, for The National Catholic Reporter.
A graduate of the University of Missouri School of Journalism, Bill was a member of the Star staff that won the 1982 Pulitzer Prize for local reporting. His many other awards include several from the National Society of Newspaper Columnists and the American Academy of Religion, in addition to receiving the 2005 Wilbur Award given annually to the best religion column in the country. The latest of his six books is The Value of Doubt: Why Unanswered Questions, Not Unquestioned Answers, Build Faith.
Bill is an elder at Second Presbyterian Church in Kansas City and past president of the National Society of Newspaper Columnists. He's married to Marcia Tammeus. Between them they have six children and eight grandchildren.

---

#200807

The Interfaith Center at Miami University, Oxford, OH, and CRES offer

Exploring Religious Power, Privilege, and Pain
AN ATHEIST PERSPECTIVE
with Evan Clark

2020 August 7 Friday 2 pm CDT
FREE — ZOOM LINK
Pre-register here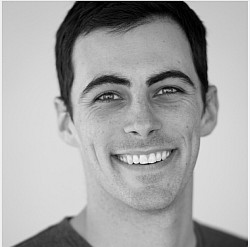 Evan is an atheist nonprofit professional consultant and public speaker. Since 2019 Evan has served as Executive Director for Atheists United in Los Angeles. He also chairs the Secular Student Alliance Board of Directors, is the founder and creative director at Spectrum Experience LLC, and a co-host for the Humanist Experience podcast.
Evan previously served as the outreach director for a congressional campaign, co-founder of the Humanist Community of Ventura County, and co-founder of the Secular Student Alliance at California Lutheran University.
Evan describes privilege as "unearned access to resources and power in society because of social group membership."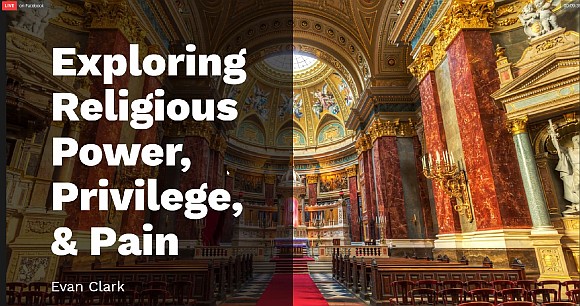 As increasing numbers of Americans leave religious institutions of all sorts, so learning how atheists view the religious overlay of our culture is important. And some religions (Buddhism for example) have no creator god in their pictures of reality. CRES has championed conversation and mutual respect for people of all faiths and those of none, as this exchange between a Rockhurst University professor and Vern illustrates. This hour with Evan promises to describe some tensions and opportunities in the work of furthering an understanding of among folks of varied perspectives.

---

#Geneva

CONGRATULATIONSto former CRES intern,
Geneva Blackmer!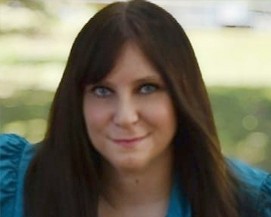 Geneva has been designated one of the twelve members of the Global Council of Trustees of the United Religions Initiative, a world-wide organization "to bridge differences between people of all beliefs, to create community, and to solve local and global challenges." The press release offered this bio-sketch:

Geneva Blackmer is the current Program Director for The Interfaith Center at Miami University. She holds a B.A. in Religion and an M.A. in Religious Studies from Athens State University. She is a first-year interdisciplinary Ph.D. student in Theology at Amridge University. She serves as an At-Large Director for the Greater Kansas City Interfaith Council and an Administrative Director for the Interfaith Council of Southern Nevada. As an intern and historian for CRES, she helped found the Kansas City Interfaith History Project, in conjunction with her published thesis. She has previously worked with the Interfaith Council of Metropolitan Washington on Emergency Services Resource Outreach and the Parliament of the World's Religions on their Climate Commitments Project.

All of us at CRES offer our heartiest congratuations to Geneva, our admiration for her energy and excellence, and our continuing gratitude for her significant contributions to CRES in the years we were so fortunate to have her as part of our team.
---
World Religions
An Introduction for Spiritual Formation
Sept 18-19
via Zoom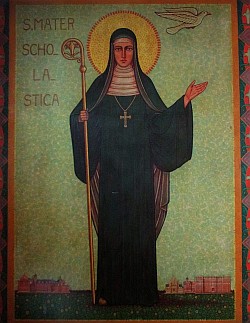 Vern writes: One of my most favorite repeat assignments is visiting the Benedictine sisters at Mount St Scholastica in Atchison as part of the Sophia Center's program training spiritual directors. The faculty and staff and the students learning together is an extraordinary environment, and I also cherish the worship experiences in the monastic setting. Walking through the campus, seeing the larger than life images of St Scholastica and St Benedict, I am refreshed in a contemplative atmosphere where intelligence and the heart are one.
But this year, my teaching must be done via Zoom, so I have rethought how to be most effective. One change is more advance reading. For Hinduism, I have also provided a link to Peter Brook's amazing condensation of the Bhagavad Gita in his 5 1/2 hour production of the Mahabharata, and those reading this announcement might also benefit from viewing it on YouTube. Start at 3:18:48; end at 3:29:30 — (start at 3 hours, 18 minutes plus; continue for 11 minutes or more).

https://www.youtube.com/watch?v=yhqkRGISQr8

I have prepared a one-page PDF of the text with a second page excerpting TS Eliot's Four Quartets (1941, "The Dry Salvages," section III) where he integrates the story of Krishna and Arjuna into this theme of what some consider the greatest religious poem of the 20th Century. I'll email this PDF to anyone requesting it.

---

#JoshNamedCouncilED
CRES Applauds the Interfaith Council
on naming Its Executive Director,
the Rev. Dr. Joshua Paszkiewicz (Sunyananda Dharma)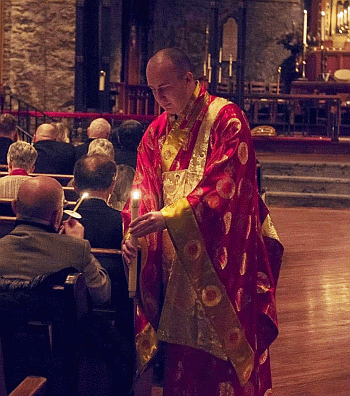 With the greatest pleasure, CRES celebrates the selection of our friend and Vern's former seminary student, the Rev. Dr. Joshua Paszkiewicz, as the Executive Director of the Greater Kansas City Interfaith Council. (It is true also that Vern considers himself to be one of Josh's students.) For someone so young, Josh has a long and distinguished career in the interfaith field. We are glad to offer our heartiest wishes for the flourishing of the Council with his leadership.
Our photo shows Josh (Sunyananda Dharma) in his Buddhist vestments lighting worshippers' candles at an interfaith observance of Candlemas at Grace and Holy Trinity Cathedral. Other members of the Interfaith Council also participated.
The Council was founded as a program of CRES in 1989 and consisted of members of twelve of the thirteen significant and distinct faith traditions in Kansas City. In 2005, at Vern 's urging, it organized as an independent non-profit, named Vern "convener emeritus," and gave him its first annual "Table of Faiths" award, presented by then-Mayor Kay Barnes. In order to respect the independence of the new organization, CRES has kept a respectful distance and refered matters appropriate to the Council when they were directed to CRES. But CRES has sought to respond whenever the Council invited CRES participation.
Here is the Council's September announcement:
The Greater Kansas City Interfaith Council welcomes the Rev. Dr. Joshua Paszkiewicz as our new Executive Director, signaling a greater emphasis on community involvement for the Council.
For the last ten years, Josh has served the United Buddhist Church by providing pastoral care and leadership for several faith communities as well as caring for congregations locally and internationally. He has organized retreats and training programs at seminaries, colleges, and universities. His ministry work has taken him to India, Vietnam, Taiwan, and the United Arab Emirates.
For two years, Josh served as the Faith Outreach Coordinator for Habitat for Humanity of Kansas City. Between this experience and providing very diverse pastoral care and support for nursing facilities for several years, he has honed his skills as minister, spiritual counselor, and organizational leader.
His experiences professionally and personally bring additional depth to the Interfaith Council and facilitate expanded communications between GKCIC and the greater Kansas City community. The Greater Kansas City Interfaith Council has been the leading organization in the interfaith movement in the Kansas City area for over 15 years.
He refers to himself on Facebook as an "Errant Abbot, Writer, Martial Artist, Foodie, and General Aficionado of Life!" With a smile and deep appreciation, we welcome our new collaborative partner, Joshua Paszkiewicz, as we continue our commitment to making Kansas City the "most welcoming community for all people."
---

#200920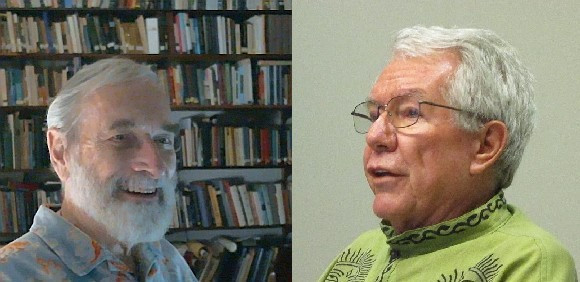 In three parts, we explore remedies for the troubles of our time.
1. First Vern quizes David on why knowing about others' faiths is inadequate for citizens today and insufficient to build community. (David is an expert on Appreciative Inquiry.)
2. Then David challenges Vern to explain why even understanding the details of other faiths is a failing response to the crises of our age. (Vern's research program is charted here.)
3. Finally questions and comments and, hopefully, good arguments, from the viewers will round out what promises to be a clearing in the woods as we seek a path toward refreshment and renewal.

Many of our Jewish friends are concluding Rosh Hashanah, we offer our hearty greetings and wishes: Gemar chatimah tovah. For those unable to be with us this hour, and those wishing to see it again, it is being recorded.

The Rev Dr David Nelson and the Rev Dr Vern Barnet were in seminaries a few blocks away from each other in Chicago in the late 60s onward, but never met. They both attended the first meeting of the North American Interfaith Network in Wichita in 1988, covered by the New York Times, but did not meet. But when the Kansas City Interfaith Council was organized in 1989, they did meet and became friends as well as colleagues when David was pastor of the largest ELCA Lutheran Church in Missouri.
David is an Appreciative Inquiry Coach and holds a Certificate from the Shalem Institute for Spiritual Direction. In additions to helping individuals discover more meaningful lives, David brings his insights to help transform men serving time in the United States Penitentiary and partnering with men and women in agencies who provide public health and safety through pre-hospital care and community action. One of his many gifts to the community and CRES is his monthly Vital Conversations book club. David is active with and on behalf of those sisters and brothers who have been oppressed or ignored by others. He served as convener of the Christian Jewish Muslim Dialogue Group. For some years, David coordinated the field DMn program for the Lutheran School of Theology. David's many recognitions include the Humanitarian Award given at the Bruce R Watkins Cultural Heritage Center and Museum, a special commemoration from the Greater Kansas City Interfaith Council, and an award for "pioneering interfaith work in Kansas City and enriching us with the vision and power of mutual appreciation." David's impact on the community was even recognized with his name on the big board at Arrowhead Stadium when the Kansas City Royals gave him the Buck O'Neil Legacy Seat award. David is president of the Human Agenda and senior associate minister at CRES.
Vern founded CRES in 1982 and the Interfaith Council was created as a program of CRES in 1989. CRES is the oldest continuing multi-faith organization in Kansas City. Vern was employed by the KC Star from 1993 to 2012 to write a weekly column on multi-faith issues. He chaired the County 9/11 task force. He led and framed the city-wide first anniversary observances of the 9/11 horrors as a above all an earnest redirection for personal, community, and national renewal which was recognized by a half-hour CBS-TV special. With three others, he edited the 740-page The Essential Guide to Religious Traditions and Spirituality for Health Care Providers, published in the UK and the United States, and his book of sonnets, Thanks for Noticing, is heavily glossed with notes from the religions of the world. His awards come from Buddhist, Christian, Jewish, Hindu, Muslim, Sikh and other religious groups, and from civic organizations such as the national Community Leadership Association., He is an Assistant Professor for Religious Pluralism at Central Seminary. Vern is minister emeritus at CRES.

---
Funeral Consumers Alliance of Greater Kansas City and CRES, co-sponsor, present
An Interfaith Discussion of
Medical Assistance in Dying
Why do nine states with 20% of the U.S. population have it? Why don't any of the rest of them?
Nov. 6 Friday 9-noon -- Live streamed on YouTube


The Panelists are Peg Sandeen: National Executive Director of Death With Dignity. (keynoter) -- Fr. Thomas Curran, S.J.: Rockhurst University President. (Roman Catholic perspective) -- the Rev. Melissa Bowers, MA, MPS - Chaplain, Kansas Clty Hospice and Palliative Care. (Protestant perspective) -- Mahnaz Shabbir: of Shabbir Advisors management consultants. (Muslim perspective) -- Dr. John Lantos: M.D., Director of Pediatric Bioethics at Children's Mercy Hospital and Professor of Pediatrics at University of Missouri-Kansas City. (Medical, ethical and Jewish perspective)

CRES and the FCA-GKC board neither support nor oppose MAID. Our interest is strictly educational. The program, to be recorded for later viewing on demand, is our gift to the community. Open to professionals, students and the public at no charge.

Go to funeralskc.org or facebook.com/FCAGKC for registration and a time/topic schedule, speaker bios and physician CME submissions and social worker/nurse CEU submissions -- three hours of Ethics continuing education credits in Missouri and Kansas for social workers and nurses.
---

#201108

VIRTUAL INTERFAITH THANKSGIVING GATHERING
Online and accessible to all -- Join on zoom or by live-stream
Seeing Peace with "2020 Vision"
November 8, 2020 Sunday
4:00 pm — 5:15 pm CT
Video Recording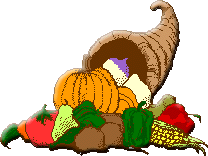 The annual observance was sponsored by CRES for its first 25 years. This year is the 35th year of what has become a beloved Interfaith Thanksgiving tradition, but this year is different. Due to the coronavirus pandemic and in order to bring the joy of interfaith gratitude to our community, the Gathering is virtual this year.

Thanks to sponsors: the Heartland Alliance of Divine Love, the Greater Kansas City Interfaith Council, and The Interfaith Center at Miami University in Oxford, Ohio.

There are a number of ways to join this online event:
* Simply click on this link to participate in this event:
* Register for free on Eventbrite and the link will be sent to your lnbox.
* Join the live-streaming on the Heartland Facebook page.

There is NO COST for this event — everyone is invited to participate and everyone is welcome! As always, a highlight of the event will be the offering of prayers from the multitude of faiths and religious traditions in the greater community.

Even in the midst of this most unusual year, there is much to be grateful for, and this year's Gathering acknowledges this situation with a dual focus: (1) to remember and honor all those who have been lost during this pandemic and their loved ones and (2) to celebrate andthank the "heroes of the pandemic" -- the health care workers, first responders, and spiritual workers who have helped families with loved ones lost. Heartland ADL also chooses a charity each year -- this year, Harvesters, because of the unprecedented need. We invite you to send your donations to Harvesters.

Look for additional information about the dinner on the Council website, the
Heartland-ADL website, and the Heartland Facebook page.
---
Alvin L. Brooks Memoir Completed
available Black History Month

After three years as developmental editor for the memoirs of the Hon. Alvin L. Brooks, Vern is thrilled to report that the book has been accepted by Andrews McMeel for publication in Black History Month, February, 2021. Click on the book cover for the announcement and scroll down for interesting details and a photo of Al and Vern from 2017 with a binder of the draft text at that time.
---
link to 2021

---
OTHER ANNOUNCEMENTS

WEDDINGS of all kinds click for information

We can provide a customized ceremony. We regularly work with the great folks at Pilgrim Chapel and are happy to serve at any venue.

THANKS to Robert and Shye Reynolds, a CRES fund to assist couples with fees for weddings has been established, to celebrate their marriage June 19, 2002, on the occasion of their thirteenth anniverary.

FORTHCOMING BOOKS
see also
our publications page

in progress: KC Star, Many Paths columns and fresh essays:
The Three Families of Faith and the Three Crises of Secularism
Many have asked for a compilation of columns Vern wrote for the KC Star, 1994-2012, and the essays fatured in Many Paths. Here are tentative chapter headings for the selections:
? The Three Families of Faith ? Faith and the Arts ? Science and Religion ? Teachers of the Spirit ? Ritual and Worship ? Religion and Public Policy ? Specific Faiths (Buddhism, Islam, etc) ? Comparative topics (reincarnation, gods, water, prophets, etc) ? How the column began and ended


OTHER
PROGRAMS
and SERVICES

If you would
like to engage Vern
or another member
of the CRES staff
for a speech,
consultation,
a wedding,
a baptism,
or other work
with your organization
or personally,
please visit www.cres.org/work/services.htmor email vern@cres.org
ABOUT CRES PARTICIPATION
Having spawned several other organizations,
including the Greater Kansas City Interfaith Council,
we continue to offer programs initiated by and through others
but we no longer create our own in order to focus on our unique work.
For interfaith and cultural calendars maintained by other groups, click here.