INDEX 600-10x2=580px

Below are links to 2020 PROGRAMS and REPORTS

A Schubertian Epiphany --January 12 free Sacred Arts Chorale concert

Ministry in a Pluralistic World C-RP511

KC Interfaith History Project continues

Lenten Series: When Even Evil Will Ordain the Good -- Mar 5, 12, 19, 26
Episcopal Church of the Good Shepherd

Table of Faiths TBA

From Aporia to Praise:
An observance of the 50th anniversary of Vern Barnet's ordination May 24

Sacred Citizenship
Exploring ideas in Vern's essay on the topic June 10

Independence Day Essay "Sacred Citizenship"
from our Archives: The America before Trump (2-page PDF)

Annual Interfaith Thanksgiving Dinner -- 2020 Nov TBA Sunday 4:30
with the Vern Barnet Interfaith Service Award
given to TBA Event sponsored by the HeartlandADL



2020 PROGRAMS -- REPORTS -- DETAILS

A final first edit of the Al Brooks memoir is now complete. We are in the proof-reading stage.

---

#200112music

Announcement and Reports
Free Music and Munchies for Epiphany!
January 12 Sunday 2-4 pm, Simpson House, 4509 Walnut St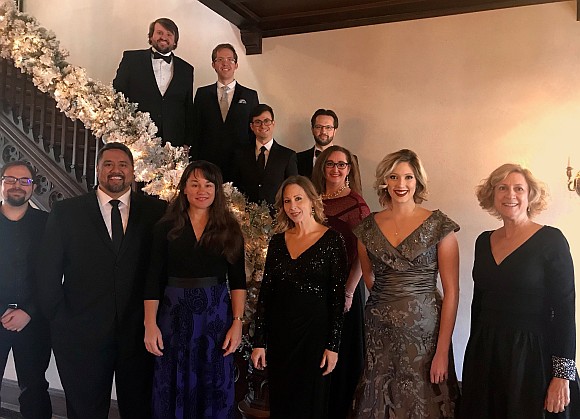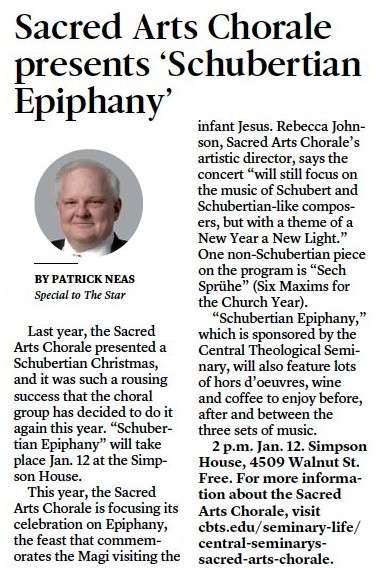 CRES is pleased to co-sponsor music for Epiphany! The Sacred Arts Chorale again presents an intimate musical performance with plenty of time for munchies and wine (we hear the cider will be spiked with whiskey). Music by Schubert, Mendelssohn, Brahms, Richard Strauss, Rachmaninov, and Andrew Lloyd Webber.
Director Dr. Rebecca Johnson says the Chorale picked this date because "there is so much gorgeous choral music in Kansas City prior to Christmas, and then it all goes pretty silent until February."
Simpson House is a favorite event space in the heart of Kansas City, near the Country Club Plaza, a few blocks east of the Nelson-Atkins Museum of Art, a block away from the Kemper Museum of Contemporary Art. Plenty of parking in the lot and on the street.
Vern says, "I can testify from past years that both the music will be splendid and the hors d'oeuvres will astonish as they delight."
Free, a gift from Central Baptist Theological Seminary to the community, with the co-sponsorship of CRES.

Report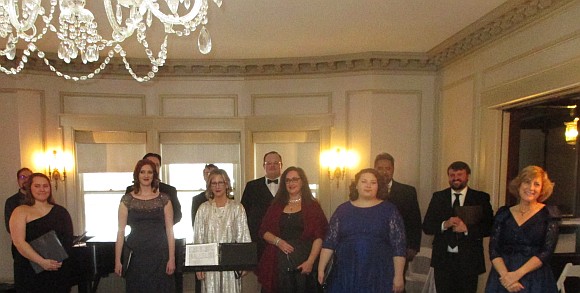 ABOVE: The Chorale receives the enthusiatic applause of the Simpson House audience.
Soprano: Karli Carbrera, Christina Casey; Alto: Kimberly Wilkinson, Roslinde Rivera, Charlotte Thuenemann; Tenor: Jonathan Ray, Spencer Ruwe, Eddie Taul; Bass: Nathan Brown, Ben Donnelly-Strait; Accompanist: Charles Dickinson; Conductor: Rebecca Johnson.
-----------
BELOW: Dr Molly Marshall, president of Central Seminary,
congratulates Dr Rebecca Johnson, conductor of the Sacred Arts Chorale.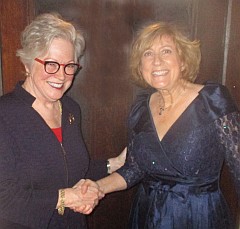 COMMENT
from Canon John Schaefer
(quoted from his Jan 14 email distribution:

On Sunday, we attended the Schubertian Epiphany. It was presented at the Simpson House by the Sacred Arts Chorale. There was a warmhearted mix of sacred and secular music by Franz Schubert, Felix Mendelssohn, Johannes Brahms, Sergei Rachmaninoff, Andrew Lloyd Webber, and Richard Strauss. The program described the Chorale as "one of the Kansas City area's finest sacred music performing groups." In the words of A. E. Housman, "'tis true, 'tis true."
---

#MLK
King Holiday Essay —
Download a PDF of Vern's 2-page summary of the genius of the spiritual approach of Martin Luther King Jr by clicking this link.
---
Ministry in a Pluralistic World — syllabus
2020 TBA 6-9:45pm CT

The graduate credit course C-RP511 is held remotely via Zoom and at
Central Seminary 6601 Monticello Road, Shawnee, KS 6226-3513.

The course, created by Dr Vern Barnet, and currently taught by Dr Matthew Silvers with Vern taking the Feb 17 session, explores questionslike these: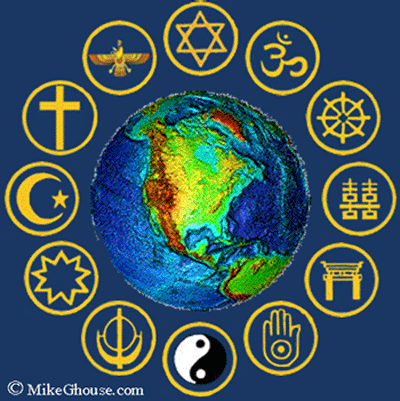 A. DISCOVERING PRESUPPOSITIONS ABOUT OTHER FAITHS -- AND OUR OWN
0. Getting acquainted: Our backgrounds, travel and other experiences, and perspectives as we approach this course.
1. What meanings do terms such as belief, dialogue, epiphany, holistic, mission, myth, pilgrimage, religion, ritual, sacred, sacrifice, scripture, secular, spirituality, and worship, have for us and today's society?
2. What attitudes have scholars identified as ways folks approach faith perspectives other than their own?
3. What does "pluralism" mean? What are its theoretical, practical, and personal meanings? How does it apply to the local community and the "global village"?
4. Where are we aided and challenged by other traditions? How might our own and other traditions address environmental, personal, and social disorders?
B. LEARNING ABOUT OTHER FAITHS
1. How do sociological, historical, phenomenological, and other methods of studying religions differ, and how do they help us understand another's faith?
2. What are the basic structures, texts, facts, practices, and variations of other faiths?
3. How do faiths compare and contrast?
4. What is more, and what is less, useful for each of us today?
C. ENCOUNTERING FOLKS OF DIFFERENT RELIGIONS
1. What are the basic styles and purposes of interfaith engagement? What are the significant interfaith organizations and programs affecting the student's community?
2. How do I discover my community's faith complexion and my opportunities within it?
3. What issues with boundaries arise and how can they be negotiated?
4. What do we learn about ourselves as we learn about others? Can I be committed to my own faith and respectful and open to others? If so or if not, what does that mean for my ministry?
---

#History
KC Interfaith History Project continues . . . .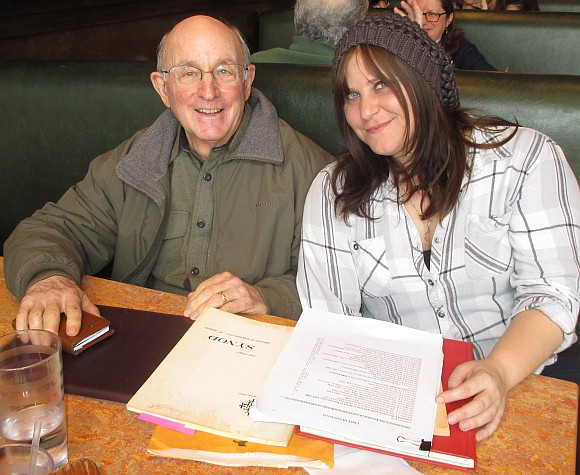 Former CRES Board chair Larry Guillot and former CRES intern, now CRES historian, Geneva Blackmer met with Vern for lunch 2019 Febuary 21 to review progress and plan next steps. Geneva, with both her interfaith experience and library skills, has scoured local and state archives, interviewed folks, and drafted what is even at this stage by far the most complete look at how ecumenical and interfaith activities have developed in the KC region, but the work is ongoing. Visit the KC Interfaith History Project.
In his 2019 July 25 entry in his "Faith Matters" blog, Bill Tammeus about Geneva Blackmer's book, The Ecumenical and Interfaith History of Greater Kansas City.
Bill says, "As Blackmer, a 2016-'17 intern for the Center for Religious Experience and Study who recently accepted a position as program director for the Interfaith Center at Miami University in Oxford, Ohio, notes, 'If it was ever necessary to designate one city in the United States as the heart of interfaith activity, a very compelling argument could be made for Kansas City.'
"The booklet is itself an argument for that contention."
After several paragraphs discussing some of the content of the book and mentioning several important interfaith organizations, he concludes, "There is, of course, still much to be done to reach the Interfaith Council's goal of making KC the most religiously welcoming community in the country. But Blackmer's work is a tribute to how much effort already has gone into achieving that goal."
Surely Bill himself is one reason that Kansas City has been more welcoming to interfaith efforts than some places, and Geneva's outline of Kansas City's progress can inspire us to move forward.
Geneva is shown above in a February review session with Larry Guillot who was one of her advisors on the book project.
Vern says, "Geneva was one of the best things ever to happen to CRES, to interfaith progress in Kansas City, and to me. Her initiative, energy, faithfulness, many diverse skills, and academic competence made her a cherished laborer in the interfaith field here, and — as I know from all the requests for references I've received around the country — a much sought-after leader into the future."

---
#LentenSeries

Lenten Series:
When Even Evil Will Ordain the Good
Mar 5, 12, 19, 26 -- Thursdays, 6pm meal, 6:30 program
Episcopal Church of the Good Shepherd
4947 NE Chouteau Drive, Kansas City, MO 64119 -- (816) 452-0745

CLICK HERE TO DOWNLOAD THE DRAFT 8-PAGE STUDY GUIDE PDF
AVAILABLE THROUGH HOLY WEEK

Lent is a special time to explore the powerful mysteries of the crucified and resurrected love of the Christian Savior. As terrain for this exploration, the Reverend Vern Barnet, DMn, offers sonnets from the "Credo" section his book, Thanks for Noticing: The Interpretation of Desire with art and music for discussion.
Vern wrote the Wednesday "Faith and Beliefs" column 1994-2012 for The Kansas City Star and has written a dozen essays for the diocesan magazine, Spirit, 2015-2017.He is a layman at Grace and Holy Trinity Cathedral where currently he is a Godly Play storyteller and Saint John's Bible docent, and he serves on the diocesan Commission on Ministry. He is minister emeritus at CRES — the Center for Religious Experience and Study. He founded the Kansas City Interfaith Council in 1989. Free copies of the book will be given to class members to celebrate the publication of the second edition expected sometime in March. Copies of the sonnets will be supplied for each session.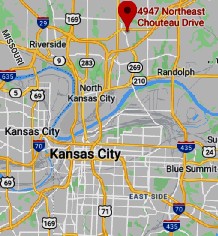 Mar 5 - The Jesus of History or the Christ of Faith?
Mar 12 - A Paradox of Salvation
Mar 19 - The Gospel Theater
Mar 26 - The Mystic Vision
Here is a DRAFT version of the
8-page study guide in PDF
Readings: Theme Sonnet 82
Mar 5: Sonnet 79;
Mar 12: Sonnet 80 (also? 85);
Mar 19: Sonnet 84;
Mar 26: Sonnet 86 (also? 88).
---
Art to illustrate the themes below
theme music "Third Tune" by Thomas Tallis
an instrumental version - a choral version - Fantasia by RVW
https://www.youtube.com/watch?v=T8oKEx1-J1w - https://www.youtube.com/watch?v=lD5TG8z3-SM
https://www.youtube.com/watch?v=ihx5LCF1yJY - https://www.youtube.com/watch?v=p0AuHYNj8qQ



Two views of an icon of Christ teaching and Velazquez's "Christ after
the Flagellation contemplated by the Christian Soul" Mar 8 and Mar 15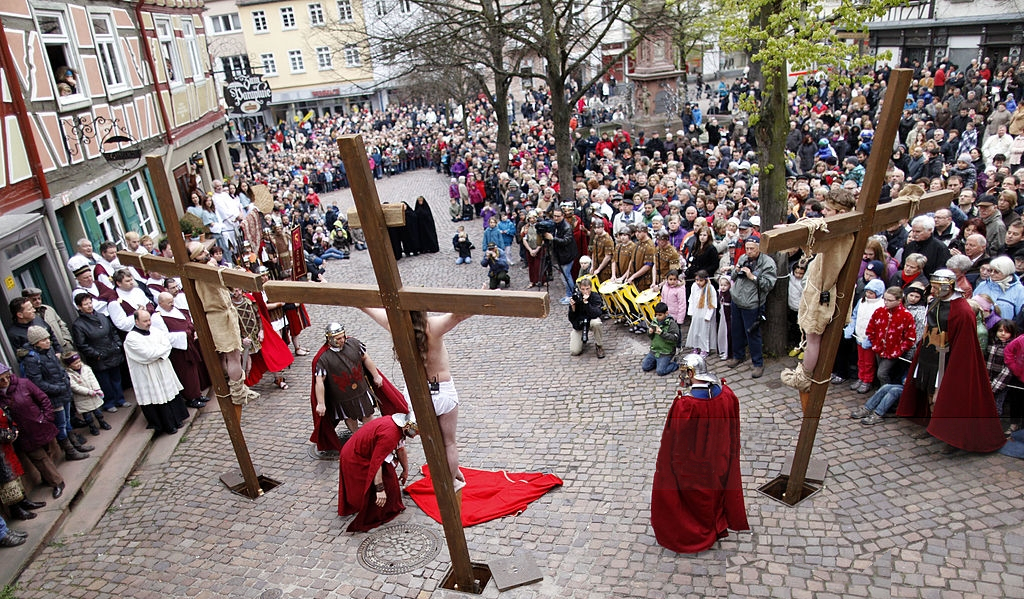 A modern enactment of the crucifixion. Mar 22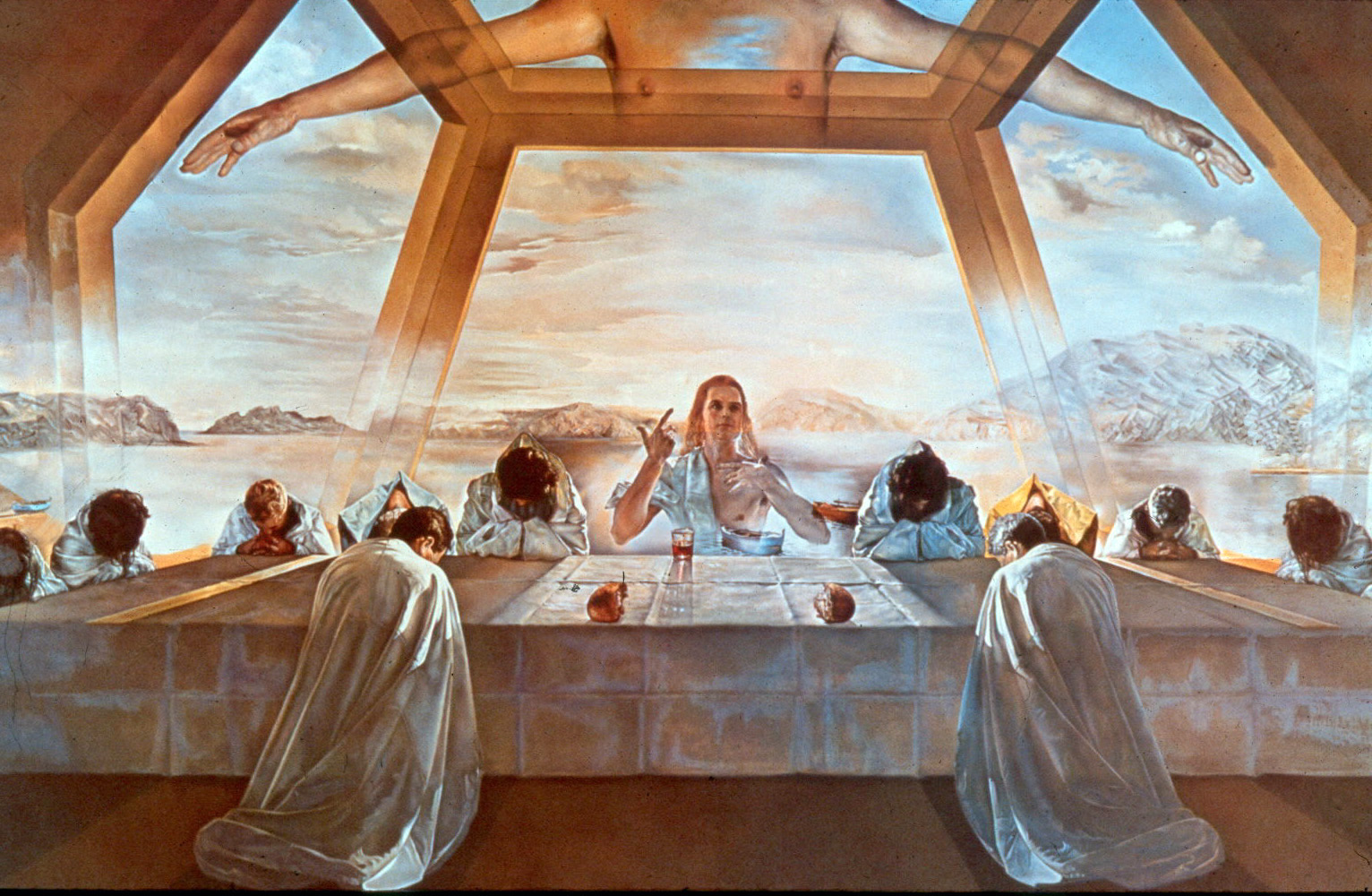 Dali's "Last Supper" Mar 29
---
From Aporia to Praise:
May 24
An observance of
the 50th anniversary of Vern Barnet's ordination
Aporia: "impasse, puzzlement, doubt."
Vern offers his conclusions from 50 years of experience and study: in a troubled world, what paths lie forward? and how can one dare offer praise for the intertwined mix horror and beauty of existence?
* Doing theology is less like mathematics and more like expounding why you love someone.
* My passion for "world religions" in the context of the crises of secularism.
* The mystic's vision (amour fati - love of fate) and the public expression in worship.

---

#Citizenship200610
Sacred Citizenship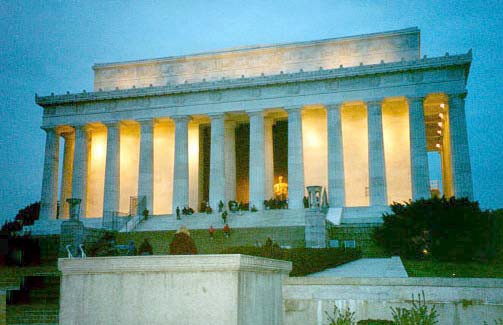 David Nelson has asked Vern to participate in the June 10 "Vital Conversation" when the group will consider Vern's essay on "Civil Religion" as part of the program.
"Civil Religion" has a bad name. Even Robert Bellah, who popularized the term in 1967, abandoned it because it has come to connote right-wing desires to fuse church and state as in the case of one proposed Constitutional amendment, meant to recognize the "sovereignty of Christ." But isn't citzenship -- beyond sectarian and partisan claims -- really a sacred gift and responsibility?
---


Annual TABLE OF FAITHS
2020 TBA
The 31st anniversary of the founding of
The Greater Kansas City Interfaith Council,
now independent but originally a program of CRES.

Vern Barnet, who founded in the Council in 1989, is Council Convener Emeritus. The Council newsletter has published his brief notes about three milestones in the early history of the Council.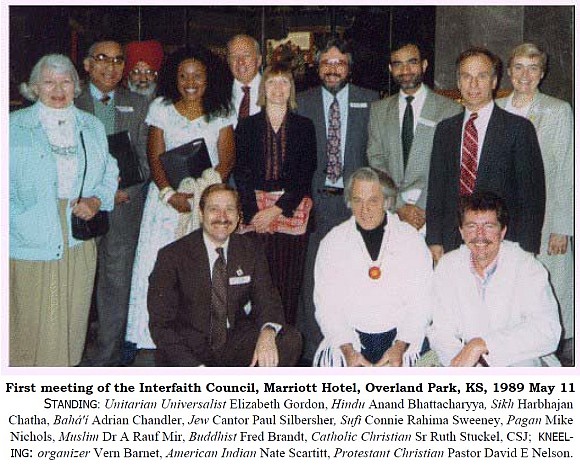 ---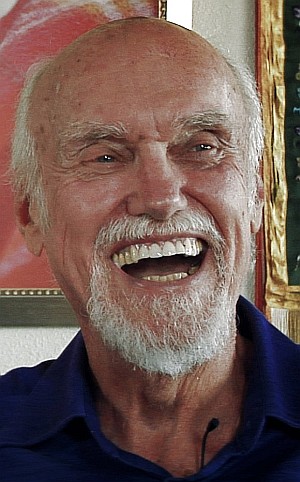 Becoming Nobody
Ram Dass Movie Premiere
postponed -- expect new date soon
Additional shows: expect new dates soon
Unity Temple on the Plaza

Enjoy this new cinema portrait of a beloved icon's life and teachings. BECOMING NOBODY follows the fascinating journey of Ram Dass — the world renowned sage and guru whose vision transformed hippie America — from his early years as a rock star Harvard psychologist and LSD pioneer to an Eastern holy man who encouraged the world to "be here now." Dass's teachings — shedding one's ego and one's sense of self, becoming "one with the universe" — have defined a generation of truth-seekers. His wisdom flows out of this quintessential film portrait, and you are sure to leave this experience with more compassion, and more attentiveness to the moment, than when you arrived.

Historic clips balance an engaging conversation with director Jamie Catto. We come to understand how encrusted roles and habitual disguises become increasingly burdensome. The film captures a loving man full of joy, wit, honesty, and wisdom, at ease in conversation while sharing his considerable pains and pleasures. The life experiences that have freed him from the attachments of his 'somebody-ness' have transformed him into the radiant soul who now inspires a new generation.

WATCH PREVIEW - ORDER ADVANCED TICKETS at www.KCFilmForum.com
Presented by the KC Film Forum and co-hosted by CRES, the Open Circle Spiritual Cinema Series, and the Temple Buddhist Center.
---

#ThgvgDnr
Although this event is not sponsored by CRES, we list it since its "Vern Barnet Interfaith Service Award"is named for CRES minister emeritus, the founder of the Kansas City Interfaith Council (1989), then a program of CRES.

2019 November TBA Sunday 4 pm
address
Annual Interfaith Thanksgiving Dinner
with the Vern Barnet Interfaith Service Award
this year to TBA
---
OTHER ANNOUNCEMENTS

WEDDINGS of all kinds click for information

We can provide a customized ceremony. We regularly work with the great folks at Pilgrim Chapel and are happy to serve at any venue.

THANKS to Robert and Shye Reynolds, a CRES fund to assist couples with fees for weddings has been established, to celebrate their marriage June 19, 2002, on the occasion of their thirteenth anniverary.

FORTHCOMING BOOKS
see also
our publications page

in progress: KC Star, Many Paths columns and fresh essays:
The Three Families of Faith and the Three Crises of Secularism
Many have asked for a compilation of columns Vern wrote for the KC Star, 1994-2012, and the essays fatured in Many Paths. Here are tentative chapter headings for the selections:
? The Three Families of Faith ? Faith and the Arts ? Science and Religion ? Teachers of the Spirit ? Ritual and Worship ? Religion and Public Policy ? Specific Faiths (Buddhism, Islam, etc) ? Comparative topics (reincarnation, gods, water, prophets, etc) ? How the column began and ended


OTHER
PROGRAMS
and SERVICES

If you would
like to engage Vern
or another member
of the CRES staff
for a speech,
consultation,
a wedding,
a baptism,
or other work
with your organization
or personally,
please visit www.cres.org/work/services.htm or email vern@cres.org
ABOUT CRES PARTICIPATION
Having spawned several other organizations,
including the Greater Kansas City Interfaith Council,
we continue to offer programs initiated by and through others
but we no longer create our own in order to focus on our unique work.
For interfaith and cultural calendars maintained by other groups, click here.