ABOUT CRES
promoting understanding of all faiths
through teaching, writing, and consulting
CRES is the oldest continuing interfaith organization in the Kansas City area, founded in 1982. Gathering friends of various faiths, in 1985 we began an annual family Thanksgiving Sunday interfaith ritual meal — and by 1989 with these friends we were able to build what is now the Greater Kansas City Interfaith Council. Beginning in 1999 leaders in the arts, government, the media, and religion were recognized with yearly awards.
In 2009, following the 25th Thanksgiving Sunday observance, we asked other groups we had created and supported to assume many of our activities so our focus could be sharpened to teaching, writing, and consultation.
CRES continues to provide a website, www.cres.org, which announces programs initiated by other groups involving CRES and provides an archive of photos, texts, and videos about many CRES achievements, including
» the historic 2001 Gifts of Pluralism conference and its outcomes
» the day-long observance of the first anniversary of 9/11
» the 2002 national CBS-TV half-hour special on CRES work here
» the 2007 first national Interfaith Academies CRES facilitated held here
» instruction on how to do interfaith work and other resources
» the 947 columns Barnet wrote for The Kansas City Star — and later articles for other publications
» back issues of the monthly 12-page color CRES Many Paths magazine with its critical essays and history, and
» many other essential aids to interfaith work in the Kansas City area.

CRES Vision, Mission, Values, Motto
VISION — CRES envisions the greater Kansas City area as a model community for the world
» where interfaith relationships are honored as a way of deepening one's own tradition and spirituality, and
» where the wisdom of the many religions successfully addresses the environmental, personal, and social crises of our often fragmented, desacralized world.
MISSION — To honor the sacred wherever it appears and to support its appearance everywhere, especially by promoting understanding among peoples of all faiths in greater Kansas City and beyond.
VALUES — Our guiding question is "What is sacred — what is so important that my life depends upon it, that I would die for it — and what may I do to understand, honor and share it?"
» Kinship – We are kin to all persons; we seek inclusiveness in relationships.
» Mutual understanding – We understand ourselves best when we learn to understand others and their experiences.
» Mutual respect – We recognize that others have a right to their own faiths and we have a deep respect for others' traditions.
» Mutual development – Genuine interfaith encounter leads to mutual purification and the deepening of our own traditions.
» Mutual assistance – We need each others' insights to respond to the crises of secularism.
The CRES MOTTO —
» Primal Faiths: restored with nature
»Asian Faiths: the self made whole
» Monotheistic Faiths: community in covenant
» Liberation Movements: finding the sacred afresh
Click on the image below for a full-scale view of our summary.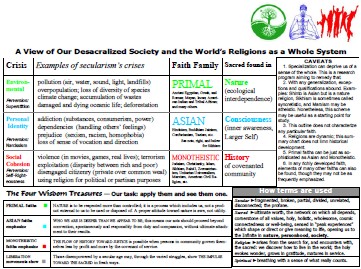 The Reverend Vern Barnet, DMn, completed his doctoral work at the University of Chicago and the Meadville-Lombard Theological School in 1970. He served parishes in Illinois, Pennsylvania, and Kansas.
Honored by Buddhist, Christian, Jewish, Hindu, Muslim, Sikh, and other religious and civic groups, he has taught world religions at area universities and seminaries. He is a frequent lecturer for various groups, and has appeared on local and national radio and television.
In 1994 The Kansas City Star asked him to write a weekly column; for eighteen years he covered local events and concerns from a multi-faith perspective. His articles, reviews, and poems have appeared in the National Catholic Reporter, The Journal of the Liberal Ministry, the publications of several denominations, and in various literary magazines. His work is cited in dozens of books and articles.
After international interfaith work, and after serving on the planning committee for the first conference of the North American Interfaith Network in 1988, he organized the Kansas City Interfaith Council in 1989 with 13 faiths, A to Z — American Indian to Zoroastrian — as a program of CRES, where he is now minister emeritus.
Following 9/11 he led the region's unprecedented "Gifts of Pluralism" conference which fostered interfaith initiatives featured on a half-hour CBS-TV special. Among his many civic activities, he chaired the Jackson County government's Diversity Task Force that studied the effects of 9/11 on people of faith in the 5-county KC area.
His interfaith work led to Kansas City's selection as the site for the nation's first "Interfaith Academies" sponsored by Harvard University's Pluralism Project, Religions for Peace-USA, and other groups. Ellie Pierce, the Pluralism Project's principal researcher, said—
At the Pluralism Project, we consider Kansas City to be truly at the forefront of interfaith relations. This is — in no small part — due to the tireless efforts of Vern Barnet, whose work and writings have been an inspiration to all of us at the Pluralism Project.
A full biography with links to Wikipedia and other entries is found at
www.cres.org/team/vern.htm .

Recent Books

Barnet was one of the four editors for the 740-page reference book, The Essential Guide to Religious Traditions and Spirituality for Health Care Providers (Radcliffe, London and New York, 2013). An introductory essay outlines the CRES research project charted on the other side of this brochure.
Thanks for Noticing: The Interpretation of Desire (2015) draws on Jewish, Muslim, Buddhist, Hindu, Christian, and many other faiths to explore love, sex, and spirituality. In 154 sonnets, notes, and other text, this ground-breaking book offers free on-line resources (YouTube videos, interviews, a theological concordance, etc).

CRES Team

ALL VOLUNTER STAFF
The Reverend Vern Barnet, DMn, minister emeritus
The Reverend David E Nelson, DMin, senior assoc minister
Margaretha K Finefrock, CRES chief learning officer
The Reverend Josef Walker, community chaplain
Ed Chasteen, PhD, amity shaman
Geneva Blackmer, intern

FOR BOARD MEMBERS and other information:
CRES TEAM