INDEX 600-10x2=580px

Links to 2019 PROGRAMS and REPORTS

Vital Conversations — Program, 2d Wednesdays 1-2:30 pm

Photos and reports are arranged by month Coffee

, 4th Wednesdays 8 am

King Holiday Essay — 2018 Jan 15

KC Interfaith History Project continues February 21

Vern at Temple Israel March 8

The Dialogue Institute Public Service Award March 28

A Multi-Faith Lenten Meditation April 6 -- Saturday 9 am

A Personal Appreciation of Islam April 6 -- Saturday 11 am

Table of Faiths Apr 30 Tuesday 5:30 - 8:30 pm

Independence Day Essay "Sacred Citizenship"
from our Archives: The America before Trump (2-page PDF)

Annual Interfaith Thanksgiving Dinner -- TBA
with the Vern Barnet Interfaith Service Award



2019 PROGRAMS -- REPORTS -- DETAILS

We expect to complete a final edit of theAl Brooks memoir this spring.
---


King Holiday Essay — 2018 Jan 15
Download a PDF of Vern's 2-page summary of the genius of the spiritual approach of Martin Luther King Jr by clicking this link.
---
Ministry in a Pluralistic World — syllabus
2019 Jan 7 – Mar 25 — Mondays 6-9:45pm CT
2019 May 7 - July 23 Tuesdays 6-9:45pm CDT
The graduate credit course C-RP511 is held remotely via Zoom and at
Central Seminary 6601 Monticello Road, Shawnee, KS 6226-3513.

The course, led by Dr Vern Barnet, explores these questions: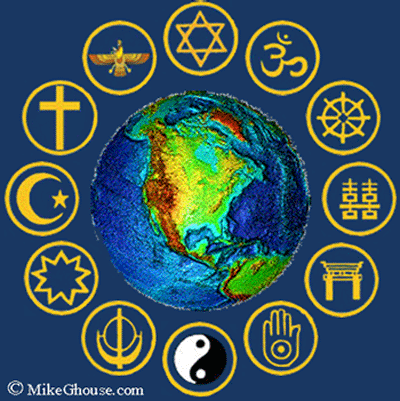 A. DISCOVERING PRESUPPOSITIONS ABOUT OTHER FAITHS -- AND OUR OWN
0. Getting acquainted: Our backgrounds, travel and other experiences, and perspectives as we approach this course.
1. What meanings do terms such as belief, dialogue, epiphany, holistic, mission, myth, pilgrimage, religion, ritual, sacred, sacrifice, scripture, secular, spirituality, and worship, have for us and today's society?
2. What attitudes have scholars identified as ways folks approach faith perspectives other than their own?
3. What does "pluralism" mean? What are its theoretical, practical, and personal meanings? How does it apply to the local community and the "global village"?
4. Where are we aided and challenged by other traditions? How might our own and other traditions address environmental, personal, and social disorders?
B. LEARNING ABOUT OTHER FAITHS
1. How do sociological, historical, phenomenological, and other methods of studying religions differ, and how do they help us understand another's faith?
2. What are the basic structures, texts, facts, practices, and variations of other faiths?
3. How do faiths compare and contrast?
4. What is more, and what is less, useful for each of us today?
C. ENCOUNTERING FOLKS OF DIFFERENT RELIGIONS
1. What are the basic styles and purposes of interfaith engagement? What are the significant interfaith organizations and programs affecting the student's community?
2. How do I discover my community's faith complexion and my opportunities within it?
3. What issues with boundaries arise and how can they be negotiated?
4. What do we learn about ourselves as we learn about others? Can I be committed to my own faith and respectful and open to others? If so or if not, what does that mean for my ministry?
---

#History
KC Interfaith History Project continues . . . .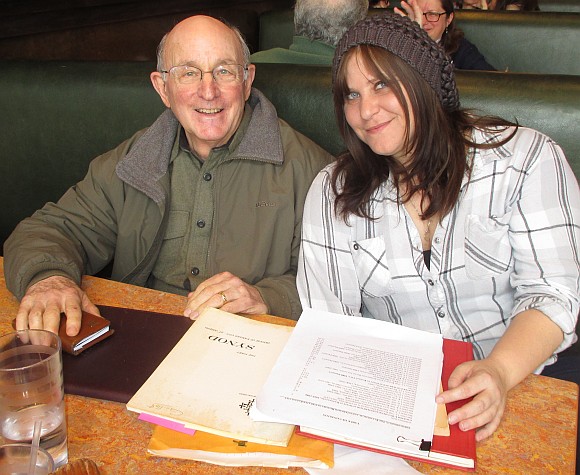 Former CRES Board chair Larry Guillot and former CRES intern, now CRES historian, Geneva Blackmer met with Vern for lunch Febuary 21 to review progress and plan next steps. Geneva, with both her interfaith experience and library skills, has scoured local and state archives, interviewed folks, and drafted what is even at this stage by far the most complete look at how ecumenical and interfaith activities have developed in the KC region, but the work is ongoing. Visit the KC Interfaith History Project.
---
#190308

Vern preached on What Judaism Offers a World of Diversity at Temple Israel for the March 8 Friday 6 pm Shabbat service with a splendid potluck following. He argued that interfaith relations are important, and cited the special role of Judaism in the recovery of a sense of the sacred in our desacralized global culture.
Temple Israel enjoys interfaith arrangements with Rolling Hills Presbyterian Church at 9300 Nall Ave, Overland Park, which hosts the congregation. Rabbi Jacques Cukierkorn has befriended Vern on many occasions. Rabbi and Bill Tammeus wrote They Were Just People: Stories of Rescue in Poland During the Holocaust, and Rabbi has written several other books, including the wonderfully informative Accessible Judaism: A Concise Guide to Judaism.
---

#190328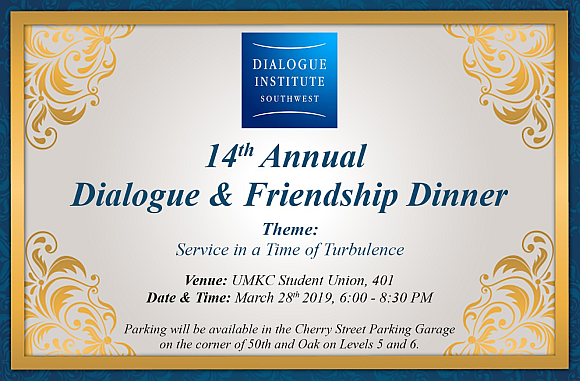 CRES minister emeritus, the Rev Vern Barnet, DMn,
will receive the Dialogue Institute Public Service Award March 28.

The honor will be given as part of the 14th annual Dialogue and Friendship Dinner, this year with a theme of "Service in a Time of Turbulence." The keynote speaker is Sophia Pandya, PhD. Tickets are $50 each, $90 couple. Information and order from the Dialogue Institute here.

------

Dr Barnet gave the invocation at the 2017 dinner. You can read it here. Vern has been friends with the folks of the Dialogue Group for many years. In 2005 he was part of a US group traveling in Turkey hosted by the Gulen Hizmet Movement which our keynote speaker has studied.
Dr Barnet founded CRES in 1982 and the Greater Kansas City Interfaith Council in 1989 as a program of CRES. His 947 weekly columns ran in The Kansas City Star for 18 years. The recipient of many religious and civic awards for his work building understanding among peoples of all faiths, he was one of a team of four producing the 740-page reference book, The Essential Guide to Religious Traditions and Spirituality for Health Care Providers, published internationally (2014). His book of 154 sonnets, Thanks for Noticing: The Interpretation of Desire (2015), is heavily annotated to identify themes from world religions. Professor Barnet has taught as an adjuct at several universities and theological schools; he currently teaches "Ministry in a Pluralistic World" at Central Baptist Theological Seminary. A full bio sketch can be found at www.cres.org/vern. A 2-minute video of Vern interviewed by folks from the Fethullah Gulen Movement asking about why he is involved with interfaith work appears on YouTube.

--------

The Hon Ed Eilert,chairman of the Johnson County Commission, is chairman of the Host Committee which includes the Hon Peggy Dunn, Mayor of Leawood; Ron Slepitza, President of Avila University; Joseph Sopcich, President of Johnson County Community College; the Rev William B Rose-Heim, Regional Minister and President, Christian Churches (Disciples of Christ) of Greater Kansas City; Calvin Hayden, Johnson County Sheriff; and Jude Huntz, Faith Director, Habitat for Humanity.
---

#190406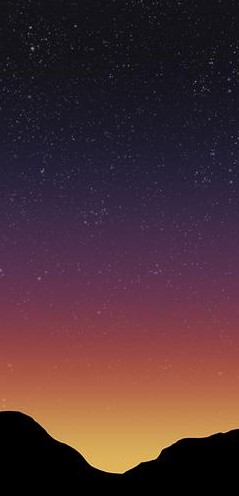 Vern speaks April 6 Saturday for
the Unity Church of Overland Park Men's Group

A Multi-faith Lenten Meditation

Lent is a season in the Christian liturgical calendar for self-examination as preparation for Holy Week's commemoration of the suffering and crucifixion of the God-Man Jesus, leading to Easter. Some observe Lent by abstaining from certain foods or other enjoyments. (The word "Lent" seems to derive from the lengthening sunlight in the days leading to spring.) But religions other than Christianity may also have periods of introspection and self-denial.
How have various faiths understood suffering as a redemptive experience? How can their insights enrich our lives in today's desacralized world?
(Lent begins with Ash Wednesday, this year March 6; Easter is April 21.)
Breakfast from 8-9 at the Santa Fe Cafe, 9946 W 87th, followed by a talk 9-10 at the Main Johnson County Library nearby at 9875 W 87th.
---

#190406Islam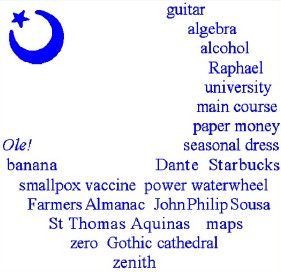 A Personal Appreciation
of Islam
by a Christian Scholar
While our culture's debt to Islam is great but seldom acknowledged, the theoological treasures of the faith are even greater. However, the widespread misunderstanding of the tradition, and its misuse by some of those claiming it, sometimes make it difficult to appreciate. Vern discusses how his own life has been enriched by the Muslim faith.
The remarks April 6 Saturday at 11 am follow a 10:30 brunch at the Dialogue Institute, 2710 S 42, Kansas City, KS 6610, where Vern has been the speaker twice before. A 2-minute video of Vern interviewed by folks from the Fethullah Gulen Movement asking about why he is involved with interfaith work appears on YouTube.
The bunch and program are part of the Instiitute's hospitality to the community. All are welcome. Colonial Church guests are joining others for this presentation.

---

Annual
TABLE OF FAITHS
Apr 30 Tuesday 5:30 - 8:30 pm
The 30th anniversary of the founding of
The Greater Kansas City Interfaith Council,
now independent but originally a program of CRES.

Vern regrets he cannot be present but sends a video greeting with this year's theme, Honoring in Sacred in All. The Council newsletter is scheduled to publish his brief notes about three milestones in the early history of the Council.

For information about the dinner event, click on the image or here.
---

The next Vital Conversation is
April 10 – Some of My Best Friends Are Black by Tanner Colby

---
OTHER ANNOUNCEMENTS

WEDDINGS of all kinds click for information

We can provide a customized ceremony or direct you to a wedding chapel with low-cost package services (flowers, photographer, etc.)

THANKS to Robert and Shye Reynolds, a CRES fund to assist couples with fees for weddings has been established, to celebrate their marriage June 19, 2002, on the occasion of their thirteenth anniverary.

FORTHCOMING BOOKS
see also
our publications page

in progress: KC Star, Many Paths columns and fresh essays:
The Three Families of Faith and the Three Crises of Secularism
Many have asked for a compilation of columns Vern wrote for the KC Star, 1994-2012, and the essays fatured in Many Paths. Here are tentative chapter headings for the selections:
? The Three Families of Faith ? Faith and the Arts ? Science and Religion ? Teachers of the Spirit ? Ritual and Worship ? Religion and Public Policy ? Specific Faiths (Buddhism, Islam, etc) ? Comparative topics (reincarnation, gods, water, prophets, etc) ? How the column began and ended


OTHER
PROGRAMS
and SERVICES

If you would
like to engage Vern
or another member
of the CRES staff
for a speech,
consultation,
or other work
with your organization
or personally,
please visit www.cres.org/work/services.htm or email vern@cres.org
---

A Vital Conversation Coffee

Vital Conversations
monthly schedule
2nd Wedneday of the month 1-2:30 pm
MidContinent Public Library Antioch Branch
6060 N Chestnut Ave, Gladstone, MO 64119
(816) 454-1306
You are welcome even if you have not read the book or seen the movie
A Free Monthly Discussion Group Led by David E Nelson
C R E S senior associate minister
president, The Human Agenda
"The purpose of a Vital Conversation is not to win an argument,
but to win a friend and advance civilization." —Vern Barnet
Vital Conversations are intentional gatherings of people to engage
in dialog that will add value to the participants and to the world.
In Vital Conversations, we become co-creators of a better community.
—David Nelson
The discussions began May 24, 2002, at the CRES facility
by examining Karen Armstrong's The Battle for God
Reading is magic and a mysterious activity that feeds the mind, transports the imagination, sooths the soul, and expands life. It is most often done in solitude and yet connects us to so many others both near us and far from us. Many readers enjoy the opportunity to share their reading discoveries and to expand from the sharing of others. Reading is an important aspect of our common humanness.

—David E. Nelson

Vital Conv. Coffee
an open exchange of ideas
with no preset agenda
4th Wednesday monthly
8 am
Panera Bread
311 NE Englewood Road
Kansas City, MO 64118
816-453-2770

#2017VitalSchedule
---

2019 Vital Conversations Schedule

January 9 – Size Matters: Why We Love To Hate Big Food by Charlie Arnot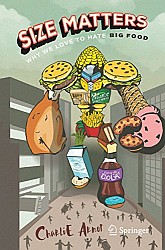 Despite food being safer, more affordable and more available than at any time in human history, consumers are increasingly skeptical and critical of today's food system. Charlie Arnot, provides thought provoking insight into how the food system lost consumer trust, what can be done to restore it, and the remarkable changes taking place on farms and in food companies. Charlie will be a part of our Vital Conversation.
Quotations and questions selected by David Nelson
1. "The frequency and visibility of violation of public trust continue a steady march. The very institutions that are supposed to expose deception have themselves committed acts that erode public trust." (5) Do you agree? Can you name some of those institutions?
2. "The implications of these improvements in productivity are immense. For one thing, it means more food and less famine. Richard Jackson notes that since Borlaug's wheat took root, food shortages are driven more by politics than the plow." (36) How does politics result in food shortage?
3. "Science is important, but not sufficient to build trust with the growing number of consumers who look to social and digital sources of information to guide their decisions in a world where emotion and opinion carry more weight than objective fact. Fortified by sources of information that align with their values and that confirm existing bias, doubters are rejecting scientific consensus that conflicts with their beliefs." (47) Can you share an example of where your bias has gotten in the way of clear decision making based on facts?
4. "Science tell us if we can do something, but society tells us if we should…Values are grounded in firmly held beliefs, not fact-based information. The path to building trust begins by demonstrating you share the values of your stakeholders. Consumers aren't asking if we can do what we're doing, they are asking if we should do what we're doing. We've been answering the wrong questions." (52) "As Stephen Covey said, 'Contrary to what most people believe, trust is not some soft, illusive quality that you either have or you don't; rather, trust is a pragmatic, tangible, actionable asset that you can create.'" (57) How can food producers and food consumers build more trust with each other?
5. "The tribal connection influences where we get our information, but it also influences the tone, the attitude, the demeanor of our communication. While this happens naturally throughout daily experiences, it is amplified exponentially online and has led to a disintegration of civility." How does the source of where you get your news and opinion impact your behavior and relationships?
6. "Author Douglas Rushkoff describes the situation well. 'The television era was about globalism, international cooperation, and the open society…Digital media, by contrast, are made up of many discrete samples." (79) Can you identify some examples of this reality?
7. "The global food population can be divided into three groups: the satisfied, the undernourished and the over-nourished…Global hunger increased in 2016, the first increase in more than a decade. The battle to assure everyone is fed is as old as humankind." (87) "We are invited to dinner. Dinner without dogma, but with lots of dialogue. We must be engaged in a discussion on the issues that really matter to people, animals and the planet we share…Better is not a binary choice. Better is Yes, And…" (93) Do you personally have feelings about this reality? What are they? What will you do about it?

Charlie Arnot answers a question in the remodeled library.
- - - - - - - - - - - - - - - - - - - - - -
Here is Clif Hostetler's review of the book:
https://www.goodreads.com/review/show/2633930955
- - - - - - - - - - - - - - - - - - - - - - - - - - - - - - - - - - - - - - - - - - - -

#190213
February 13 –While the World Watched by Carolyn Maull McKinstry.

Luke Welsh joined guests Melanie Allmayer, Sonnenschein Sheila, and Ameneh Pazerish, and convener David Nelson for this photo after a fascinating and important discussion with 27 people crowding around the table (see photo below).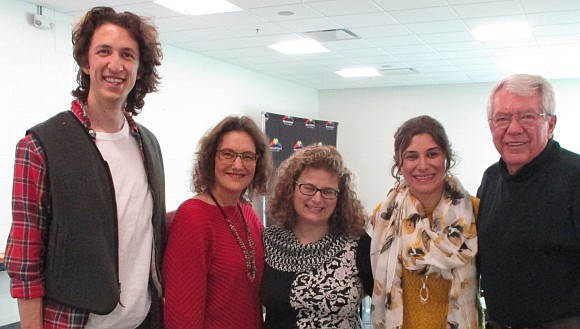 Quotations and questions selected by David Nelson
A half century has passed since the Ku Klux Klan bombed the Sixteenth Street Baptist Church on September 15, 1963, that killed four young friends. For five decades Carolyn Maull McKinstry has tried to forget the deaths, the inhumane injustice, and the brutal assassinations of those who spoke out for change. But now she feels compelled to write down in permanent ink her eye witness account of exactly what happened. In 2018, Sheila Sonnenschein, Melanie Allmayer, and Ameneh Pazerish, who live in the Kansas City area, traveled on the Sisterhood of Salaam Shalom Civil Rights and Social Justice Trip to the American South. They will be present at our book discussion. These women from various religious communities visited Birmingham and met the author.
"Hate is too great a burden to bear…I have decided to love…If you are seeking the highest good, I think you can find it through love. And the beautiful thing is that we aren't moving wrong when we do it, because John was right, God is love." MLK Jr. (page 1) Think of times you have chosen to love and/or forgive instead of continuing to hate.
"On the day after the church bombing, a young, white Birmingham attorney, Charles Morgan Jr. publicly blamed the pillars of the city for the girls' deaths. 'Every person in this community who has in any way contributed during the past several years to the popularity of hatred is at least as guilty, or more so, than the demented fool who threw that bomb,' Mr. Morgan said." (p. 73) Do you agree with Mr. Morgan? Are you, are we, contributing to hate when we remain silent in the presence of verbal expressions of vicious hatred for 'others'?
"After the funerals, no one mentioned again the four dead girls – my friends. Not my parents, not my teachers, not my pastor, not my Sunday school teachers, not my church members, not my friends. No one. It was like the word cancer. No one wanted to say it out loud or acknowledge it. And with the restroom 'death chamber' sealed off and walled up, offering no visible reminder of the bombing, it was almost as if it never happened." (p.79) Why do you think this happened and can you think of other times this was the case?
"And then I sensed God planting in me a vision for my future. 'Carolyn, I need you to tell people that this is not about skin color or ethnicity or religion. It is about love, it is about forgiveness, it is about reconciliation. I need you to be my messenger, my ambassador." (p. 201) Reflect on a time in your life when you received a vision, a call, a nudge, to be a messenger.
"Bitterness hurts only the people whose hearts house it, not the offenders. By God's grace, I choose to forgive Bobby Frank Cherry, Robert Chambliss, Thomas Blanton, Herman Cash (a suspect who had died during the time the investigation was reopened), and all the others who lived lives of hate. It's the difficult road, yet it's also the road to ultimate freedom." (p. 261) When you have let go of hate, even when you have the right to feel it, have you felt relief and a new sense of self-worth?
"At its core, forgiveness is a spiritual act – it's not something we can do in our own strength." (p.274) What does that mean to you? Where do you get your strength to forgive? "In order to truly love our neighbors, we have to get to know them." (p. 278) What are you doing to get to know your neighbors better?

The Birmingham Pledge

I believe that every person has worth as an individual.
I believe that every person is entitled to dignity and respect regardless of race or color.
I believe that every thought and every act of racial prejudice is harmful; if it is my thought or act, then it is harmful to me as to others.
Therefore, from this day forward I will strive daily to eliminate racial prejudice from my thoughts and actions.
I will discourage racial prejudice by others at every opportunity.
I will treat all people with dignity and respect; and I will strive daily to honor this pledge, knowing that the world will be a better place because of my effort.

--While the World Watched (p280)




Leroy Seat writing 9/15/13 about the four girls killed in the Birmingham bombing on 9/15/63:
https://theviewfromthisseat.blogspot.com/2013/09/in-memory-of-addie-cynthia-carole-and.html

- - - - - - - - - - - - - - - - - - - - - - - - - - - - - - - - - - - - - - - - - - - -

#190313
March 13 – Some of My Best Friends Are Black by Tanner Colby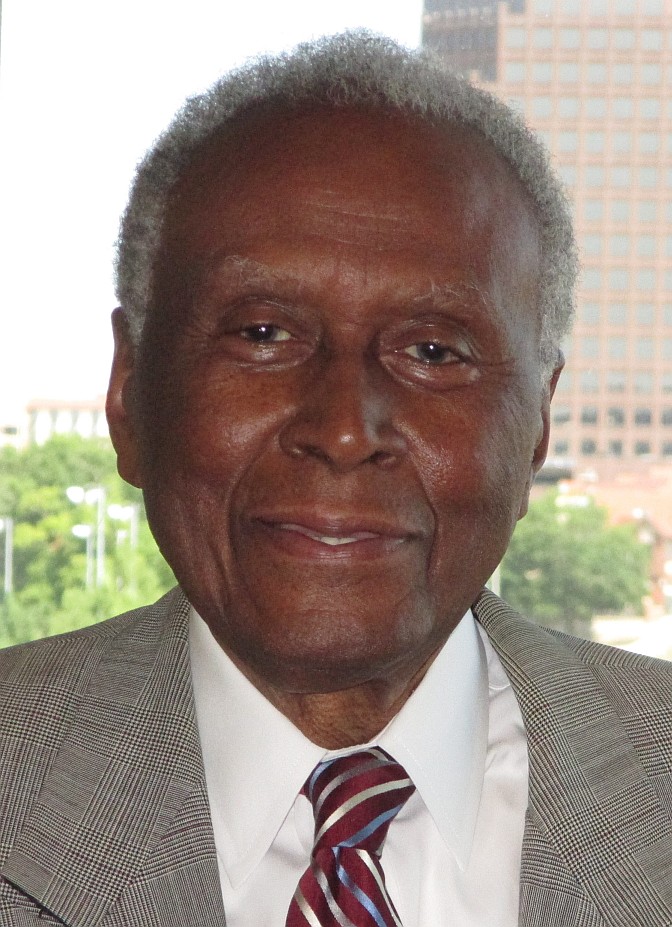 Much of the book is about Kansas City, and Al Brooks appears beginning on page 116.
"Who would expect a coauthor of two Saturday Night Live alumni biographies to pen a thoughtful, judicious, yet provocative social history of American race relations? Evenhanded, felicitously written, and animated by numerous interviews, Colby's book is a pleasure . . . ." — Library Journal
"Pointing out the shortfalls of court-ordered busing, affirmative action, and other well-intentioned programs, Colby's charming and surprisingly funny book shows us both how far we've come in bridging the racial divide and how far we've yet to go." — Publishers Weekly
Clif Hostetler's Review: https://www.goodreads.com/review/show/2731381800

Some of My Best Friends are Black, by Tanner Colby Ed Kail, facilitator
Questions from David Nelson
Using a historical/case study approach, Tanner Colby describes the "strange story of integration in America." Beyond the societal and political dynamics of segregation and integration, he reflects on the phenomenon of racial separation in American society. Why is it that people of different races in this country largely do not associate or develop close relationships?
Colby examines 4 segments of American society: a) schools/public education; b) housing and real estate development; c) business and industry; and d) religion/church.
In preparation for our Vital Conversation, consider several questions for personal reflection:
1) It is widely held that "race" is a social construct: an idea developed as a category for distinguishing people from one other in society. What is your understanding of race? Beyond simple appearances – "color of skin" – what are the functioning elements of race in America – and in your life?
2) What has been your own personal experience of "racial separation" throughout your life? What's one story you could tell?
3) Of the 4 societal segments Colby uses to organize his book, with which one do you most strongly resonate intellectually, and emotionally?
4) In a public presentation at Rockhurst College, Tanner Colby described Kansas City as the epicenter for the "racialization of space" in American cities, due to the leadership and work of J. C. Nichols. What do you think, and how does that make you feel?
5) In response to this book, what are you motivated to do?
Note: Part 2 of Colby's book, which features a case study of real estate development and housing in Kansas City, is partly based upon work by Kevin F. Gotham in his book Race, Real Estate and Uneven Development: The Kansas City Experience, 1900 – 2000. Five years ago, I was able to check out a copy from the Public Library on inter-library loan. I discovered last month that the two copies owned by the system have been designated "reference works" and are listed for "in-library" reading only.
#190313seat

EXCERPTS from The View from This Seat, a blog by Leroy Seat, Ph.D
Some of My Best Friends are Black
At the March 13 Vital Conversations meeting, the 25 or so who attended discussed Tanner Colby's book Some of My Best Friends are Black: The Strange Story of Integration in America (2012).
The meeting was a very helpful one, especially since there were four African-Americans present—including the venerable Alvin Brooks (b. 1932), a civil rights leader who is a former police officer and former city councilman of Kansas City.
The second part of Colby's book is about racial segregation in housing—and in getting loans for purchasing a home. The situation in Kansas City is a prime example of segregation having been actively enforced by housing planning—and restrictions.
In particular, Colby writes about J.C. Nichols, whom Colby (no doubt rightfully) calls "the most influential real estate developer" in the U.S. during the first half of the twentieth century. Colby adds, "One could make the argument that he still holds that title today, despite being dead for sixty years." (p. 82).
(Specifically, Nichols died in February 1950, several months before his 70th birthday.)
Nichols was the developer of Kansas City's Country Club Plaza, regarded as the nation's first shopping center. After his death, he was memorialized with the impressive J.C. Nichols Memorial Fountain, just east of the Plaza, and the nearby street renamed the J.C. Nichols Parkway in 1952.
The King of Kings County.-- In addition to the County Club district and Plaza in Kansas City, Missouri, a lasting legacy of J.C. Nichols is the development of Johnson County, Kansas, whose eastern border is just a mile west of the Plaza.
That story, which is told to some extent in Colby's book, is the theme of the novel The King of Kings County (2005) by Whitney Terrell, a nephew by marriage to J.C. Nichols' son Miller.
As Colby writes, the novel "tells the story of Kansas City's blockbusting and suburbanization in a way that only a novel can: fictionalized, but brutally truthful" (p. 291).
(In the book, Nichols is called Bowen, the Plaza is Campanile, and Johnson County is Kings County, but for those who know the history of Kansas City, the identification is obvious.)

Thanks to Leroy for permission to quote these excerpts. For the complete blog entry, click here.

- - - - - - - - - - - - - - - - - - - - - - - - - - - - - - - - - - - - - - - - - - - -


April 10 – Something Beautiful Happened: A Story of Survival and Courage in the Face of Evil by Yvette Manessis Corporon.
At once a very personal memoir and an ambitious account of the untold history of the Greek Jews and a nuanced story about the important of kindness and the courage to stand up for what's right, no matter the cost. Mindy Corporon plans to attend and share her personal connections with this powerful and healing story.

- - - - - - - - - - - - - - - - - - - - - - - - - - - - - - - - - - - - - - - - - - - -

May 8 – Born A Crime by Trevor Noah
Trevor Noah's unlikely path from apartheid South Africa to the desk of The Daily Show began with a criminal act: his birth. Trevor was born to a white Swiss father and a black Xhosa mother at a time when such a union was punishable by five years in prison. His stories weave together to form a moving and searingly funny portrait of a boy making his way through a damaged world in a dangerous time, armed only with a keen sense of humor and a mother's unconventional, unconditional love.

- - - - - - - - - - - - - - - - - - - - - - - - - - - - - - - - - - - - - - - - - - - -

June 12 – Religion for Atheists: A Non-Believer's Guide to the Uses of Religion by Alain de Botton

- - - - - - - - - - - - - - - - - - - - - - - - - - - - - - - - - - - - - - - - - - - -

July 10 – Books About Crazy Horse. Samn Wright who wrote and performed his one-man play at Atkins-Johnson last year will join us.

- - - - - - - - - - - - - - - - - - - - - - - - - - - - - - - - - - - - - - - - - - - -

August 14 – Why Religion? by Elaine Pegels

- - - - - - - - - - - - - - - - - - - - - - - - - - - - - - - - - - - - - - - - - - - -

September 11 – The Glass Castle by Jeannette Walls

- - - - - - - - - - - - - - - - - - - - - - - - - - - - - - - - - - - - - - - - - - - -

October 9 – The Handmaid's Tale by Margaret Atwood

- - - - - - - - - - - - - - - - - - - - - - - - - - - - - - - - - - - - - - - - - - - -

November 13 – In Pursuit of Peace: Community of Christ's Journey by Andrew Bolton and others

- - - - - - - - - - - - - - - - - - - - - - - - - - - - - - - - - - - - - - - - - - - -

December 11 – The Worst Hard Time by Timothy Egan

- - - - - - - - - - - - - - - - - - - - - - - - - - - - - - - - - - - - - - - - - - - -

Selections are subject to change. If you would like to be reminded and have additional information, contact David Nelson at humanagenda@gmail.com or call (816) 453-3835

---
---

ABOUT CRES PARTICIPATION
Having spawned several other organizations,
including the Greater Kansas City Interfaith Council,
we continue to offer programs initiated by and through others
but we no longer create our own in order to focus on our unique work.
For interfaith and cultural calendars maintained by other groups, click here.


---