updated 2021 Nov 27

Extra Wedding Attire
except for the couple during the ceremony

Masks inside the Chapel building
are required for all persons three and older, regardless of vaccination status.
Only well people should
attend weddings.

--Vern Barnet's current policy


Why this is important as the pandemic continues

Your officiant's policy wil be updated when the
Post Office and local medical facilities
no longer require masks for visitors.
It either echoes or is stricter
than legal requirements.
Some officials are
now predicting
a winter
surge.

And now Omicron threatens.
______________________________________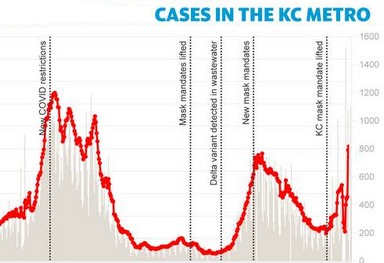 Because the prevalence of the virus in our community waxes and wanes in ways that cannot be adequately predicted, and variant forms of the virus can suddenly worsen the situation before we are aware of it, continuing precautions are advisable to assure a safe wedding day -- and days after.
The next step in relaxation may be to end the mask requirement for those who have been vaccinated but for me to be masked (even though I have been vaccinated (2x+booster), I am in a high risk category because of my age.)

Extra Wedding Attire

The Centers for Disease Control and Prevention recommends everyone over 2 years old who isn't fully vaccinated to wear a mask while in indoor public settings, and that in areas with high numbers of COVID-19 cases, such as here in the Kansas City area, people should wear a mask in crowded outdoor settings and while in close contact with individuals who are not fully vccinated.

The focus of a wedding, and wedding planning, should be the expression of your love and commitment. This is such a happy thing, and I always feel so wonderfully privileged to be a part of the celebration. All of the weddings I have done at Pilgrim Chapel and elsewhere since 2020 March 20 have been wonderfully joyous occasions, despite the extra attire.

Some couples have even provided masks customized with their names and the wedding date for their guests.

Should any of your invited family members and guests indicate ahead of time that they do not want to wear masks and are not fully vaccinated, please feel free to share this with them.

Masks protect both the wearer and those around the wearer by limiting the transmission of the virus to others as well as reducing the likelihood of the wearer becoming infected.

You, as bride and groom, are not required to wear masks during the ceremony, but if your attendants are uncomfortable with being close to you during the ceremony, you might consider wearing a mask along with everyone else except for the embrace after you are pronounced married.

The folks at Pilgrim Chapel and I are masked even though we have been vaccinated because even those vaccinated can trasmit Covid in all its variants. We would not want to take any chance of transmitting the virus in any of its variants to you or your guests. Since the virus can be transmitted by aerosol up to 16 feet away in closed spaces, it is difficult to be certain that one is not a spreader, especially if one has no symptoms. I am masked to model to reassure your guests that the wedding environment is safe.

Vaccinations can be up to 95% effective for a time, but that means that 5 persons out of every 100 are are susceptible to the disease if exposed to it. The new variants are particularly transmissible, and breakthrough infections including death happen.

Ventilation is why I ask the Chapel staff to turn on the ceiling fans.

All guests at a wedding will want to show that they cherish the couple, the families, and friends gathered for the occasion by wearing masks properly *unless every single person at the wedding has verifiably completed the vaccination protocol and you wish a maskless ceremony.

Although surface contagion is rare, right before and after the ceremony, I sanitize my hands so any objects I touch that you will touch will be as safe as possible.

If you might want a photo of me without a mask, photographers have found that I can stand outside on the steps of the Chapel with the couple without masks some distance ahead of me. A photo at the Chapel door makes a lovely picture. A quick photo inside is also possible, depending on the timing and the position of the guests.

-------

Masks are worn to cover the nose and the mouth. Here is a link to good advice about masks. Children under 2 should not wear masks.
About 40 percent of infections are transmitted by people who have no symptoms and do not know they are infected. Gargles like Listerine for even 30 seconds (a minute is better) appear to greatly reduce the chance of transmitting the contagion and should be practiced by everyone before attending a public event, even though it does not afford much protection, if any, to the person who gargles.
Since we cannot be certain we are not infected (unless we have been quarantined for 14 days or maybe if we have been vaccinated), we should gargle and wear a mask to express our regard and affection for those around us.
_______________
My reasoning is based on what I understand are the factors in air transmission as they apply to us:
- viral load
- variant
- distance
- exposure time
- ventilation
- interventions and mitigations (like masks and gargles)
_______________
Chlorhexidine gluconate is available by prescription and may have side-effects.


---------------------
WHY THIS IS IMPORTANT

BRIDE DIES -- A colleague of mine recently performed a wedding at which guests did not wear masks. Shortly after the wedding, the bride and groom were sick with COVID and the bride died in the hospital. Masks are such a small inconvenience to prevent such sorrow.