The Hindu and the Cowboy
and Other Kansas City Stories
winner of awards from the Crescent Peace Society, Dialogue Institute of the Southwest, Greater Kansas City Interfaith Council, and the Missouri Association of Social Work. and featured by
At Harvard University's Pluralism Project
Its own website
with updated performance history


---
Recent coverage
2014 November 14
'THE HINDU AND THE COWBOY'
Many faces of KC's faiths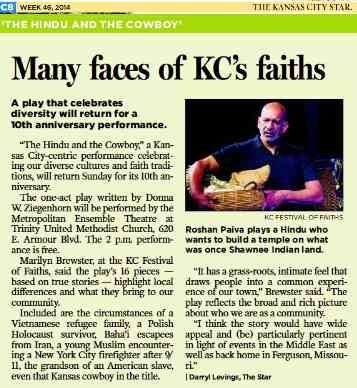 A play that celebrates diversity will return for a 10th anniversary performance.
"The Hindu and the Cowboy," a Kansas City-centric performance celebrating our diverse cultures and faith traditions, will return Sunday for its 10th anniversary.
The one-act play written by Donna
W. Ziegenhorn will be performed by the Metropolitan Ensemble Theatre at Trinity United Methodist Church, 620
E. Armour Blvd. The 2 p.m. performance is free.
Marilyn Brewster, at the KC Festival of Faiths, said the play's 16 pieces — based on true stories — highlight local differences and what they bring to our community.
Included are the circumstances of a Vietnamese refugee family, a Polish Holocaust survivor, Baha'i escapees from Iran, a young Muslim encountering a New York City firefighter after 9/ 11, the grandson of an American slave, even that Kansas cowboy in the title.
"It has a grass-roots, intimate feel that draws people into a common experience of our town," Brewster said. "The play reflects the broad and rich picture about who we are as a community.
"I think the story would have wide appeal and (be) particularly pertinent in light of events in the Middle East as well as back home in Ferguson, Missouri."
| Darryl Levings, The Star



---
A collection of news stories and reviews
through April, 2004
1. Program description
2. Harmony luncheon performance
3. Meet the playwright
4. Robert Trussell review in The Kansas City Star.
5. Steve Penn commentary in The Kansas City Star.
6. Vern Barnet's column in The Kansas City Star.

Book a performance of The Hindu and the Cowboy for your organization! From a 50-minute play to a complete two-act show, your needs can be accommodated: a great experience for your school — business — organization — conference — religious group — and more!
1. Program Description


The Hindu and the Cowboy and Other Kansas City Stories is based on interviews with Kansas Citians of many diverse traditions, the result of the Mosaic Life Stories Project, a process undertaken in 2002 by volunteers inspired by both the need for firsthand interfaith understanding and by belief in the power of story in dramatic form. The idea was sparked by the Gifts of Pluralism conference hosted by the Center for Religious Experience and Study (CRES) and co-sponsored by Kansas City Harmony and NCCJ. The conference fell by chance on the heels of September 11, 2001.
Seven individuals involved in the Stories Project were trained to interview, collect and transcribe stories. They collected approximately 80 stories through personal interviews and story-telling circles. The transcribed stories fill three two-inch ring binders. Scriptwriter Donna Ziegenhorn designed the project and wrote the play based on her experience in story based performance. It is scripted from selected stories and is performed by local actors in the form of a staged reading. The names of the original storytellers have been changed in the script. The Stories Project Task Force anticipates creating more plays from the original material collected, as well as expanding the base of persons interviewed.
The Stories Project has encouraged people to come forward and tell the stories they have lived, the stories that have affected them in a visceral way. All generations, including youth, and all major faiths have been involved in the storytelling. To date, individuals have been interviewed from the following faith traditions: Native American, Bahá'í, Christian (Protestant and Catholic), Hindu, Islam, Judaism, Pagan, Sikh Dharma, Sufi, Unitarian Universalist, Zoroastrian, Jain, and non-affiliated as well.
The stories, which reflect tragedy, healing, humor, and reconciliation, are personal and unique. Together they present a rich and varied face of Kansas City. The stories show that people who join the community add their personal histories to those whose families have lived in Kansas City for generations. The project is a tribute to the changing identity of the metropolitan area. —Vern Barnet
2. Harmony Luncheon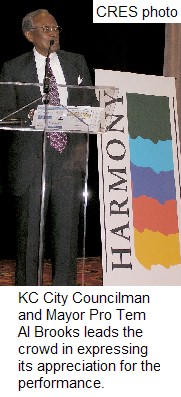 The 2004 April 15 Harmony Luncheon at the Marriott Hotel was a delight. In addition to the delectable melon soup, the refreshing oriental salad and the scrumptious desserts (I had the chocolate), the staged reading of The Hindu and the Cowboy and Other Kansas City Stories offered much needed nutritional value to those who attended. What a wonderful collection of tales, struggles, joys and memories! Each story contained pivotal moments in which the storytellers reached for something beyond themselves and found it to exist. Collectively, the unique moments in each personal story formed mirrored images of our own pilgrim's progress toward that which is sacred.
Scriptwriter Donna Ziegenhorn managed to successfully weave different tales as artfully as one would weave different colored threads into one beautiful tapestry. Through the voices of talented actors, each individual story was left to dangle while threads of other stories were worked into the design. Then, one by one, the audience was brought back to capture the threads that dangled. Memories were woven to completion. Joy overcame sorrow. Past wounds morphed into attitudes of resolve in order to improve present lives.
In the end, as foretold through the writings of the Hebrew prophet, Zephaniah, each storyteller stood "shoulder to shoulder, calling on the name of YAHWEH" in unison for the sake of harmony. The "many tongues" stood together as "one tongue."
I must admit that as I watched and listened, my throat closed on several occasions as I fought back tears. Being a person who prays unceasingly for an end to hatred and prejudice, I am unable to experience the ideal of unity without internally welling up to the point of joyous overflow. I so strongly believe that the world is starving for this form of honest communication and spiritual edification.
As a newcomer to the Kansas City area, I'm thrilled to know that organizations such as KC Harmony and CRES are not only in place but fully functioning! The efforts made toward respect and understanding between religious and ethnic cultures can only bring about standing ovations throughout the city. Hopefully, the small pebble that has been thrown into a pool of water will have an ever-widening effect. What better place to toss a pebble into a pool than in the very heart of the United States!
Personally, I wish to cast my vote for The Hindu and the Cowboy and Other Kansas City Stories, to spread across the nation as a staged presentation — but why stop there? Published in book form, this valuable collection of spiritual journeys could become a best-seller among teachers, clergy and interfaith workers who choose to make a difference in their respective communities. Pluralism in action, word and deed need not be a foreign or unobtainable concept. A respectful celebration of differences can ultimately be assimilated by the human mind, but first it must be shown to exist! — May God continue to give us the desire to whet appetites. —Carol Wimmer

3. Meet the Playwright

Donna Woodard Ziegenhorn bases her work on bringing the lived experience to dramatic form. She says, "we clarify and claim our selves – as individuals and as communities – when we share our stories."
Long a journalistic and promotional writer, Donna turned to writing and presenting her own life stories in monologues, including Suppressed Desire and other Nearly True Tales and Starting with Red, presented at The Writer's Place and for private audiences.
Applying the same concept on a community basis, she scripted a play, Between the Arrows, for a conference of international volunteers at the University of Denver. Working with Chicago-based Community Performance Inc, she has been involved with designing and implementing story-based performances for communities in Colorado, Florida, and Georgia. Developing a project specifically aimed to hold up religious and cultural stories has been a dream. It is truly the product of a rich and diverse effort on the part of many members of the community who share in the year-and-a-half long process.
Donna is associated with Kansas City Friends of Jung and the Center for Reli-gious Experience and Study as a former board member. She convenes the Kansas City LifeWriters and is completing a master's degree this spring at the University of Missouri-Kansas City.
Family lore has it that her great-great grandmother, Emmaline, was a Spanish princess, left as an infant during her regally clad birth-parent's overnight stay at the ferry-keepers inn on the Great Satilla River near Savannah.

The Performance Team
Caroline Baughman (Grandmother; Sufi)
Diane Bulan (Hindu woman)
Betty Admussen (Native American Woman)
George Forbes (Preacher)
Cheryl Hood (Naysa)
Tobias Lofton (Ahmad; the Sikh)
Roshan Paiva (the Hindu Man)
Geneva Price (Odelia; Singing Grandmother)
Royal Scanlon (Cowboy)
Linda Sher (Ahmad's Mother)
Charles White (Christian; Reader; Priest)
Sam Wright (Luis; Monk; Wiccan)
Frank Higgins (Producer)
Ernest L Williams (Director)
Posted on Wed, Apr. 14, 2004
4. Hindus, cowboys and Kansas City
Play tells stories about tolerance and prejudice,
gathered from people here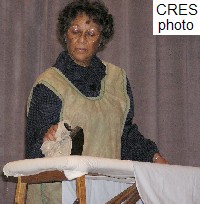 By ROBERT TRUSSELL
© The Kansas City Star

"One thing I found really moving about the script and the stories were the amazing things individuals who might sit at the desk next to us have gone through because of their faith or ethnicity, just to be in Kansas City. I don't think people in general appreciate that." — Diane Hershberger, executive director of Kansas City Harmony.
A lot of us think we know all about diversity, the evils of prejudice and the virtues of tolerance.
But we may not know as much as we think.
That, at least, is the view of Diane Hershberger, executive director of Kansas City Harmony, a nonprofit organization devoted to building bridges. And that basic idea underpins a play, The Hindu and the Cowboy and Other Kansas City Stories, which will be performed today at Harmony's annual luncheon at Marriott Muehlebach Tower.
The script, written by Donna W. Ziegenhorn of the Mosaic Life Stories Project, is based on actual life stories gathered from Kansas City area residents by a team of volunteer interviewers. The play, which has had private readings at the Coterie Theatre and the Bruce R Watkins Cultural Center, relates diverse life experiences selected from about 80 that were collected for the project. The interview subjects followed a variety of faiths, including Christianity, Judaism, Islam, Hinduism and Native American religions.
"There's lots of movement," Hershberger said. "A person's story doesn't begin and end at the same time they are on the stage. Stories weave in and out. At the beginning there's a lot of discussion about the lines that divide us in this city — and then the individual stories begin to be told."
The actors for today's performance are a mix of professional and community-theater actors, students and local activists. Among them are George Forbes, a veteran of productions at the Coterie and Theatre for Young America; Diane Bulan, an acting teacher who has appeared in professional and community productions; singer Royal Scanlon; and KCUR-FM announcer Linda Sher.
The play's documentary approach connects it to an increasingly important style of theater that in recent years has yielded such fact-based dramas as The Laramie Project, which explored the aftermath of a gay university student's murder in Wyoming, and The Exonerated, which tells the stories of men and women who were sentenced to death but freed after new trials, DNA tests or other circumstances.
Hershberger thinks The Hindu and the Cowboy, like those shows, serves a basic need.
"Those of us who feel we're in the majority don't always see things that divide us," she said. "I can think of a specific story when I was in a different workplace. It never occurred to me that a man I worked with was Hindu until years later when I saw him at an interfaith event. It was a part of him I didn't recognize. I probably said 'Merry Christmas' to him.
"One thing I found really moving about the script and the stories were the amazing things individuals who might sit at the desk next to us have gone through because of their faith or ethnicity, just to be in Kansas City. I don't think people in general appreciate that. One of the stories is about a monk who was hung upside down above a fire to be tortured. Now this is a person you might see at Wal-Mart, and you would never know."
Hershberger, aware of how dull corporate luncheons can be, said Harmony always tries to do something different at its annual get-together.
"Last year we had a one-woman performance," she said. "We try to bring the mission of the organization to people through very nontraditional luncheon ways. This play is in that line. People do remember when they come to the Harmony luncheon."
In other words, even a sympathetic audience might learn something from The Hindu and the Cowboy.
"Many of us think we understand and appreciate diversity, but most of us don't understand the full breadth of it and many of us don't understand our own prejudices and biases," she said. "When we're faced with something totally different — sexual orientation, for example, which does come up in the play — sometimes we're not so comfortable with that aspect of diversity."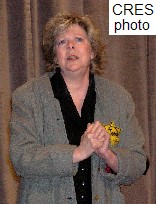 The play's creation was an outgrowth of the Gifts of Pluralism conference in 2001 given by CRES, a nonprofit group whose name stands for Center for Religious Experience and Study. The project was sponsored by CRES and Harmony.
Today's performance is directed by Ernest Williams and produced by Frank Higgins, a Kansas City playwright who helped condense the play to a shorter format for the purposes of the luncheon.
At the moment, Hershberger said, a group of volunteers has embarked on a similar effort. Stories are being collected from Kansas Citians related to the school desegregation case. She said that effort was in an early stage.
Tickets to today's luncheon, scheduled from 11:30 a.m. to 1 p.m. (following an 11 a.m. reception), are available for $50. Go to www.kcharmony.org or call (816) 231-1077.
To reach Robert Trussell,
theater critic, call (816) 234-4765 or send e-mail to rtrussell@kcstar.com
Posted on Tue, Apr. 06, 2004
5. COMMENTARY
New play celebrates diversity
By STEVE PENN
© The Kansas City Star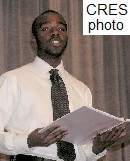 A college student from Kansas City explains what it was like being a Muslim living in New York just after 9-11.
A former Tibetan Buddhist monk who now lives in Kansas City once sought freedom by fleeing to the Himalayas.
The stories behind these ordinary yet extraordinary people are sometimes awe-inspiring — and are reflective of the religious diversity found in Kansas City .
Increasing respect for religious differences is the goal behind a powerful new play titled The Hindu and the Cowboy and Other Kansas City Stories.
The two-act drama will open April 15 at the Kansas City Harmony luncheon at Muehlebach Tower of the Kansas City Marriott Downtown. Tickets are $50.
Donna Ziegenhorn designed the project and wrote The Hindu and the Cowboy.
"This idea has been growing in my mind for a number of years," Ziegenhorn said. "It really comes out of my belief in the power of the lived experience. It's the power of story in dramatic form."
The project is the inspiration of the Mosiac Life Stories Task Force, a volunteer effort started in 2002 to promote interfaith diversity.
To create her work, Ziegenhorn relied on seven researchers who collected and transcribed 80 interviews based primarily on one-on-one interviews with people throughout the area.
Individuals interviewed were American Indian, Bahá'í, Christian, Hindu, Muslim, Jewish, Pagan, Sikh, Dharma, Sufi, Unitarian, Universalist, Zoroastrian and Jain.
The title of the play derives from one of its stories. When the Hindus were building their temple in the 1980s in Shawnee, the temple's president and his wife went to the site and saw what appeared to be a cowboy with a gun sitting on a horse. Researchers interviewed the cowboy, who explained that he was born in Shawnee and was dedicated to protecting the land around the temple.
"The cowboy is looking out, making sure nobody takes advantage of the Hindus or bring harm to the temple," Ziegenhorn said. "The Hindus are wondering, 'Who is this guy?' "
By the end of the play, the audience understands the importance of their connection.
Another story in the play deals with the experiences of Ahmad, a Muslim raised in Kansas City. Ahmad was attending Columbia University in New York just after the Sept. 11, 2001, attacks when he learned what it was like to be harassed and stereotyped.
One day, Ahmad was sitting at a restaurant when several firefighters walked in.
"They stand there in the doorway looking at me real closely, checking me out," Ahmad says in the play. "Then they approached our table. And one of them says, 'I want to see your head under the pavement.'
"Now people are afraid of me. They're keeping their eyes on Ahmad, every minute."
Another story centers on a Holocaust survivor who lives in Kansas City.
"When I was 14, everything changed," the woman says. "The SS came to Poland with their motorcycles and tanks. They came to my house. … They took my 18-year-old sister. She's delicate and fragile. … Me, I'm strong and healthy. … I went to the camp in her place."
Some people look down on cultures and religions they don't understand. Fortunately, Kansas City Harmony and a few other organizations are dedicated to eradicating that ignorance.
This extraordinary new play could become an effective tool in that quest.
To reach Steve Penn,
call (816) 234-4417
or send e-mail to spenn@kcstar.com
posted Wed, Sept. 17, 2003
6. FAITHS AND BELIEFS
Council achieves much
By VERN BARNET
© The Kansas City Star

For the past three years, the Kansas City Interfaith Council has gathered on September 11.
In 2001, media were invited to hear members of the council announce The Gifts of Pluralism conference planned for that October. As events unfolded on the TV monitor in the room, Council members expressed deep commitment to one another and to the city to foster interfaith understanding, and the Muslims pointedly condemned the hijacking of their faith.
The conference was held as planned. Over 250 people from every faith group from A to Z — American Indian to Zoroastrian — participated in the two-day assembly at Pembroke Hill School. Many relationships were developed that have strengthened the community, and new programs have emerged.
One of them is Mosaic, which includes an interfaith book club, a "Passport" program for visiting houses of worship of various faiths, and a "stories project."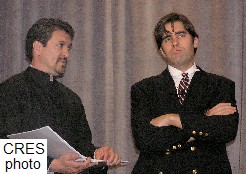 This project involved interviewing over 60 people, from a now-elderly Jewish survivor of a Nazi concentration camp to a young Muslim. The interviews have been fashioned into a play, tentatively called The Hindu and the Cowboy and Other Kansas City Stories, with a staged reading Nov 2 at the Bruce Watkins Center. Understanding one another's lives in the context of our faiths is a way to liberate ourselves from the fear the terrorists wished to instill within us.
In 2002, the Council observed the first anniversary with a day-long schedule to place 9/11 in a spiritual context. Members of the Council brought waters from their individual faith communities, from water collected from KC area fountains, and from the rivers and oceans of the world, to honor both the tears flowing from the tragedy and the refreshment and cleansing power of our faiths. Network CBS-TV broadcast these and other local efforts as model interfaith approaches for the rest of the nation.
In 2003, last Thursday, the Council members met and exchanged stories about how these two years affected them and their communities. The reports were filled with emotion. The assessments were mixed. Pride in the area's residents' reaching out to one another and learning about others' faiths was offset by the corrosive impact of economic priorities and international concerns.
Despite misunderstandings, Muslim leaders have been especially vigorous in reaching out to Jewish, Christian and other reli-gious communities. Their strong allegiance to American democracy and ability to correct misrepresentations of their faith show us that we are all together as we seek a world of mutual respect and promise.
We still have more work to do. We must live our faith more deeply.
Vern Barnet does interfaith work in Kansas City. Email him vern@cres.org.