Adjunct Services
Music, Photography,
Videography, Limo,
Coordination
---
Music -- live and recorded
For many reasons, many couples prefer live music.
For many family-focused weddings or other intimate ceremonies, either no music or live music might be more in keeping with the atmosphere, since recorded music tends to create a sense of artificiality instead of the immediacy appropriate for such meaningful occasions. (Recordings, from a technical and artistic perspective, can be problematic.)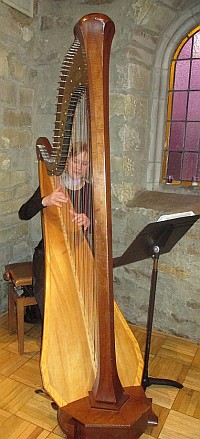 A guitar, harp, flute, a string quartet or other solo instrument or small ensemble will make a joyful sound in Pilgrim Chapel. Live music can add drama and dignity -- and even fun -- in a way recorded music cannot.
There may be reasons for recorded music; it is less expensive or a particular song or recording may be special to the couple. If recorded music is desired, please designate someone to be the "sound engineer" to manage the equipment and the times in the ceremony when the music is expected.
As at a family meal or friendship dinner, music is not required. Similarly, a wedding with those close to the couple does not need music at all. With skillful words of your clergyman to the guests just before the wedding begins, a bride entering either in silence or applause can be far more distinctive and fitting than recorded music.
But live music can add a special sense of occasion.
Here are some of the musicians I've worked with happily who understand how weddings flow best --
Harp
Tabitha Reist Steiner, tabithanan@yahoo.com, is one of Kansas City's many wonderful harpists. She is shown above.
Flute and Harp Duo
FLUTE -- Judy Johnson, Drjflute@prodigy.net.
HARP -- Wesley Kelly, kcharpist1@gmail.com.
Flute and Guitar (either or both)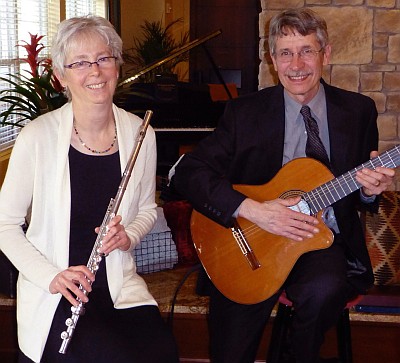 Kathy Riegelman and Larry Beekman, shown above.
website: www.larrybeekman.com/
Violin
Kansas City offers many wonderful string players who understand how weddings work, including violinist Stephen Gedert, stephen.gedert@gmail.com .
Ensembles
A versitile ensamble is the Kansas Crescendo Trio (violin, viola, and cello) 816-536-4726, and other options — flute, oboe, clarinet, bassoon, bass, French horn, harp, trumpet, and other instruments.
Recorded music
While I do not recommend recorded music, Pilgrim Chapel is able to assist you if you wish. As I mention above, I suggest you choose someone as your "sound engineer" to assure the equipment is ready and to cue the music as appropriate for the ceremony.
---
Photography
Rebecca Knechtel 913.299.7972
www.catchlight-photography.com/
hello@CatchLight-Photography.com
---
Videography
Josh Munyan 913.850.8139
cloudcityvideo.com
josh@cloudcityvideo.com
Here is a 3-minute video
of a young couple's wedding at Pilgrim Chapel.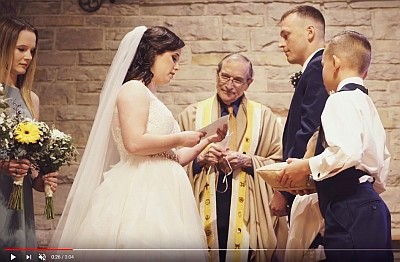 ---
Limo
Mike Algusin -- (913) 713-8096
ELEGANT LIMOUSINE SERVICE
ELSLimos@gmail.com

---
Coordination -- Wedding Planners
While weddings at Pilgrim Chapel do not require a wedding coordinator, some couples prefer to retain help to manage flowers, photographers, musicians, the reception, and other arrangements. Here is one experienced coordinator I've worked with recently with great sense of people, understanding how to achieve what the couple desires, and adaptability:
Kim Garnier
www.thirtyonethirtyevents.com
3269 Gillham Rd. Ste 4
Kansas City, MO 64109
913-832-2692
hello@thirtyonethirtyevents.com
Some wedding planners -- at least when it comes to the wedding ceremony, from entrances to departures -- are grossly incompetent and can easily sabotage what you want. If you engage a wedding planner or co-ordinator, insist that he or she consult with me so that we are "on the same page." Don't let your planner's preconceived idea of how you should have your own wedding overrule how you want your wedding to be.

---
MAIN WEDDING PAGE