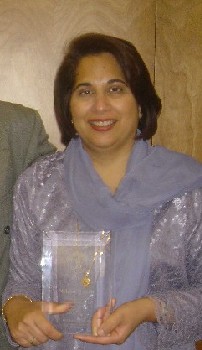 The text from the printed program:
We give thanks for MAHNAZ SHABBIR, a Muslim leader who has brought better understanding of her faith to us and to the nation.
Mahnaz has been speaking and writing about her faith since 1995. After September 11, 2001, she resigned her position as vicepresident for strategic planning at Carondelet Health in order to give more time to interfaith work. Here are a few examples of the range of her activities: she is a lecturer in Middle East Studies at the US Army Command and General Staff College; she consults for the US State Department; she co-chaired the Salam-Shalom Dinners; she serves on the Interfaith Council and has twice chaired its annual luncheon; she has been president of the Heartland Muslim Council; for several years she was program chair for the Crescent Peace Society. She also is a valued member of the CRES Board.
Her many speaking engagements and publications (including a story in the national Family Circle magazine) are evidence of her extraordinary communication skills. Her articles have appeared in The Kansas City Star, The Jewish Chronicle, The National Catholic Reporter, and many other places. She appeared in the 2002 CBS documentary, Open Hearts Open Minds. Earlier this month, to a large collection of awards, she added an honor from the ACLU.

community resource exploring spirituality

CRES
gives thanks for

Mahnaz Shabbir

whose faithfulness
to her own tradition
and whose work with others
is blessing us and the nation.

Thanksgiving Sunday
November 18, 2007
Salaam, Shalom, Namaste, Peace. Thank you Vern for this wonderful honor. I would also like to thank the Cres Board as well. I first met Vern at the first Crescent Peace Society dinner 11 years ago. I was so surprise to find a non-Muslim so familiar about Islam. At one time, I thought perhaps you were a Muslim—but then I have soon learned that is how you are Vern. You take on all the faiths as is if it is your own. You have educated all of us and I am truly grateful for your presence, intellect and being a role model in the area of interfaith understanding.

I am also honored to share this recognition with David Nelson. David is such a wonderful man. So calming, so healing, so direct. I've learned a lot watching you as the convener of the Greater Interfaith Council. Thank you so much for our friendship.

I would like to dedicate this award to my American grandparents Kris and Paul Costello and my own parents Inayeth and Meher Ali Khan. I am often asked when I started being involved with interfaith work—and I have to say it began from the time I was born.

You need two parties at the table to do interfaith work. There has to be a give and take. There has to be respect and inclusion. There has to be peace and justice. And that is what these people taught me.

I took these skills to my professional life when I worked at Carondelet Health, a catholic health care system for over 18 years. I totally understood the healing ministry of Jesus Christ. I made sure that my work was consistent with that mission. Three instances that stands out for me was when I was asked by Carol Nash the Clinical Pastoral Educator at the hospital about doing an in-service training for the chaplains [tell story]

Another instance had to do with prayer. All of the meetings at the hospital opened with a prayer. I knew it was only a matter of time before I would be asked to open the meeting with a prayer so I memorized Surah Fateh which is the Opening prayer in the Qur'an and the prayer Muslims say each time during the 5 times a day prayer. [tell story]

The third instance had to do with my friend Elizabeth Alex. She was interviewing me for the one-year anniversary of 9/11 and in the conversation she realized that I worked at a hospital and asked me if I could help her with a Palestinian girl, Doa Aldalou who was born with club hands, club feet and dislocated hips. I said I didn't know, but I would try to see what I could do. Saint Joseph Health Center had stopped doing pediatric inpatient care a few years prior, but I approach Sister Mary Kay Hadican and worked through all the issues of making sure we had the appropriate nursing care, special medical staff privileges for Dr. Ganesh Gupta, a children's orthopedic surgery. Doa had her surgery. Her mother, Intesaar and Doa are here today. Because of the interfaith work of a catholic reporter, Christian Palestinian, Nick Awad, a Hindu doctor, Ganesh Gupta, a catholic hospital, the Jewish community center for water rehabilitation therapy and many, many other people from the Christian, Muslim and Jewish faith, Doa is walking today.

I would also like to thank the interfaith community—Cres, The Greater Kansas City Interfaith Council and the people involved with the Salaam Shalom Celebration and Festival of Faiths. These organizations are the flame keeper of interfaith understanding. I'm very proud that I have associated myself with these organizations. I have learned more about interfaith work through you all.

I would also like to thank the Muslim community as well. The last few years have not been easy for us, but with leaders like Drs. Shaheen and Iftekhar Ahmed, Dr. Rauf Mir, Rushdy El-Ghussain, Ahmed El-Sheriff, Mohsin Zaidi and Anab and Abdi Nur, we have been able to tear down the negative filters that are out there regarding Islam. You all have been doing this much longer than I have and I want to thank you for being my role models.

As many of you know, I decided to speak out about my faith because of the events of 9/11 when my two older sons Ali and Adil were verbally abused. I have Abbas and Ahmed here with me today. Last year, Ahmed's 1st grade teacher asked me if I would come to school and give a presentation to the entire first grade about Islam. I thought how great that Mrs. Jean's asked me—but then I thought how I could explain our faith to about 60 six year olds. [Tell story].

Finally, I want to thank all of you who have been so helpful to my family and me during the most difficult time in my life.

The chapel at the funeral home was beyond capacity. There were as many people inside as there were outside. There were people of all races, young and old. There were people in suits, saris, yamachas, kufi and turbans of all religions- Muslims, Jews, Christians, Buddhists, Sikhs, Sufis, Hindus and Native Americans. They were there for my husband, Syed Farrukh Shabbir, M.D.'s funeral on January 23, 2006.

His death the day before was unexpected even though he had suffered from a chronic lung disease. He had just returned from Mecca in Saudi Arabia after completing the Hajj pilgrimage that all Muslims are required to perform some time in their life. While he was away, many of the people who attended the funeral inquired about my husband's progress during his Hajj. Some communicated to me that they felt closer to this Hajj because of my husband.

Therefore, when they heard that he passed away the day after his return, they came to his funeral—24 hours later. Muslims, like Jews bury by sunset or at least by the next day. So here they all were in the middle of a working day attending a Muslim funeral. They heard the Imam explain to them that when Muslims come back from the Hajj, all their sins have been forgiven and that they start with a new slate. He explained that since Farrukh had died soon after his Hajj, he literally went to heaven like a newborn—without sin. After the Imam spoke, Muslim, Jewish and Christian friends also shared their feelings about Farrukh. Later at the cemetery, after watching Ali and Adil receive their father in the grave, people of all religions placed a handful of soil into his gravesite. That was an interfaith experience.


In his memory, the first Syed Farrukh Shabbir MD Memorial Scholarship winner was sponsored by the Crescent Peace Society. Approximately 95 letters were sent to public and private high school counselors in the greater Kansas City areas in February. This $500 scholarship contest was open to any college bound graduating senior from a high school located in the greater Kansas City area. This was a blind essay contest judged by Ali and Adil. The Reverend Vern Barnet, minister emeritus of CRES; Bill Tammeus, columnist for The Kansas City Star and Sheila Sonnenschein, freelance writer. The essay contest winner was Laura Hochman from Sumner Academy for writing the most compelling essay about the importance of peace and understanding in a pluralistic world. Laura was recognized at the CPS dinner last month and she gave all of us hope for this generation of creating a peaceful world. The essay contest will happen again for the 2008 graduating seniors. If anyone is interested in contributing, please contact me or go to the www.communitypeac.com website.

I would have lost my voice if it wasn't for my kids and your kids. I always ask myself, "Have I done everything possible when I see an injustice?" If the answer is yes, I say ok, I'm complete. If the answer is no, then I question myself why I hadn't taken further action and then I do. Often this leads me to another action I didn't think of before, but wouldn't have had access to if I hadn't taken the first step.

I use the quote from Mahatma Gandhi, "We are the change we wish to see in the world". I use to say, someone should do something about this, I now say, what I can do, have I done everything possible. It's this area that gives me courage; it's this area where I look to my own faith traditions teachings of Prophet Mohammad (PBUH) and the Qur'an where it says,

In the Holy Koran (49:13) it says, "Oh people, We have created you from one male and one female, and made you into nations and tribes, so that you may know one another. Verily, the best amongst you are those who are the most pious". I hope that my work in the community has caused people to know one another.

I organized the "Community Praying for Peace" in 2002. The event was to mark the six-month anniversary of 9/11. I was compelled to do this after Daniel Pearl, the Wall Street reporter was killed. People from various faiths come together and pray for peace. We pray in silence in our own faith for peace. We put aside our opinions, assessments, and conclusions and ask ourselves, "What can we do for our Community? What can we create that is EXTRAORDINARY?" We know the place to begin was with prayer. We pray for all who suffer from injustice and oppression, so that revenge will give way to compassion, that fear and hatred will be replaced by friendship and peace.

Last month, I read an article that was in the Washington Post written by the Dalai Lama "Large human movements spring from individual human initiatives. If you feel that you cannot have much of an effect, the next person may also become discouraged, and a great opportunity will have been lost. On the other hand, each of us can inspire others simply by working to develop our own altruistic motivations -- and engaging the world with a compassion-tempered heart and mind".

So here is a human movement—interfaith.

On this day as we observe an interfaith Thanksgiving, I say this prayer in the memory of the Native American Tribe that was present with the Pilgrims in 1621, later persecuted and now non-extistant, the Wampanoag (Wam pa NO ag) Indians. Let us pray that as a global Community, we want people to demand the extraordinary of themselves and of others. That we want to participate fully with each other so that the conversation shifts in this world from one of punishment, revenge and hatred to one of inventive thinking, bold leadership and a world transformed through Peace.

Thank you again to Vern and the Cres Board for this honor and for this wonderful Thanksgiving dinner. May you have continued success in years to come in supporting interfaith activities in the Greater Kansas City area.