IN MEMORIAM
Wallace Hartsfield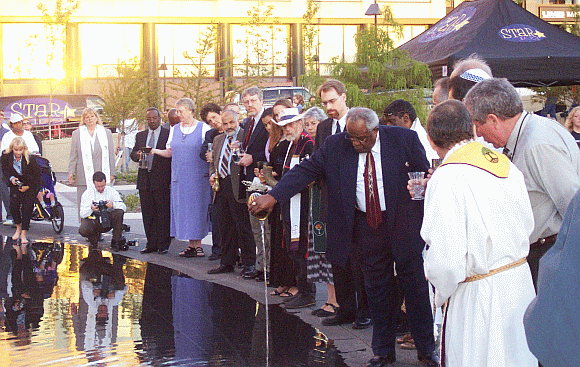 At the sunrise observance of the first anniversary of 9/11, Dr Hartsfield takes his turn contributing distinctive waters from his tradition along with others on the Interfaith Council to the pool outside City Hall. The mingled waters were then collected, with police escort taken to Grace and Holy Trinity Cathedral, where in an evening ceremony, the the mingled waters were redistributed to each Council member to return to each community.
In addition to his civil rights leadership, Dr Hartsfield was a strong voice for interfaith understanding. I first met him about 1976 at B'nai Jehudah when he presented a scholarly discourse there. In the 1980s, I remember visiting his church with teen-agers from New Reform Temple as the rabbi asked me to introduce them to the varieties of faith in Kansas City. After the interfaith Council was formed, I enjoyed visiting his church several times, and when the Protestant seat on the Council was vacant, I invited him to serve on the Interfaith Council. He was a member of the Jackson County 9/11 task force which I chaired. Following the Gifts of Pluralism conference, he contributed a horrific story from his youth in racist Georgia to the play about Kansas City religious diversity, "The Hindu and the Cowboy." While I did not know him well, I was deeply affected by his scholarship, his sense of purpose, and his embrace. I cherish these and other memories and his contributions in many ways of building a community of understanding and mutual regard. --Vern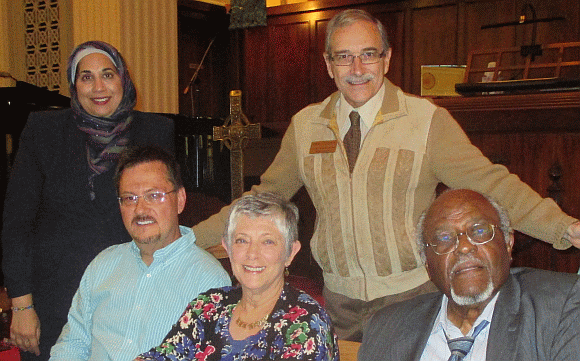 Dr Hartsfield served on many interfaith panels -- this one at Central Presbyterian Church on the 2014 annivarsary of 9/11: Mahnaz Shabbir (Muslim Crescent Peace Society), the Rev Mike Irwin (Center for Spiritual Living), Rabbi Linda Steigman ( Temple Adath Joseph), Vern Barnet (moderator), the Rev Dr Wallace Hartsfield (Metropolitan Missionary Baptist Church.)

---
from THE KANSAS CITY STAR 2020 January 26
Rev. Wallace S. Hartsfield, civil rights leader, dies at 90
''GROWING UP IN GEORGIA DURING THE DAYS OF HORRIFIC SEGREGATION AND SEEING MY GRANDFATHER AND OTHER BLACK MEN TREATED AS NONPERSONS WAS ONE OF THE HARDEST THINGS FOR ME. "I HAVE LEARNED TO NEVER TREAT ANYONE LIKE THAT. AND I HAVE REFUSED TO LET THOSE NEGATIVE EXPERIENCES CAUSE ME TO HATE AND TO NEGATIVELY RESPOND TO THE MAJORITY COMMUNITY. --The Rev. Wallace S. Hartsfield in a 2007 interview

The Rev. Wallace S. Hartsfield, a longtime civil rights leader and preacher in Kansas City, died Thursday at age 90.
Hartsfield, dubbed the "Godfather of Ministers" by Rep. Emanuel Cleaver II, was known for holding many posts and engaging in political activism that touched a variety of issues and policies in Kansas City over the years.
"He is the minister everyone in town looks up to," Cleaver said in a 2008 ceremony naming a post office after Hartsfield. "He is a preacher's preacher."
Hartsfield grew up in the segregated South. During his time as a pastor he was a leader in the African American community and in Kansas City politics. He became known as a bridge builder within the city and advocated for the marginalized and disadvantaged, said Dr. Vernon Howard Jr, president of the Southern Christian Leadership Conference of Greater Kansas City.
"Dr. Wallace Hartsfield was a unique clergyman who was able to effectively bridge divides within the African American community and bridge divides across demographics such as race, and culture, and geography. This ability to bridge was in the context of his passion for social justice which included lifting his prophetic voice to dramatize the plight of disadvantaged Kansas citians," Howard said.
While he was most wellknown for his advocacy for the African American community, Hartsfield cared about all people, Hartsfield II.
The younger Hartsfield said his father was focused primarily on unity.
"He was always concerned about how can we work together in order that all people could reach and realize their creative potential," he said. "He was never one who — at least from my perspective — that would just put one group above another he was always searching and asking groups how can we work together."
Hartsfield was born in Atlanta in 1929 and grew up in Jacksonville, Florida. In Kansas City, he served as senior pastor at Metropolitan Missionary Baptist Church from 1962 to 1968 and 1972 until his retirement in 2008.
Hartsfield served on many local, regional and national boards throughout his career including as chairman of the Congress of National Black Churches, an organization that at the time had over 15 million members nationwide.
The United States Congress recognized him for his achievements in 2012.
In an interview with The Star in 2007, Hartsfield reflected on the ways growing up in the South shaped his life and career.
"Growing up in Georgia during the days of horrific segregation and seeing my grandfather and other black men treated as nonpersons was one of the hardest things for me," he said. "I have learned to never treat anyone like that. And I have refused to let those negative experiences cause me to hate and to negatively respond to the majority community."
Love, respect, reconciliation and righteousness were among Hartsfield's guiding principles, his son said.
"Even though we disagree we never should feel as if we have the right to disrespect others or degrade or dehumanize others," Hartsfield II said.
Hartsfield II said he remembered many times throughout his childhood when his father would respond to the scene of a crime and cry with a family. And other moments when he would travel with his father in the city or nationally and witness his impact on others.
"I was very young, not able to understand everything. One thing I was clear on was people were being helped because I could hear them constantly saying thank you, thank you," he said.
Those close to Hartsfield will remember him for his sense of humor. He was a man, they said, who enjoyed laughing and cracking jokes.
Hartsfield II said he believed his father needed "to laugh because there were so many tears in his life and in his work."
"(His) shepherding and care for the least of those who are the most vulnerable in our society that just cannot be overstated and hopefully we will carry that lesson forward," Howard said.
Funeral services for Hartsfield are scheduled for 11 a.m. Feb. 7 at Macedonia Baptist Church, according to his obituary.
Katie Bernard:
816-234-4167,
@KatieJ_Bernard


---

from THE KANSAS CITY STAR 2020 January 28
Wallace Hartsfield led a charge for history and hope by example
BY ROBERT LEE HILL
Special to The Star

"Loving father, grandfather, great-grandfather." "A preacher's preacher." "Godfather of ministers." These and many more laudatory appellations can and should be accorded to the Rev. Dr. Wallace S. Hartsfield Sr., who died Thursday at his home in Kansas City.

Like Martin Luther King Jr., he was born in Atlanta in 1929. Like King, his life path would be imbued with consistent compassion for "the least of these." And like King, he was an unashamed advocate for the African American community
and an unapologetic champion for the unity of all people through the power of love.

I was privileged to know Rev. Hartsfield for a quarter century; to accept his invitations to work alongside him in racial reconciliation, voter registration
and voter turnout endeavors; and to benefit from his wisdom, wit and affirming spirit. It was a tremendous grace to witness his loving care of the Metropolitan
Missionary Baptist Church and his unparalleled work for justice in greater Kansas City.

I was once amazed to see how he and Alvin Brooks quelled potential gang violence in the heart of the urban core. Like legions of other admirers, whenever I was in Rev. Hartsfield's presence, I felt encouraged about the human prospect.

Many will recall his mellifluous enunciation of the word "love" at the end of a sermon, and others will have cherished memories of his sonorous baritone singing "How Great Thou Art" and "I Won't Complain."

While serving Metropolitan's congregation for 42 years, he was a stalwart member of the Baptist Ministers Union and the energizing founder of the ecumenical Concerned Clergy Coalition.

Health care for all was a central focus for Rev. Hartsfield. He valiantly worked to develop the Model Cities Health Corporation, today known as Swope Health. He assisted in the creation of the Health Care Foundation of Greater Kansas City, now the Health Forward Foundation, when Health Midwest was sold to HCA. And at age 84, as a member of the "Medicaid 23," he committed civil disobedience in the Missouri State Capitol, urging the expansion of Medicaid coverage for 300,000 Missourians.

Rev. Hartsfield's perduring and prophetic wisdom was marked by twinned themes: history and hope. The importance of history was always part of his guidance for church members and clergy colleagues. And he was also quick to remind everyone of the essential location of hope in the human heart and at the center of any community worthy of the name.

One special memory of Rev. Hartsfield's impact on my life will abide forever. In August 2006, I joined him, Rep. Emanuel Cleaver II and 14 other Kansas Citians on a trip to Turkey sponsored by the Dialog Institute. For 10 days, we enjoyed Turkey's rich cultural treasures and beheld a vibrant example of different faiths dwelling together in harmony. We experienced the troubled history of the Hagia Sophia in Istanbul, walked where the apostle Paul had walked in Izmir, visited Rumi's tomb in Konya and reveled in our hosts' cuisine, music and excessive hospitality.

We also trekked through the underground cities of Cappadocia, where, for more than 2,500 years, various populations found safe haven from oppression and marauding armies. Not everyone in our group went down the steps and tunnels, which stretch 200 feet and six stories underground. But who was at the head of the line, challenging the more hesitant (and claustrophobic) of us to follow his lead? Rev. Hartsfield, of course.

As he was in Cappadocia, so he was throughout his life: Venturing where others feared to tread. Coursing through ancient pathways, seeking new light. Always trusting an unseen hand to lead him rightly. Always living by the law of love, the power of unfettered truth and an unalloyed affirmation of the dignity of all people. Always knowing that grace would bring him and all of us home.

Robert Lee Hill is a community consultant and minister emeritus of Community Christian Church.