In our common life in KC, how can we discover our differences as gifts to make our world better?
---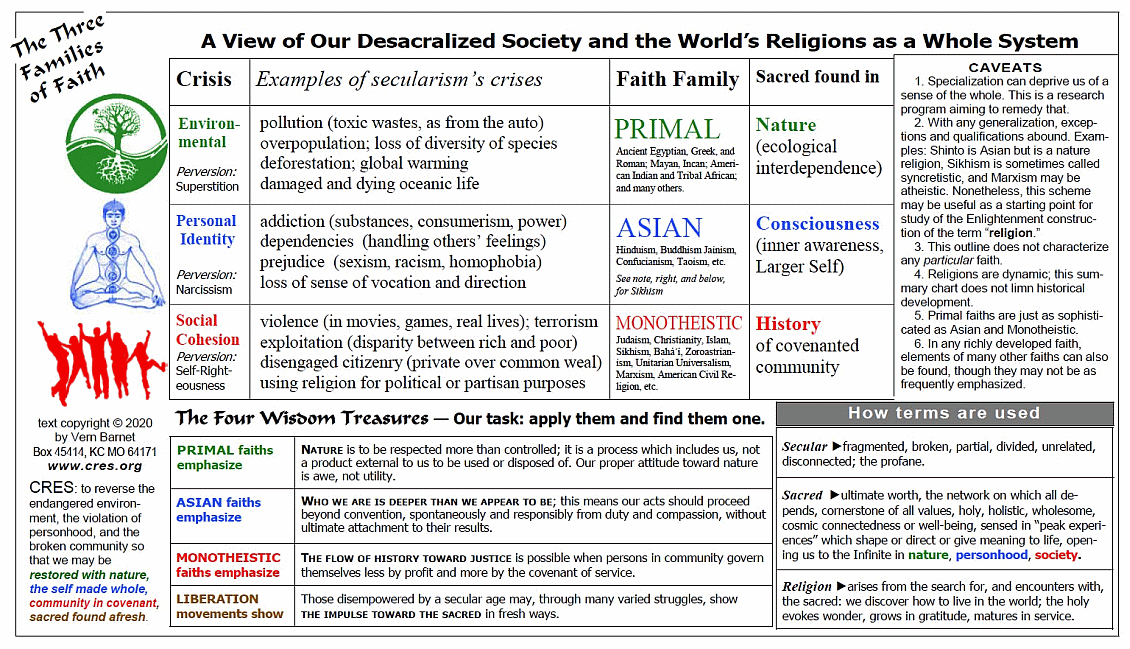 COPYRIGHT 2005, 2009 Vern Barnet at CRES, Box 45414, Kansas City, MO 64171
This chart may be reproduced without charge by educational and non-profit organizations
so long as credit and contact information is included. Please inform us of your intent to use. Thank you.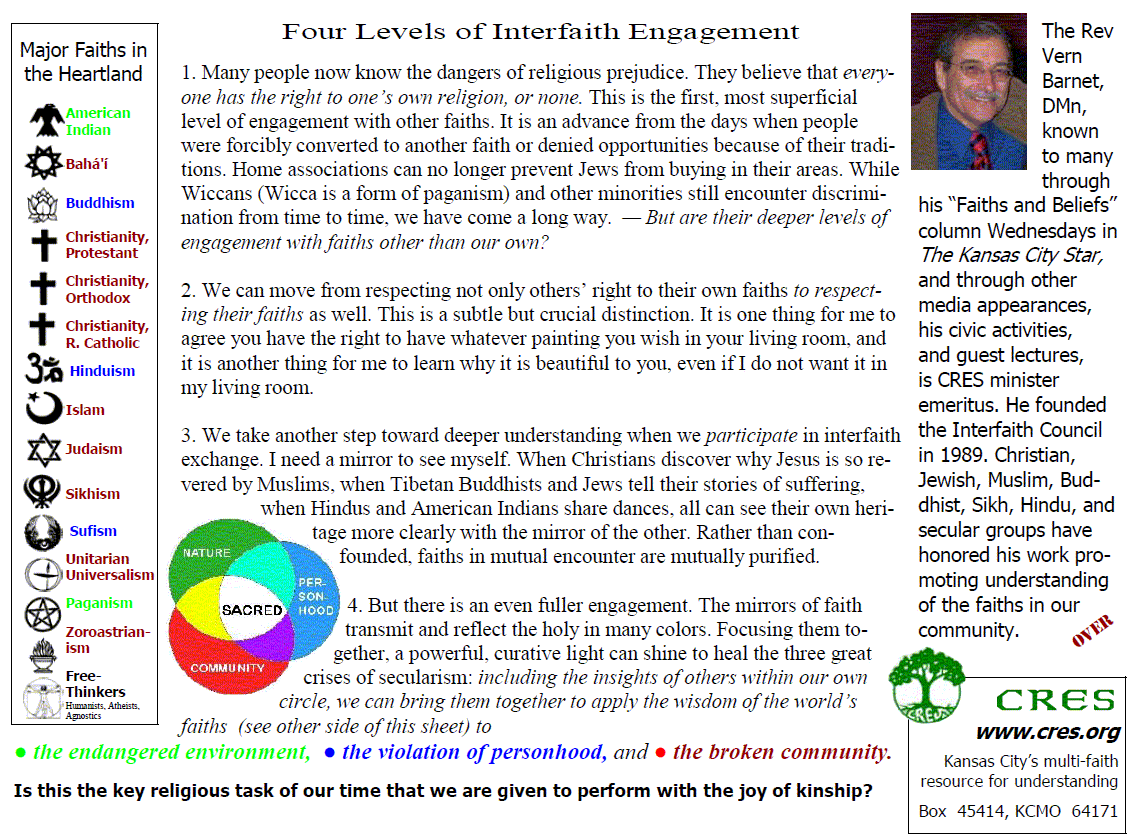 ---
Sacred-Profane CHART: Surrender Share Save
Revere Repent Repair --Feel Flow Flourish -- Play Practice Participate
---

The three arenas of the sacred: nature, personhood, community
Share the wisdom of the world's spiritual traditions
in our overwhelmingly secularistic and fragmented age, to reverse
the endangered environment,
the violation of personhood,
and the broken community
so that we may be
restored with nature,
the self made whole,
community in covenant,
and the sacred found afresh.
HOW YOU CAN JOIN
IN FURTHERING INTERFAITH UNDERSTANDING
CRES may be the most connected interfaith effort in Kansas City, and the only one wedding academic competence with practical activities, but many groups are involved one way or another in promoting interfaith understanding. An increasing number of organizations bring interfaith awareness to their work. For a list, please see our report,KC Interfaith Opportunities, and let us know about the groups we missed.
And you as an individual, you can encourage America's tradition of pluralism by
* supporting these organizations,
* writing newspapers,
* phoning in on talk shows,
* arranging CRES programs for your groups
* arranging speakers from many faiths for your groups
---
Getting Started Doing Interfaith Stuff
SELECT RESOURCES
Basic Book
Bud Heckman: InterActive Faith: The Essential Interreligious Communinty-Building Handbook, 2008
Locally
The Greater Kansas City Interfaith Council, www.kcinterfaith.org
Bill's "Faith Matters" Blog, http://billtammeus.typepad.com/
CRES, www.cres.org
Cultural Crossroads, www.culturalcrossroads-kc.org
Festival of Faiths, http://festivaloffaithskc.org/
The Human Agenda, http://humanagenda.typepad.com/
Interfaith Primers
http://www.cres.org/pubs/primers.htm
http://www.cres.org/pubs/guidelines.htm
http://www.cres.org/pubs/WorldReligsPiecesOrPattern.htm
contact staff@cres.org, Box 45414, Kansas City, MO 64171
---


Crescat scientia, vita excolator -- Let knowledge grow from more to more; and so be human life enriched. --University of Chicago motto

---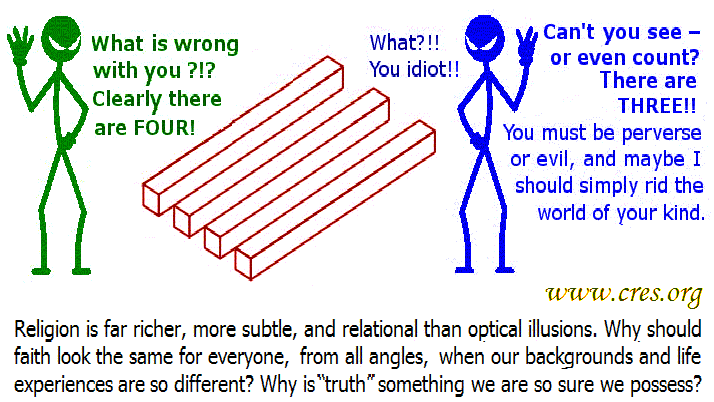 Future tabs:
ABOUT CRES
vision
mission
values
contact
history
Similar organizations
History project
donations
SERVICES
weddings
baptisms
other rites
presentations
consultations
PROGRAMS
upcoming
past index by year
see also
Many Paths
PUBLICATIONS
see also programs and
Star
Spirit
Camp
Many Paths
Books
Guidelines, References, Essays
see also
*programs
*Vern's Sidebar
MISCL
Brooks
Sidebar (Vern's notes)


l